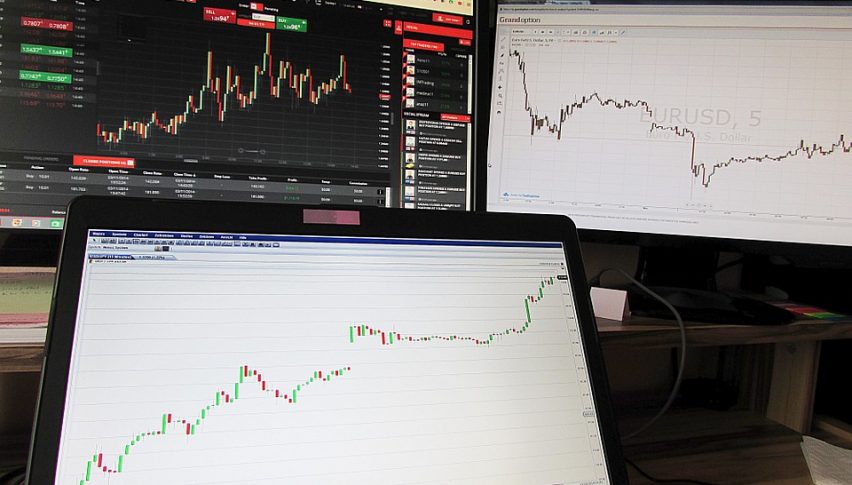 Forex Signals US Session Brief, July 12 – Quiet Markets Today as Traders Try to Figure Out What's Coming Next
The USD turned pretty bearish during most of June after the economic data from the US showed increased weakness in the US economy during the last few months. Although, with nothing left to buy in forex, traders returned to the USD again and we have seen the Buck climb higher since the last week of June. Rate cut odds slipped lower from around 100% at the end of June, which helped the USD. But the FED chairman Jerome Powell turned the sentiment around on Wednesday when he sounded pretty dovish in the first day of the testimony. He highlighted the risks that the US economy faces and the need for the FED to be cautious.
Those comments sent the USD lower on Wednesday. He made a second appearance yesterday and I assume the market was expecting him to repeat the same things. He did highlight the risks yesterday again, adding that businesses are starting to hold back again, but Powell also said that the US economy is in decent shape. While the rate hike for this month is almost certain, the market is now trying to decide whether the FED will just cut rates once or enter an easing cycle. That has left traders puzzled, hence the uncertainty in forex today. Traders are not sure what to buy now, so they are just picking trades here and there and closing them after making small profits.
The European Session
Eurozone Industrial Production – The manufacturing production and the industrial production have been hurt the most by the trade war and the weakening global economy. In the last five months, we have seen four declines in the industrial production in the Eurozone. At least, the number for April was revised higher to -0.4% today from -0.5% previously. For May, industrial production was expected to increase by 0.2% but it beat expectations, increasing by 0.9%, which is a positive sign for the coming months, but let's see what's coming next month.
Positive Trade Figures From China – Despite the trade war with the US, the Chinese economy continues to grow at a satisfying speed. H1 2019 trade surplus was ¥1.23 trillion, H1 2019 exports increased by 6.1% YoY H1 2019 imports increased by 1.4%. China customs spokesperson, Li Kuiwen, added that China's economy is in a proper range so far this year. Trade is facing pressure but still has good outlook.
BOE's Vlieghe Sound Dovish – The Bank of England member Gertjan Vlieghe said early this morning that rate cuts are now more likely than hikes if no-deal Brexit materializes. But rates would need to rise in a smooth Brexit scenario. The outlook has deteriorated since February and UK Q2 growth could be slightly negative. The policy outlook could easily go in either direction with a cliff edge Brexit. The public uncertainty about BOE policy reflects general political and economic uncertainty. Don't have to see much of a hit to justify cutting rates to near zero. More likely than not rates would reach lower bound after a no-deal Brexit and 0.25% is not the lower bound for UK rates, it is lower. But, it is possible BOE may need to raise rates if inflation expectations are de-anchored by a no-deal Brexit outcome.
ECB's Visco Also Sounds Dovish – The ECB member, Ignazio Visco sounded dovish as well today when he said that further expansionary measures will be needed if Eurozone economy doesn't pick up. The ECB will continue to assess measures at its disposal 'in the coming weeks' and they see Italian GDP growth this year at 0.1%.
Navarro on US-China Issue – White House adviser, Peter Navarro, said a while ago that we are currently in a 'quiet period' in China trade talks. Lighthizer and Mnuchin will travel to Beijing in the near future. He added that Trump and Lighthizer will take the lead on China trade negotiations. Trade talks are 'going great'.
The US Session
US PPI Inflation – The US PPI inflation report was released a while ago. The headline PPI for June came at 0.1% as expected. Although, core CPI beat expectations of 0.2% and instead grew by 0.3% in June. PPI YoY also beat expectations coming at 1.7% versus 1.6% estimated, down from 1.8% last month. US core PPI which excludes food and energy remained unchanged at 2.3% versus 2.1% estimated. PPI excluding food, energy and trade moved lower though to 2.1% from 2.3% last month.
Bank of Italy Growth Forecasts – The Bank of Italy sees Italian GDP 0.1% this year, 0.8% in 2020 and 1% in 2021. the industrial production probably fell around -0.7% QoQ in 2Q. It sees gross NPL ratio for Italian banks under ECB supervision at 8.4% Q1 2019 from 8.3% in Q4 2018. Italian GDP growth is seen at 0.1% this year, 0.8% in 2020, 1.0% in 2021. Negative balance on the target2 payment system has narrowed since start of the year.
Trades in Sight
The trend has turned bullish
The pullback lower is complete
The 100 SMA is providing support
The 100 SMA is keeping the uptrend in place for Gold
Gold turned bullish in June as the sentiment turned pretty negative in the financial markets. Although, we have been seeing Gold trade in a range between $1,380 and $1,440. Yesterday we saw a bearish move in Gold as the USD claimed some of the losses back, but the 100 SMA (green) provided solid support and now Gold is oversold on the H4 chart. We are thinking of going long on Gold ahead of the weekend now.
In Conclusion
The markets have quietened down today after being volatile in the last two days on Jerome Powell's comments during his 2-day testimony. Traders are uncertain whether to go long or short on the USD right now, hence the slow price action today and I expect it to remain dovish until the day closes.