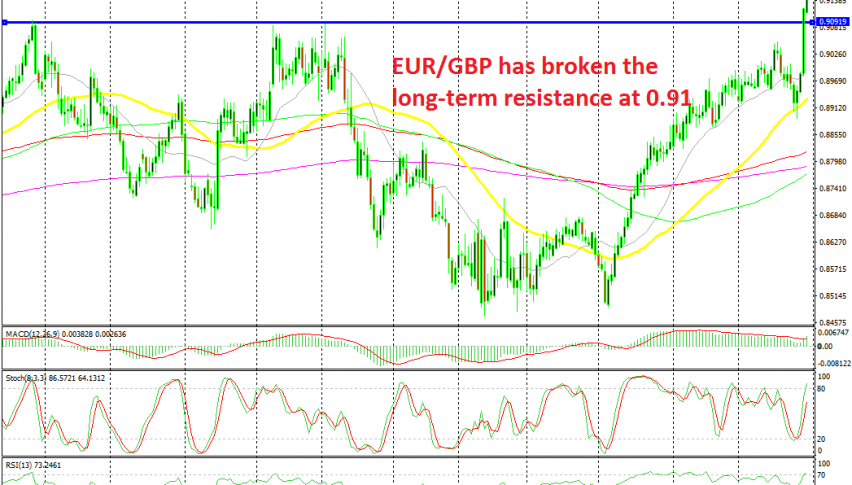 EUR/GBP Breaks Above 0.91 After Bouncing Off the 50 SMA
EUR/GBP made a bullish reversal at the beginning of May and it has been on a strong uptrend since then. The trend slowed down in June and the 20 SMA (grey) had a chance to catch up with the price, so it turned into support, which has been holding and pushing this pair higher during most of this month as well.
Although, the 20 SMA was finally broken last week. The Euro turned dovish heading into the European Central Bank meeting while the GBP received some decent bids during the election of Boris Johnson. Both these events created some negative synergy for EUR/GBP.
As a result, we saw a 160 pip dive in this pair last week and the price broke below the 20 SMA, but the 50 SMA (yellow) turned into support this time and held the decline. Although, the price reversed in the last few days and we have seen an even bigger surge in this pair. The price broke the big resistance level at 0.91, so now we are heading for 0.95 and even parity at 1:1.
Many analysts have been predicting parity in this pair if Britain ends up with no deal and it seems like this will be the scenario which will take place, unless there is a miracle offer from the EU, which doesn't look likely. Now, the previous resistance at 0.91 should turn into support for this pair, so we are looking to go long on EUR/GBP on a retrace lower.