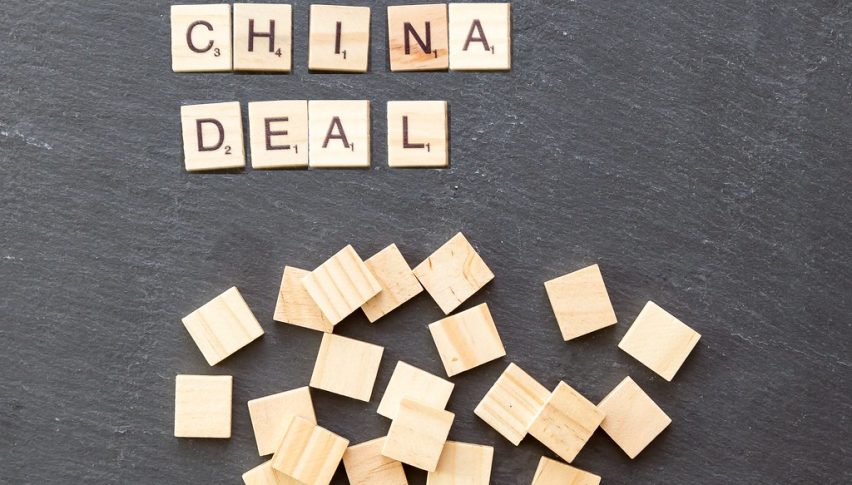 Forex Signals US Session Brief, Dec 5 – Markets Remain Hopeful but Cautious
The sentiment in financial markets turned negative earlier this week after comments from Donald Trump that he might postpone the Phase One deal with China until presidential elections next year in China. The disappointing US ISM manufacturing report on Monday also played a part in this, as it showed that this sector is falling deeper in contraction, instead of improving. But, yesterday we heard Donald Trump say that trade talks with China are going pretty well, while Bloomberg posted a report which said that the Phase One deal might be official on December 15.
That improved the sentiment, although markets are not running away with it. Instead, they are being cautious, but with a slight bias for risk. China's commerce ministry said earlier today that we are in close contact with US on trade. That kept the sentiment slightly positive, but cautious nonetheless, since we have been at the final stage for the trade deal and Brexit before, but haven't quite passed the barrier. OPEC have begun their meetings in Vienna but so far there is no clear suggestion of what decision they may reach, though there is some chatter of deeper output cuts potentially. That has kept WTI Oil bullish, although i don't think OPEC will cut production again, they are just playing their cards to increase oil prices.
The European Session
German Factory Orders – Factory orders have been volatile in Germany for more than a year.Although, they posted a nice gain of 1.3% fro September last month, which was revised to 1.5% this month. But, today's report which was for October turned negative again, posting a 0.4% decline, missing expectations of 0.3%.
Eurozone Retail Sales – The European retail sales data was released this morning and seasonally adjusted volume of retail trade decreased by 0.6% in the euro area. In September 2019, the retail trade volume decreased by 0.2% in the euro area and by 0.1% in the EU28. Despite that, the bears are staying out of the market. Looks like investors are waiting to see NFP figures tomorrow before placing further bets.
Eurozone Revised GDP –

GDP growth in the Euroarea and EU28: Seasonally adjusted GDP rose by 0.2% in the euro area (EA19) and by 0.3% in the EU28 during the third quarter of 2019. In September 2019, the retail trade volume decreased by 0.2% in the euro area and by 0.1% in the EU28. Despite that, the bears are staying out of the market. Looks like investors are waiting to see NFP figures tomorrow before placing further bets.

The EUR/USD showed a bullish fakeout on the 4 hour chart when it crossed over 1.1090 resistance level. But the gains were limited as the pair reversed to to trade below 1.1090 resistance right in the next candle. For now, this level is extending strong resistance and below this we can expect a slight retracement in the EUR/USD until 1.1060 and 1.1038. Conversely, the bullish breakout can lead EUR/USD prices towards 1.1120.

A Considerable Drop in German Engineering Orders – Germany's engineering body VDMA was out with more rough news for the manufacturing sector in the country. VDMA reported a 11% drop in engineering orders in October from the previous year. In the middle of this year, factory orders were down by about 3% y/y so this is continuing to show some extended worries for the German manufacturing sector in Q4. VDMA notes that domestic orders are down 13% while foreign orders are down by 10% relative to a year ago. On the worsening trend, they mention that many customers are holding back on investments due to global economic worries; adding that:


"The latest signs of hope for an end to the German industry's economic downturn are not yet having an effect on the order books of mechanical engineering companies."
The US Session
Saudi's Feel Good About OPEC Meeting – The OPEC meeting has started and Saudi Arabia oil minister, Prince Abdulaziz bin Salman said that he feels good about the OPEC+ meeting. There have been whispers that he is pushing really hard to try and get other OPEC members on board with the idea of deeper output cuts. That said, it remains to be seen if Russia – a key stumbling block in the plans – will agree to such a proposal.

BOC's Lane Speaking – The Deputy Gov. of the Bank of Canada Timothy Lane is speaking and says:

global economic uncertainty likely to persist even if US and China reach a trade deal
global uncertainty is likely to have a lasting effect: questions remain about whether market pricing fully reflects risks
tone of developments in recent weeks gives bank more confidence in its October outlook for growth and inflation
notable economic strengths and on target inflation mean Canada is resilient but it is not immune
damaging effects of trade conflict are only partially offset by easier monetary policy
recent data augur well for households financial situation and future spending, although consumer confidence has been softening
heavy household borrowing creates vulnerabilities that could amplify any negative shock to the economy; lowering rates further could make vulnerabilities worse
Canadian employment wage growth data suggest labor market is continuing to tighten
support from higher spending by provincial governments expected to Wayne in 2020 as consolidation in Ontario and Alberta takes hold in recent straight then BC and Québec normalizes
there is no reason for the Bank of Canada to move in step with the US Federal Reserve when it comes to rate moves
diversion's between monetary policies of Bank of Canada and US Fed is not as stark as sometimes pretrade
in hindsight moves in Canada and US toward balance budgets starting in 2010 were premature

China talks going very well
cease-fire in Syria is holding
he will discuss Iran sanctions evasion with Germany
says a Germany is a little under its NATO contributions and he and Merkel will talk about it
NATO is stronger than it ever has been
Says Trudeau is to face when asked about video
Canada PM Trudeau is a nice guy but probably upset that Trump called him out for NATO contributions
every country have spoken to about Huawei is not going forward with the company

US ISM Non-Manufacturing PMI – US ISM non-manufacturing report was released and it missed expectations, falling to 53.9 points against 54.5 expected. Employment came out higher though at 55.5 points versus 53.7 last month, new Orders also higher at 57.1 points from 55.6 last month, while production posted a massive decline to 51.6 points versus 57.0 in October. Export orders increased to 52.0 points versus 50.0 last month, imports fell to 45.0 versus 48.5 points last month.
Trades in Sight
The trend has ben bearish for more than a month
The pullback lower is complete
The 50 SMA provided support
Fundamentals have turned bullish
The 5100 SMA ended the retrace down today
NZD/USD made a bullish reversal at the beginning of October, which looked just like another retrace higher before sellers pushed further below. But, sellers didn't come back and we haven't seen them since then. We have seen several pullbacks lower, but buyers have come back and have kept things in control.
The sentiment has improved for risk assets, as we approach the final stage of the Phase One deal between US and China. There have been events and comments which have taken this deal back and forth, such as Donald trump's comments yesterday that he might postpone the deal until Chinese elections are over, responding to China targeting Trump's electorate with retaliatory targets.
But, today we heard form Bloomberg that the deal might be signed off on December 15, despite the heated rhetoric, which calmed the nerves. Donald Trump also helped the sentiment when he said a while ago that talks with China are going very well.
NZD/USD had retraced lower during the Asian session, but  the 50 SMA (yellow) provided solid support on the H1 chart. The price bounced off that moving average as the sentiment improved after Trump's comments at the NATO summit. So, this pair is pretty bullish now and we will look to open a buy signal on another pullback lower, to the 50 SMA.
In Conclusion
The sentiment has been pretty negative in the last two days, with stock markets retreating lower and safe havens surging higher. But, that has changed in the last few hours, especially after the report from Bloomberg and comments from Donald Trump. Forget the economic data, words hurt more than data these days.