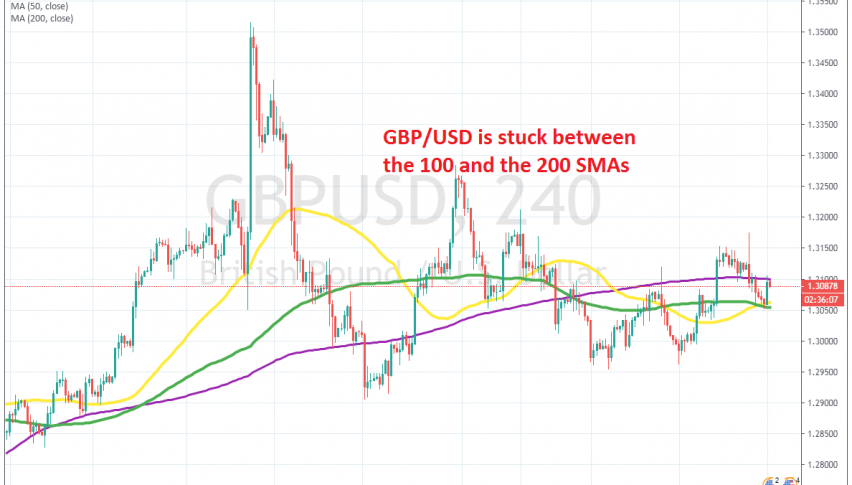 GBP/USD Trades Between 2 MAs After Bouncing Off the 100 SMA
GBP/USD surged nearly 500 pips higher after UK elections, as UK Conservatives won the elections, which meant that Boris Johnson's Brexit deal would go through and UK would finally get a direction. But, the optimism faded pretty quickly, considering that the UK would still have to reach a trade deal by the end of the year with the EU, otherwise it will be a hard Brexit.
As a result, the GBP turned bearish after that, losing more than 6 cents in the following weeks. Although, sellers haven't been able to make new lows since then. It seems like traders are waiting to see if there are possibilities that the UK can reach a trade deal with the EU before the end of the year.
So, sellers haven't been able to push lower and lows have been getting higher, as seen on the H4 chart above, while on the other hand, highs have been getting lower as well. This means that a triangle is forming on this pair. At the end of last week, we saw a bearish reversal, despite the positive employment report from Britain.
But, the 100 SMA (green) held as support for GBP/USD on the H4 chart, aided by the 50 SMA (yellow) as well. But, it is facing the 200 SMA (purple) now which is acting as resistance. So, this pair seems to be stuck between these two moving averages now. Both sides are equally at risk now, so let's see whether buyer will remain in control, or if sellers will take things into their hands and reverse the price lower.