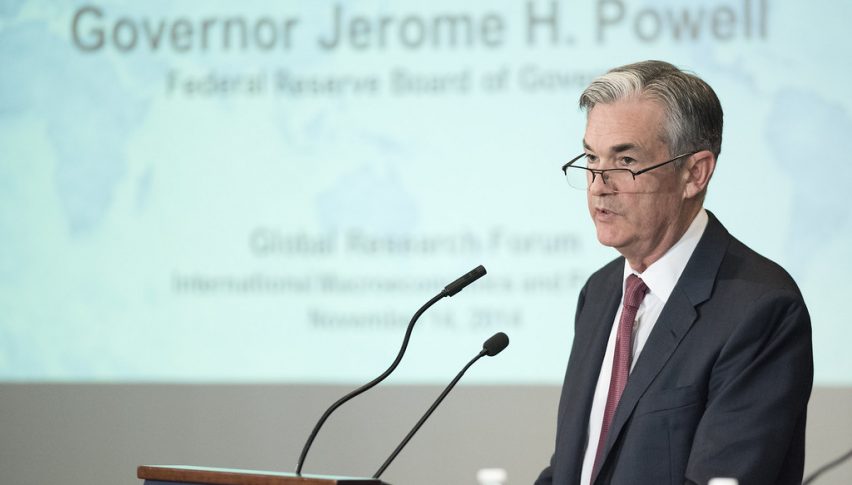 Forex Signals US Session Brief, Feb 12 – USD Continues to Retreat on Improving Sentiment, Despite Positive Comments from the FED
Posted Wednesday, February 12, 2020 by
Skerdian Meta
• 5 min read
The risk sentiment has been driving markets around so far this year, with the tensions in the Middle East between US and Iran early in January, followed by the outbreak of coronavirus, which has turned the sentiment negative in financial markets. Risk currencies have been tumbling lower as a result, although we have seen improvements now and again in the sentiment, which have helped risk assets. Today is one of those days, with markets being less panicky. Despite the increasing cases of coronavirus, it seems as there won't be a world wide spread, apart from some cases, which has improved the sentiment.
As a result, risk assets have been climbing higher today, led by crude Oil, which is around $2 higher from the lows, despite OPEC cutting the demand forecasts for Q1 and the whole of 2020, due to the virus. Commodity Dollars are also higher today, as markets continue to build up hopes that the worst is over on the coronavirus outbreak but caution still needs to be heeded as there are lingering doubts over the impact on the global economy and how things may progress in the days/weeks ahead. We had some FED members today, making some comments which did not sound as pessimistic as in recent months, but the USD continues to retreat.
The European Session
Eurozone Industrial Production – The economy of the Eurozone weakened considerably during last year, with manufacturing and industrial production falling in deep recession. The European Central Bank turned pretty dovish, cutting deposit rates to -0.50% and adding another QE programme. In the last few months of 2019 we have seen some signs of stabilization, with inflation stabilizing around 1.3%, from 0.7% previously, and manufacturing improving slightly. But, the weakness might resume again, after we saw CPI inflation cool off once more last month, while today we see that industrial production has posted another big decline for December. Below is the report:

Eurozone December industrial production -2.1% vs -2.0% m/m expected
Prior +0.2%; revised to 0.0%
Industrial production WDA -4.1% vs -2.5% y/y expected
Prior -1.5%; revised to -1.7%

ECB's Makhlouf Sounding Worried About the Virus – The ECB governing council member, Gabriel Makhlouf made some comments earlier about coronavirus and the connection to the economy:

There is a potential for a negative growth shock on coronavirus
Coronavirus impact adds to already existing uncertainties and risks
It is premature to reach any conclusions
But there is potential for a negative shock to global growth in the short-term
Beyond that, we must wait and see but recognize that uncertainty has increased

ECB's Lane Speaking on Inflation – The ECB chief economist, Philip Lane also commented this morning, but he kept his speech on inflation instead. Lane says that the European single market is not going to "recreate" the City of London and instead is going to "remain deeply embedded" with the City of London post-Brexit. EUR/USD is a little better, but it looks good for a sell signal on the H1 chart.

We expect gradual, visible move up in inflation
Coronavirus can have a pretty serious short-term hit
Impact might be relatively minor over a year's time
There will be red lines on banking equivalence after Brexit

OPEC Cutting Oil Demand Forecasts – Crude Oil has been really bearish since the second week of January, after it became evident that the US wasn't going to open another war front in Iran. Oil reversed down after that and coronavirus sent it down the drain. US WTI Oil has lost more than $16 from top to bottom, falling below $50, but today we are seeing a pullback higher, as the sentiment improves a little. OPEC released its latest report on the oil market and revisions now are much lower for Q1 and the whole year, a month after the breakout of coronavirus and the first estimate. Below are the forecasts and some main comments from OPEC:

Lower demand forecast from OPEC

OPEC cuts Q1 oil demand growth estimate by 440k bpd on coronavirus outbreak
2020 oil demand growth outlook cut by 230k bpd to 0.99 mil bpd
Coronavirus outbreak adds to uncertainties for oil market this year
The situation needs continuous monitoring
To face oil surplus of 570k bpd in Q2
The US Session
FED's Harker Doesn't Feel Like More Rate Cuts Are Needed – FED's Harker made some comments earlier today in Pennsylvania. Harker doesn't feel like the FED should keep cutting rates, repeating that Fed should hold rates steady for awhile.
FED's Daly Thinks the US Economy Is Facing Headwinds Well – San Francisco FED president Mary Daly was speaking as well a while ago. She said:

US economy is faced had one after headwind, in a good place to weather storms right now
thanks natural rate of unemployment is the current level, but I've been wrong before
business more optimistic than end of last year that economy in a better place
average inflation targeting over a long period, makes sense, not talking about much above 2%

Powell's Testimony – FED chairman Jerome Powell is testifying in front of the Senate banking panel for the second day today. So far the testimony from Fed's Powell has been pretty tame. There is not been a lot of talk about the economy or policy. Below will be a stream of some of the highlights from his testimony:

Very focused on threat of cyber attacks
Cyber attacks could accept confidence in financial sector
The biggest issue of the federal budget is healthcare spending
US spending on healthcare very high for returns
Fed likely to need to QE, forward guidance in a downturn
He would be concerned about the level of the US debt
Need federal debt growth to be slower than GDP growth
Housing sector during better but affordability and issue
Uncertainty around trade has declined
Less uncertainty may mean upside for investment
He thinks there is more upside to the US labor participation rate
US energy sector now acts as economic shock absorber
Trades in Sight
The main trend is still bearish since early January
Coronavirus has not ended
The 100 SMA is approaching
The retrace up is complete on H4 chart
The 100 SMA has turned into resistance now
AUD/USD has been bearish since early January, after tensions in the Middle East hurt the sentiment, especially for commodity currencies. the sentiment turned extremely bearish after the breakout of coronavirus, sending this pair nearly 400 pips lower during that period. The 100 SMA (green) turned from support into resistance by the middle of January, then the 20 SMA took that job and pushed the price lower, as the virus spread and the decline accelerated for risk assets. In the first week of this month, we saw a retrace and a move above the 50 SMA (yellow).
But, the downtrend resumed and AUD/USD made some new lows. This week, we are seeing another pullback higher as the sentiment improves and AUD/USD has moved above the 50 SMA again on the H4 chart. Although, the climb seems overdone now and the 100 SMA is approaching, which I think will turn into resistance again.
In Conclusion
The sentiment is a bit better today, with markets hoping that the worst of coronavirus is over. Although, China said that they will reconsider who is fully infected, so the numbers might be skewed and we need to keep an eye on them. You can't fully trust the Chinese government, can you?
We have turned bearish in EUR/USD as the bullish pressure fading and the price heading for 1.07 now
2 days ago