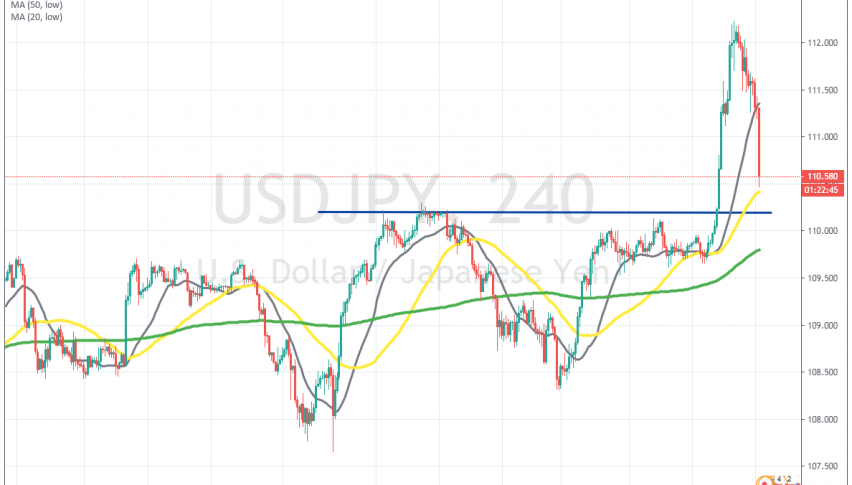 USD/JPY facing Obstacles on the Way Down Now, As It Tumbles on Coronavirus Spread
USD/JPY has been on a steady bullish trend since summer last year. The trend has been unfolding in waves and pushing higher, as the sentiment improved in financial markets, on prospects of the Phase One deal between US and China. As a result, USD/JPY pushed above the big round level at 110 earlier this week.T
he coronavirus outbreak in China had some negative impact on this pair towards the end of last month, as the JPY rallied as a safe haven. But, USD/JPY returned higher again and ended the week around 110 two weeks ago. Then, the sentiment improved further last week as the virus was being contained within China, with only a few cases abroad and this pair surged to 112.20s.
But, the coronavirus has spread outside of China now and fears spiked that it might turn into a pandemic outside of East Asia, after the jump in new cases and deaths in Italy over the weekend. Stock markets turned bearish today and USD/JPY declined as well.
This pair lost around 170 pips today, but it is facing the 50 SMA now at 110.40s. Below that, you can find the previous resistance at 110.20s, which will likely turn into support now. The 110 zone also offers some support, so if there are no more explosions of new cases outside of China, I think that we will see a bullish reversal from these levels. But, we have to follow coronavirus now.
Safe havens such as Gold and the JPY have been taking advantage of the financial troubles with the ban king system and lower FED rate odds
8 hours ago