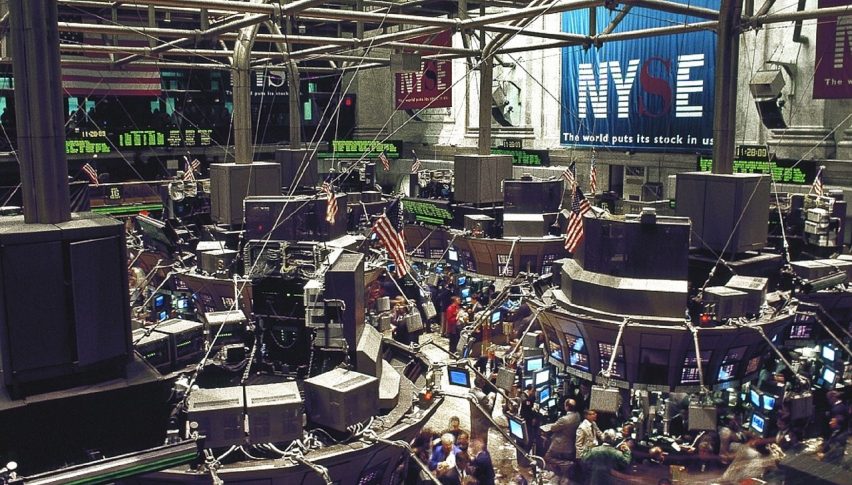 Forex Signals Brief for Mar 13: 1987 Revisited
US Market Wrap
If your plan was the buy the dip, you might be feeling some pain right now, after US equities suffered their worst sell-off since 1987.
The Dow and [[SP]] plunged -10%, and have fallen around -27% from their previous highs, which came only a matter of weeks ago. The moves came on the back of US President Trump, still not taking the matter seriously in the eyes of many watchers and leaving it to communities and business leaders to do the heavy lifting. Although he did suspend travel from Europe in a bid to close the borders.
As mentioned, previously, the speculation is now that the Fed will be forced to act again, as large gatherings and sporting events get shut down and postponed and travel bans keep getting extended, pushing economic conditions into dire straights.
We've seen huge moves in other risk assets, with the likes of the AUD/USD getting hammered, while the EUR/USD swung widely on the back of the ECB response.
GOLD continues to remain weak, which is interesting, while WTI is still holding the $30 level.
Today's Agenda
Data is thin again today, and in reality there just isn't anything that is worth watching as the only show in town is the risk sentiment trade.
Already in Asia, we are seeing the Asian pairs bounce after some furious selling yesterday.
We should expect a bounce to come across the board today, but it is also a Friday, which can make it a day that investors like to take risk off the table. But after yesterdays market-thumping, there might not be much more to do – short of an all-out collapse.
Forex Signal Update
The FX Leaders Team finished with three straight winning trades in what is a great week to date thanks to the large directional moves.
WTI – Pending Signal
WTI is holding the $30 level despite the route we saw overnight. If price held up on the back of that onslaught, it could signal there is buying interest at these levels. But if that level breaks, it will be a short opportunity.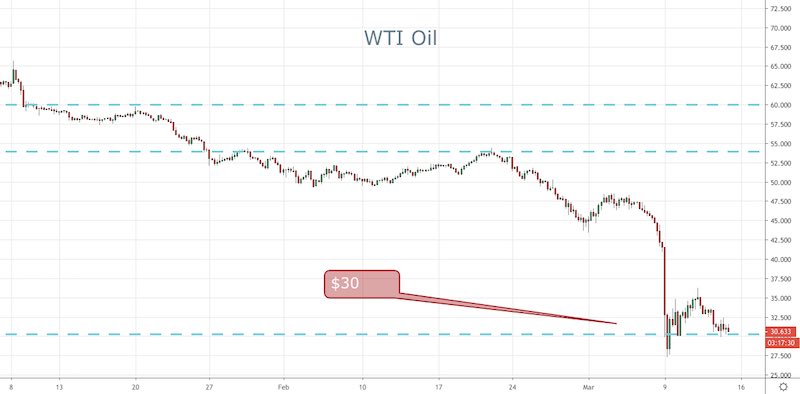 SPX – Watching
The SPX collapsed with prices now 27% off their highs. While the market was ripe for a correction, this one is turning out to be bigger than most anticipated.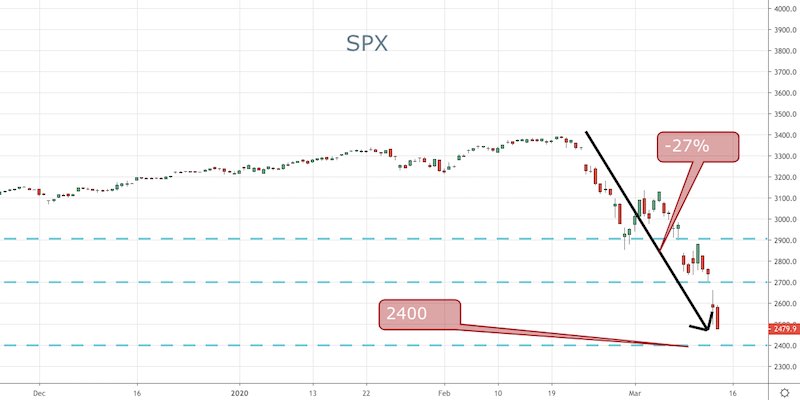 Cryptocurrency Update
Yesterday, I said, 'don't be surprised to see this one crack today.' Well, it cracked alright and in a massive way.
After BTC failed at the $8,000 level the door was open for some selling, but I didn't expect a total collapse. But that's what we are seeing.
Price is now through $5,000 as longs are getting liquidated and the sellers pile in.
Price is down -50% in a week! If you are a long-term investor in Bitcoin, you must be scratching your head right now. Clearly there is little value as a safe-haven option, as even GOLD is holding up better.
In reality, even stocks are holding up better – which is a worry when the market has shed -27%.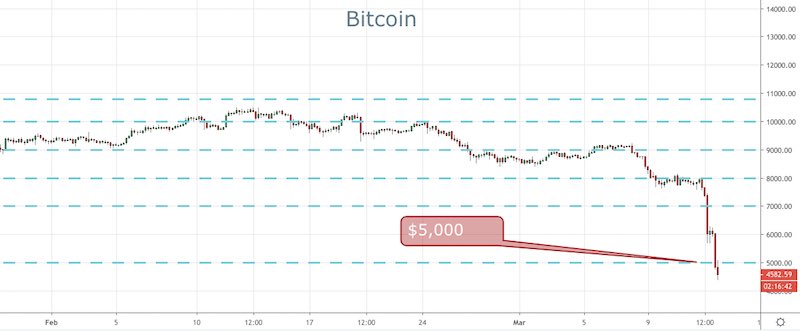 Safe havens such as Gold and the JPY have been taking advantage of the financial troubles with the ban king system and lower FED rate odds
10 hours ago