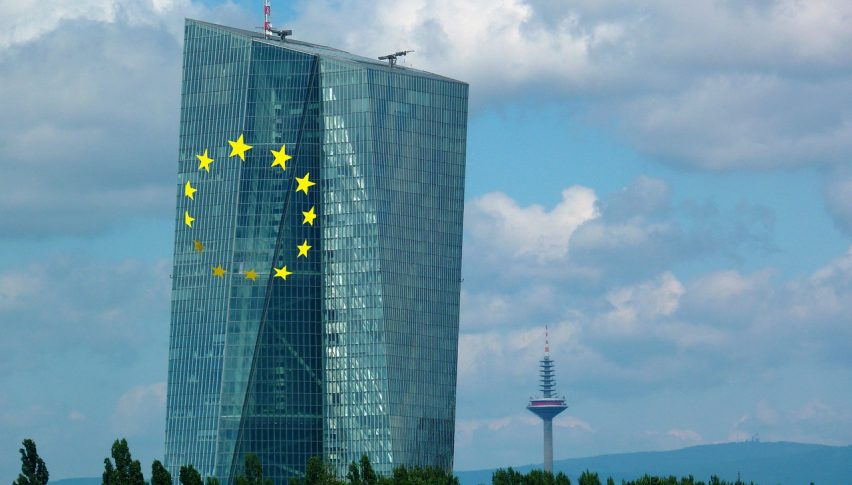 Forex Signals US Session Brief, March 12 – ECB Leaves rates On Hold, Increases Stimulus Measures
Donald Trump announced closing travel to Europe last night, which turned the sentiment even more negative today, especially for European stock markets. They opened with yet another bearish gap lower and in total, the German index Dax30 has lost around 1,000 points today, as the decline continued in the European session after the bearish gap. Treasury yields also stayed pressured for the most part, with 10-year yields down by over 15 bps, but that did not stop the dollar this time around from posting gains today.

The decline in Gold and the climb in USD/JPY give you the idea that the sentiment must have improved, but that's not the case, since stock markets and commodity currencies continue to decline. It is more of a case of the USD, which has been gaining ground, after suffering considerable losses in the last two weeks, especially against the Euro. The ECB didn't cut repo/deposit today as almost all other major central banks have done, but they will increase the stimulus package, but I don't think money will make people go to work when governments are enforcing a complete shut-down, with good reason. The only way is quarantining the whole country (any country) in their homes for about a month or two, until the virus dies out and then get on with the economy, after the disaster.
The European Session
Eurozone Industrial Production – Manufacturing in particular and industrial production have been in a difficult position in the Eurozone during the last couple of year. The trade war was between US and China, but all the world took the hit and manufacturing in particular has been in deep contraction for a year in the Eurozone now. Industrial production also declined in the last few months of last year, but it jumped higher in January. Below is the report for January:

Eurozone January industrial production +2.3% MoM vs +1.5% expected
December stood at-2.1%; revised to -1.8%
Industrial production WDA -1.9% YoY vs -2.9% expected
Prior stood at -4.1%; revised to -3.6%

ECB Meeting – The European Central Bank held its usual meeting earlier today. Forex calendars weren't showing rate cut expectations, but traders were, after all major central banks have cut rates aggressively recently. But, the ECB and the BOJ, as well as the SNB already have rates in negative territory. So, the ECB left refinancing and deposti rates unchanged, at 0.0% and -0.50% respectively. But, they said to increase the stimulus measures.
ECB's Lagarde Press Conference – The European Central Bank (ECB) held its meeting a while ago. There were no expectations for a rate cut, but they could have as well delivered a surprise cut, like most other major banks have done. They didn't but, Christine Lagarde speech sounded sort of worried today, but not as much as she should be. Although, they increased the stimulus measures. She made the following comments in her statement, following the rate decision from the ECB:

The virus is a major shock
Virus will slow down production and reduce demand
Calls for help from fiscal authorities
Ambitions, coordinated fiscal policy response needed
ECB measures will help smooth provision of credit
ECB stands ready to adjust all instruments
Latest indicators suggest considerably worse outlook
Necessary containment measures are adversely affecting activity
Growth moderated before the virus outbreak in manufacturing
Growth expected to regain traction in medium-term
Sees 2020 growth at 0.8% vs 1.1% but numbers pre-date coronavirus
Risks skewed 'clearly' to the downside for 2020 notably and also for 2021
Sees 2021 growth at 1.3% vs 1.4% prior
1.4% in 2022 vs 1.4% prior

The World Goes into Shut-down – First it was China which shut large parts of the country down, then it was Italy, South Korea and Japan, now all European countries are starting to shut down parts too. Ireland officially announces closure of schools and limit mass gatherings due to coronavirus. Irish prime minister, Leo Varadkar, announced:

Schools, universities to be closed from this evening to 29 March
To limit mass gatherings and indoor gatherings
Shops, cafes can stay open but should look at how to operate social distancing
US Session
US Unemployment Claims – The initial claims continue to show strength, but the market is expecting those numbers to expand going forward as businesses shut down. The sports world is leading the way. There are a lot of employees that will be out of work who work at arenas across the country.

initial jobless claims 211K vs 220K estimate
4-week average 214K vs 213K last week
continuing claims1722K vs 1733K estimate
4-week average 1727K vs 1721.25K last week

US PPI Inflation Report – The US PPI (producer price index) report was released a while ago. PPI inflation has been increasing lately, coming up at 0.5% in January, but the decline in crude Oil prices has turned PPI negative.

US February PPI -0.6% m/m vs -0.1% expected
January stood at +0.5%
PPI YoY +1.3% vs +1.8% expected

Coronavirus Cases –


Country,
Other
Total
Cases
New
Cases
Total
Deaths
New
Deaths
Total
Recovered
Active
Cases
Serious,
Critical
Tot Cases/
1M pop
China
80,796
+18
3,169
+11
62,826
14,801
4,257
56.1
Italy
12,462
827
1,045
10,590
1,028
206.1
Iran
10,075
+1,075
429
+75
3,276
6,370
120.0
S. Korea
7,869
+114
66
+6
333
7,470
54
153.5
Spain
3,003
+726
84
+29
189
2,730
126
64.2
Germany
2,502
+536
5
+2
25
2,472
9
29.9
France
2,281
48
12
2,221
105
34.9
USA
1,380
+79
38
15
1,327
10
4.2
Switzerland
867
+215
6
+2
4
857
100.2
Norway
713
+84
1
712
131.5
Diamond Princess
696
7
325
364
32
Japan
643
+4
16
+1
118
509
26
5.1
Sweden
635
+135
1
1
633
2
62.9
Denmark
615
+101
1
614
2
106.2
Netherlands
614
+111
5
2
607
1
35.8
UK
590
+130
10
+2
18
562
8.7
Belgium
399
+85
3
1
395
2
34.4
Austria
302
+56
1
+1
4
297
1
33.5
Qatar
262
262
90.9
Trades in Sight
The main trend is still bearish
The retrace up is complete
The 100 SMA acting as resistance
The ECB will increase stimulus
EUR/USD reversed at the 100 SMA
EUR/USD made quite a climb in the last two weeks, despite the outbreak of coronavirus in Europe, particularly in Italy. Italian economy has been shut down and the rest of Europe will follow, which will hurt the economy and probably put it in recession, so the climb seemed strange. But, the climb ended at the 100 SMA (green) on the weekly time-frame chart. Buyers pushed above that moving average for a while, but that doesn't quite count as a break, since the candlestick didn't close above it. So, EUR/USD failed to break the 10 SMA and it seems like buyers gave up. After all, it was a respectable retrace, climbing from 1.07 lows to 1.15.
But, the price reversed on Monday this week and it has been going down since then. Today, the decline picked up considerable place, after the ECB announced it would increase QE by 120 billion Euros/month and announce new LTRO. The USD has also played a part in this, since it has been strengthening considerably today, so we have a bearish bias for this pair.
In Conclusion
There wasn't much panic today, but the sentiment remained negative after US President Donald Trump decided to close flights with Europe. Stock markets continue to decline, but safe havens have also turned lower. The Euro is the biggest loser though, after the ECB decided to increase the stimulus package.