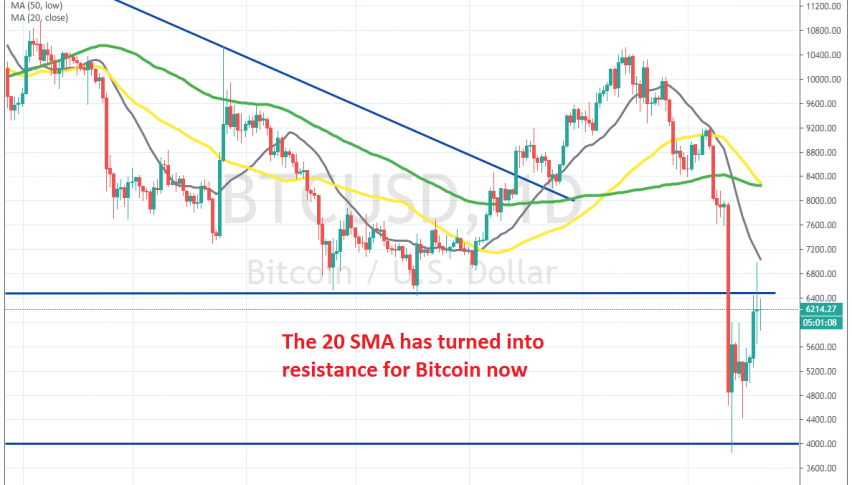 Technicals Are Working Well For Bitcoin
Most of last year was bearish for BITCOIN , as it declined for the last six months, while only rallied for three months, prior to that. But, it terms of pips, Bitcoin ended the year higher. Anyhow, Bitcoin ended the year declining, reaching a low at around $6.500.
But, with the start of the new year, the trend changed and in the last two months, this cryptocurrency turned quite bullish. It climbed from that area, which seems to have formed a support, to $10.50 during January and February. The trend was pretty strong, since the smallest moving averages, such as the 20 SMA (grey) was providing support on pullbacks in the daily chart, as shown above. So, it seemed like the larger bearish trend of the last several years, was on again.
But, coronavirus stroke and the spread of it in the West scared everyone. Markets crashed, commodities and commodity dollars have lost the ground beneath their feet and Europe and North America is shutting down. It seems that this virus is having a negative impact on Bitcoin as well, which has also turned quite bearish.
The price fell to $3,800 last week, but bounced off. The $4,000 level used to be a resistance area in Q1 last year, so it might have turned into support now. The 20 SMA turned immediately from support into resistance for Bitcoin, with the first time rejecting the price during the retrace early this month, then again on Thursday.
Bitcoin seems stuck between the 20 and 100 SMAs on the H4 chart
Switching to the H4 chart, we see that the 100 SMA (green) turned into resistance in the first retrace this month, and then again on Thursday. But, the 20 SMA has turned into support for Bitcoin on this time-frame. So, it seems like moving averages are working for Bitcoin now, as well as support and resistance levels. Now Bitcoin seems stuck between the 20 SMA and the 100 SMA. Let's see if sellers will remain in charge now, or if the move up of the last few days is the beginning of a bullish reversal.