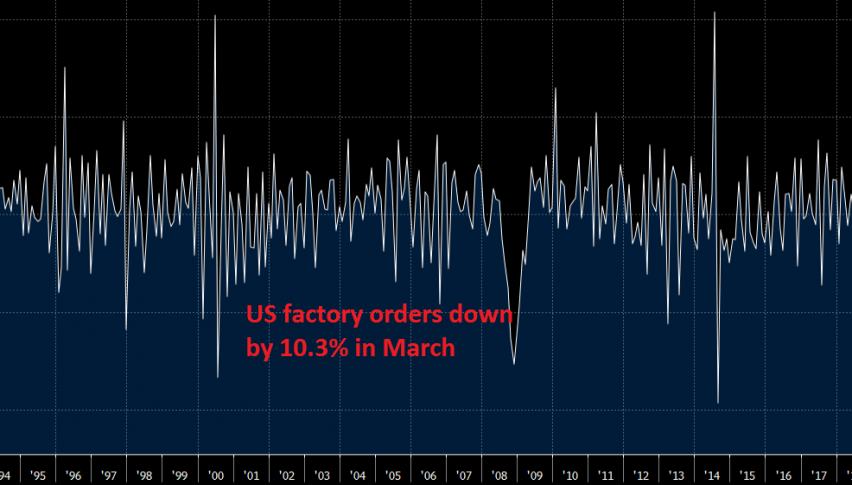 Biggest Decline in US Factory Orders in March Since 1957
As coronavirus spread in the US and the country went into house arrest in March, the economic numbers started diving lower one after the other. Services have been hit the hardest since everyone is staying inside, but other businesses as well, apart from vital ones.
ISM manufacturing fell only slightly in contraction in March, but I suppose businesses knew what was coming, so they cancelled orders in March, that were supposed to be delivered in April or May. For April, US ISM manufacturing fell deeper in contraction at around 40 points, so the orders for March show that. Below is the factory orders report:
Factory Orders Report March 2020:
March factory orders -10.3% vs -9.4% expected
Factory orders in February stood at 0.0%, revised to -0.1%
Factory orders ex transport -3.7% vs -0.9% prior
Durable goods revisions:
Durable good orders -14.7% vs 14.4% exp (prelim -14.4%)
Lowest figure (since 1992)
Excluding transport -0.4% vs -0.2% expected
Capital goods orders non-defense ex-air -0.1% vs +0.1% expected
Capital goods shipments non-defense ex-air -0.2% vs -0.2% prelim
What's interesting here is how hard transport was hit and how the first wave of pain was almost entirely focused on that part of the economy. Will it stay that way or is it just going to unfold in slow motion elsewhere? Let's see, because no one can tell how things will go right now.
The economic indicators are getting worse in Europe as inflation surges, which will weigh further on the Euro
6 months ago