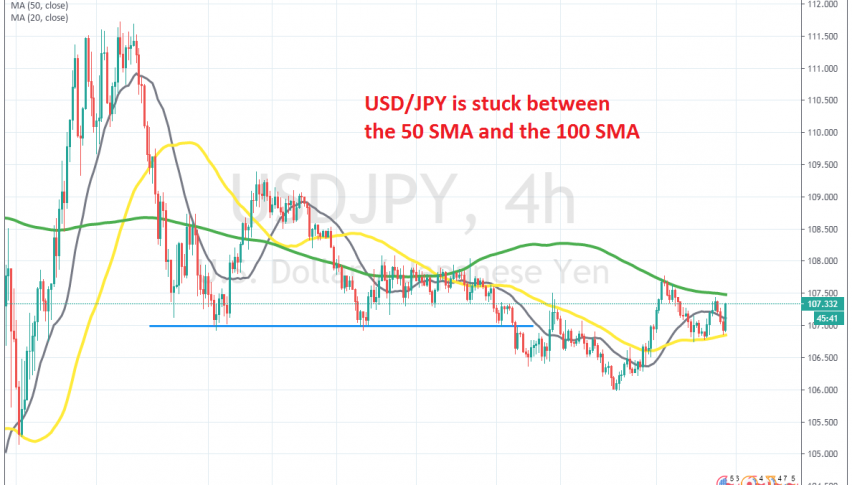 USD/JPY Remains Stuck Between 2 MAS, As We Head to the Weekend
USD/JPY turned very volatile in March as the sentiment deteriorated due to the coronavirus pandemic breakout in Europe and North America. Traders rushed towards safe havens as a result, which sent this pair diving 11 cents lower. But the decline ended above 101 and in the next coupe of weeks this pair reversed back up, claiming back most the losses.
The climb stopped at 111.70s by the end of March and in the last week of that month, USD/JPY retreated around 5 cents lower. A bottom was put in place during April at 107, while the highs were getting lower, suggesting that the trend was turning bearish.
Then the break came towards the end of March and USD/JPY fell to 1.06, where the decline stopped. The 50 SMA (yellow) turned into resistance on the H4 chart during the second half or April and in the first week of May, but that moving average was broken eventually and has now turned into support, holding this pair twice, including today.
The 100 SMA (green) has turned into resistance on the other hand, so USD/JPY remains confined between these two moving averages on the H4 time-frame and I think that it will close the week between them, unless there some last minute action before the weekend, just in case the world comes to an end, which might, considering the situation we are now. We missed the opportunity to buy at the 50 SMA earlier today, but might sell at the 100 SMA at the top.
Safe havens such as Gold and the JPY have been taking advantage of the financial troubles with the ban king system and lower FED rate odds
2 days ago