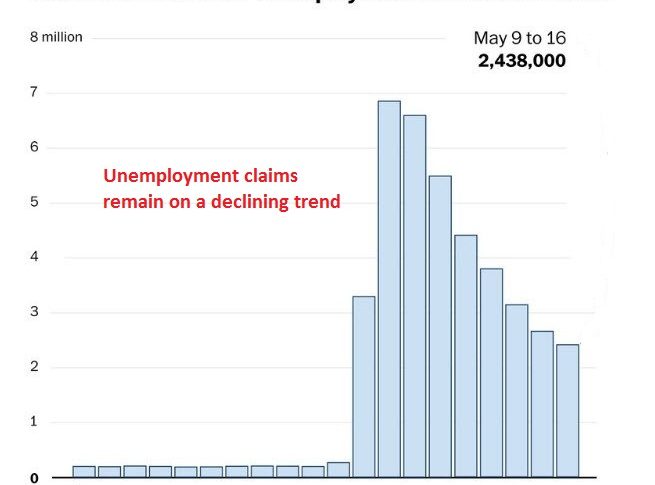 Unemployment Claims Decline But Still Remain High
The unemployment claims surged higher in March, reaching some 6 million claims each week in the last two weeks of that month. Claims have been declining, falling below 3 million on a weekly basis, but that's still massive. The total number of unemployed people claiming benefits is still climbing though, reaching 38.7 million.
So even though claims are falling, the numbers are piling up for the total, which should see the unemployment rate probably exceeding 20% by May or June. Although, let's hope the situation improves as the US starts to re-open. Below is the unemployment claims report for last week from the US:
Initial jobless claims 2,438K vs. 2,400K estimate. Down from last week 2,687K (was originally 2,981K)
4 week moving average initial jobless claims 3,042K vs 3,543K last week
Continuing claims 25,073K vs 24,250K estimate
4 week moving average of continuing claims to 22,002.25K vs 19,688.75K last week
Total claims since mid March is now around -38.7 million
The trends continue with jobless claims still increasing but at a slower pace. As the reopening continues, there should be further declines in weekly initial claims.   Can they go positive again? At some point but with the numbers still in the mid 2 million, they have a ways to go still.
The Wall Street Journal today had an article about how self-employed people are not being included in the initial claims data but are indeed receiving benefits as a result of temporary stimulus program as a result of the coronavirus.  So although the numbers are still shocking, they are actually worse.