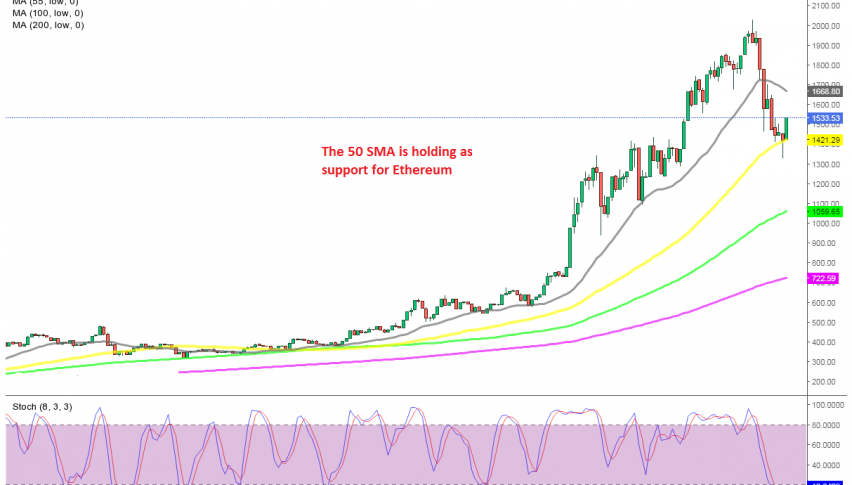 Ethereum Bounces Off the 50 Daily SMA, So Is the Retreat Over?
Ethereum slipped below the the 50 SMA (yellow) on the daily chart today, as cryptocurrencies continued last week's pullback. The retreat last week was one of the biggest ones  in recent months. In fact, it was the biggest retreat since the crash in early 2018, following the surge at the end of 2017.
ETHEREUM lost around $ 750, giving back more than a third of its value, while Bitcoin from from above $ 58,000 more than a week ago, to $ 43,000 yesterday. But, this might actually be the end of the retreat, which would also be a good opportunity to go long on cryptocurrencies, as we explain more in depth in our Ethereum price prediction for 2021.
Ethereum did slipp below the 50 SMA yesterday, but it pulled back up, closing the day above it which means that the break doesn't count officially, since the candlestick has to close below the moving average, or any other indicator for the break to be official. Otherwise, it is just a fake-out and not a real break-out.
Today we are already seeing a bounce, with the price around $ 330 higher, while the stochastic indicator is already oversold on the daily chart. This means that the retrace is over now and the stochastic indicator is already turning higher form the bottom. We are already long on Ethereum and Litecoin from higher up, which we opened as the price was coming down.
The first test for Ethereum buyers comes at the 50 SMA
But, buyers will have to push above the 50 SMA on the H4 chart now. This moving average has worked as support for Ethereum before, which means it might turn into resistance now. This is the test whether Ethereum can resume the bullish trend, or if it will keep retreating lower, so we will have to watch the price action right now at the 50 SMA. hopefully it will break above it soon.