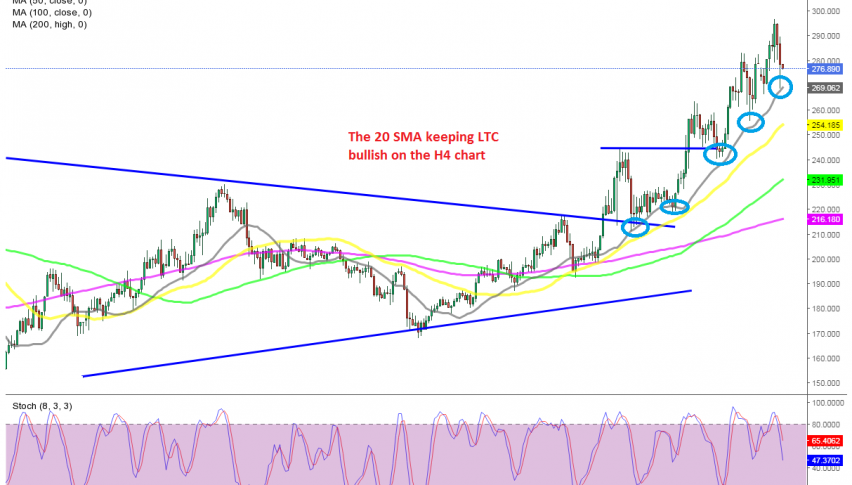 Cryptos Retreat, But MAs Continue to Keep Litecoin Supported
H1 Chart Litecoin Technical Analysis
Cryptocurrencies continue the march higher, pushing to record levels almost everyday. They're all taking turns in leading the way up for the rest of the market and Litecoin seems to has taken the lead in recent weeks, as it has gained considerable ground compared to its clue during this time.
Looking at the h1 chart above, we can see that moving averages were providing resistance during the last week of March, as the price was retreating lower. But they turned into support once the price moved above them.
The 200 SMA (purple) was acting as the ultimate resistance indicator on the way down and it turned into the ultimate support when the trend turned bullish eventually. But, it hasn't been able to catch up with the price since then, as the trend picked up pace further this month.
H4 Chart Litecoin Technical Analysis
On larger time-frames, such as the daily or weekly, Litecoin is totally bullish, as we have explained in our 2021 Litecoin price prediction. On the H4 chart, we see that the larger moving averages were providing support when the trend turned bullish  initially for LTC/USD. But then the trend picked up pace and the smaller moving averages took up that job.
On the H1 chart, the 100 SMA is doing the support job
The 20 SMA (gray) in particular has been acting as support for about a week on this time-frame chart for LITECOIN . We have seen several retraces down to that moving averages, but they have all ended up at the 20 SMA and the price has continued the bullish trend higher.
Today we are seeing another pullback down, but the 20 SMA is already providing support, with the price climbing $10 already now, as it bounced off the 20 SMA. This looks like another opportunity to go  long on Litecoin, but we are already long on it, so we're just watching the price action here.