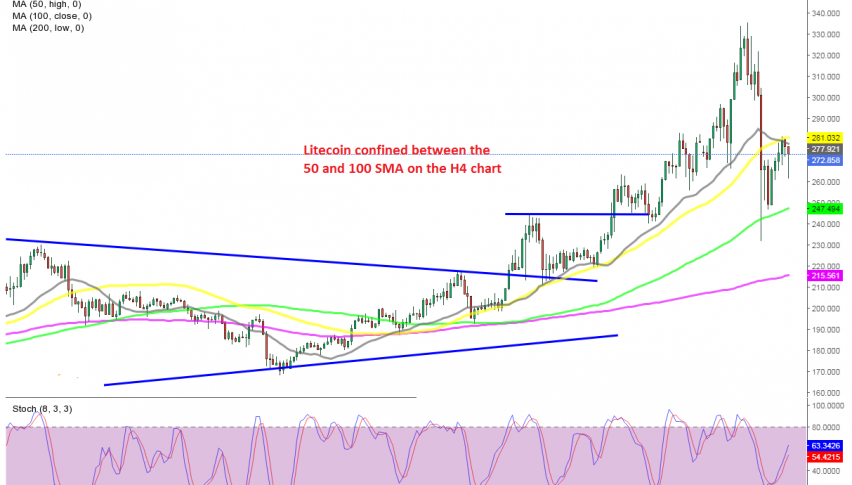 Litecoin Price Forecast: Bouncing Between 2 MAs, After the Weekend Retreat
Cryptocurrencies continued the bullish trend last week, making some new highs, as the crypto market remains on an amazing bullish trend. BITCOIN got pretty close to $65,000 while ETHEREUM climbed above $2,500.
Litecoin on the other hand, kept pushing higher all week last week, reaching $335, with the smallest moving averages, such as the 20 SMA (gray) providing support on the H4 chart. This shows that the bullish trend was extremely strong once again last week.

Cryptocurrencies Crashed Over the Weekend
Som the trend has been really bullish, as we explained in our 2021 Litecoin forecast. But, the situation changed over the weekend and we saw a big crash in the crypto market. Litecoin fell more than $100, losing nearly a third of its value, while Bitcoin fell to $51,500s. There were rumours that the US Treasury is planning to tackle financial institutions for money laundering carried out through digital assets.
This could have been the reason for the crash, but there were other reports. One of them saw $13 billion liquidated in cryptocurrency in buy positions in this market, while Coinbase suggested that the electrical blackout in China's Xinjiang region was to blame for the decline, which allegedly powers much of Bitcoin mining.
The Bounce Has Already Started
But, the decline stopped in the afternoon yesterday and the price bounced off the 100 SMA (green) on the H4 chart for LITECOIN . We saw a $50 bounce, but it stalled right at the 50 SM (yellow) on the same chart.  Litecoin retreated lower, but it's not falling to far from the 50 SMA, which suggests that buyers might come back in and give it another push higher, taking he price above that moving average.
So, the trend remains bullish despite the  retrace lower, which seems compete now. We are still holding on to our buy Litecoin signal, right now being in around $70 or 7,000 pips in profit. We might decide to cash in on this signal, so follow our live signals page for instructions on this trade guys.
Support and Resistance Levels for Litecoin
Support 1 – $245-$250
Support 2 – $230
Resistance 1 – $280
Resistance 2 – $330