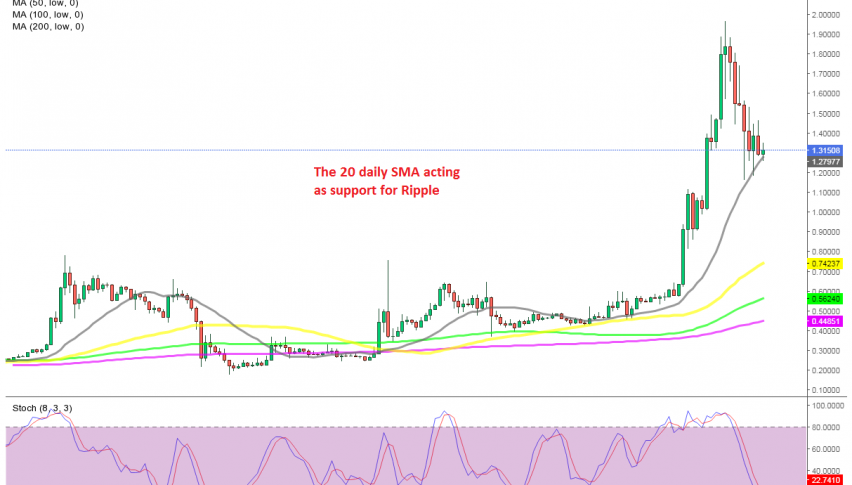 Buying Ripple (XRP) As It Gets Ready to Turn Bullish
Ripple coin (XRP) was the very last of the major cryptocurrencies to turn bullish, only starting the surge in April this year, while the majority of the market started the massive bullish run in Q4 of last year. Nonetheless, it made up for the delay as it climbed pretty close to $2 from around $50.
Ripple XRP Daily Chart Analysis
It traded in a range until recently, as we mentioned in the 2021 Ripple Forecast, but the bullish move of the first two weeks of April was really strong, gaining around 350% in less than two weeks. But, the retreat came last weekend, sending most cryptos diving lower. Although it seems like the retreat has ended for cryptocurrencies.
XRP/USD fell to $1.14, which means an almost 50% retrace. But the 20 SMA (gray) held as support on the daily chart, as shown above. That moving average has been holding as support, pushing the lows higher on this time-fame chart. The stochastic indicator is also oversold now and is starting to reverse higher, which also suggests that the decline is over now.
Ripple XRP H4 Chart Analysis
In the H4 chart, we see that it's the 100 SMA (green) which has been providing support here, pushing the price higher. Although, the 50 SMA (yellow) is acting as resistance at the top, narrowing the range for Ripple.
So, the lows are getting higher and the highs are getting lower as well, forming a triangle which is expected to break out at any time now. The other cryptos such as Ethereum and Litecoin have already turned bullish, with ETH/USD already making new record highs today.
So, the breakout is more likely to be to the upside for Ripple as well, so we decided to open a buy signal here. Now let's give it the time it needs to resume the bullish trend. We have a few cryptocurrency trading signals and have already made more than 4,000 pips from Ethereum this month, so we are not in a hurry.