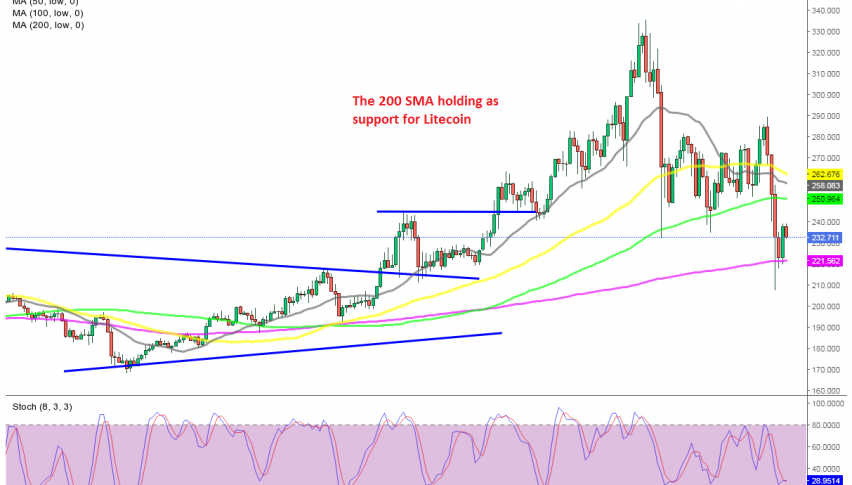 Litecoin Trade Goes From 13K Profit to 0 Pips, But Bounces Off the 200 SMA
The immense volatility in cryptocurrencies continues, as they make some massive moves up and down. The overall trend remains bullish nonetheless, but last week and in the last few days in particular have been really extraordinary, as the price in most major cryptos moves thousands of pips up and down.
Comments from the Biden administration for higher taxes on cryptocurrencies have been hurting the sentiment among investors tis week. We heard rummours about an 80% tax on cryptos, which would be difficult to implement by the way.
Chances are that the crypto market won't see such a tax, but it is weighing on digital currencies, which went through a deep pullback last night. BITCOIN fell by nearly 8% in a drop to $47,465 but has crawled its way back up to $50,000 again now and is down a little under 3% on the day.
LITECOIN lost around $80 today after on a strong long term bullish trend, as it fell from $288 to $208 during the night, erasing all our profit, which at some point last Saturday was at $13,000K. Although, the 200 SMA (purple) held as support on the H4 chart for Litecoin, despite being pierced briefly.
It held on the second attempt as well and now the price has bounced higher to $230s, with our signal here being 3K pips in profit right now. The pullback seems complete for now and we will likely see a continuation higher form here, although it will take some time until the upside momentum picks up pace again.
The trading range is getting extremely tight for Shiba Inu and Dogecoin, suggesting a breakout
7 hours ago