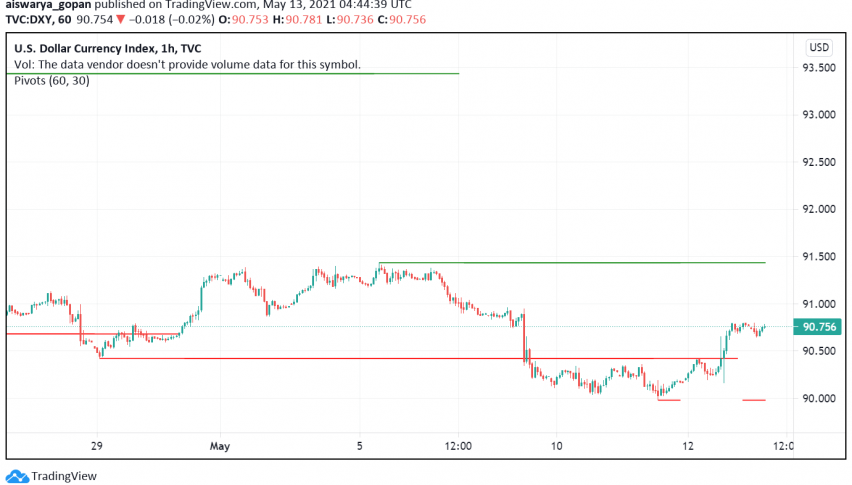 US Dollar Strong After CPI Rises – Reflation Fears Dominate
The US dollar is enjoying support from a rise in US Treasury yields early on Thursday, a day after the consumer prices posted a stronger than forecast increase and raised concerns about inflation overheating in the US. At the time of writing, the US dollar index DXY is trading around 90.75.
The week promises more volatility in the greenback with the weekly jobless claims figures coming out today, followed by retail sales on Friday. While both data points hold significant important among forex traders, the latest figures are especially in focus to see if they will support markets' fears about rising inflationary pressure as the US economy recovers rapidly from the coronavirus crisis.
Against the safe haven Japanese yen, the US dollar has strengthened to a five-week high, boosted by the surge in Treasury yields which increase the appeal of the reserve currency among investors. The dollar is also trading steady against the common currency, Euro, after having risen by 0.6% during the previous session and is holding near a one-week high against the Swiss franc.
The CPI report which released on Wednesday revealed that US consumer prices rose at the fastest pace in almost 12 years during the month of April as the US emerged out of lockdown and demand soared while supply chains remained under pressure. This sent the benchmark 10-year US Treasury yields above the 1.70% level, supporting the bullishness in the greenback.