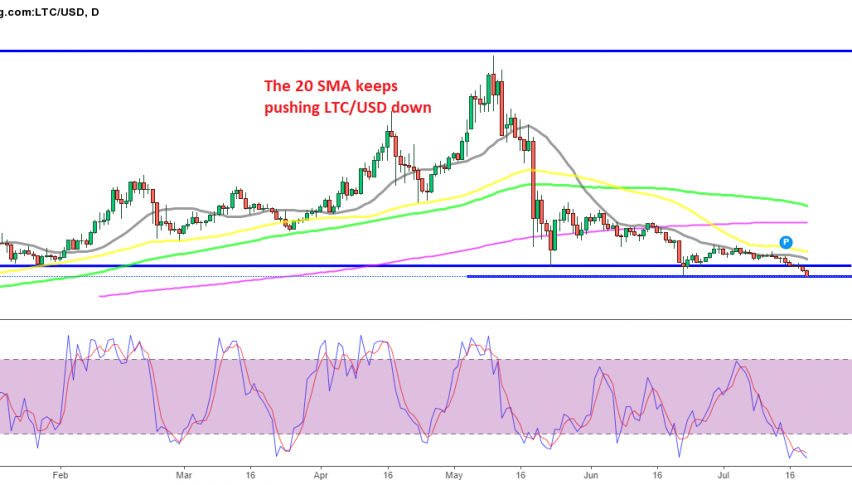 Litecoin Facing the Last 2 Support Levels at $105 and $100, After the Biggest Decline Since June
Litecoin has been having a tough time holding on to gains it made earlier during this time. Litecoin was trading just above $105 today, which means it is 11% down on the day. This was the largest one-day loss since June 21, when the second crypto crash came, which means that after slowing down for about a month, the decline is picking up speed again in Litecoin and the broader cryptocurrency market today.
BITCOIN is down below $30,000 again for the first time since June 22, which is also lower than the first crash in May. So, the downside momentum is picking up again in cryptocurrenncies and they're breaking below some major support levels, opening the door for further downside.
LITECOIN was finding support at $120, which was holding for about a month. That level was broken yesterday and today we are seeing a continuation of the bearish momentum, with the price facing two major support levels, as suggested in the headline above.
The first support level comes at $105, which was the low in June, the next support level comes at the big round level at $100. China's crackdown on cryptocurrencies and on Bitcoin mining is having a major impact on the value of the crypto market, although the mining is getting easier, as competition declines, which means more Bitcoin for less effort.
Nonetheless, the decline continues for cryptocurrencies and Litecoin is now facing these two major support levels. The $100 level would seem a really good place to go long in LTC/USD until a month ago, but with the decline picking up speed in the cryptocurrency market, my colleague Arslan decided to go long in Litecoin from higher above and this trade is going well. Although, I have to let him know that we should follow the price action closely when Litecoin gets close to $100 because we might see a bounce there as sellers close some of their short positions.
The trading range is getting extremely tight for Shiba Inu and Dogecoin, suggesting a breakout
8 hours ago