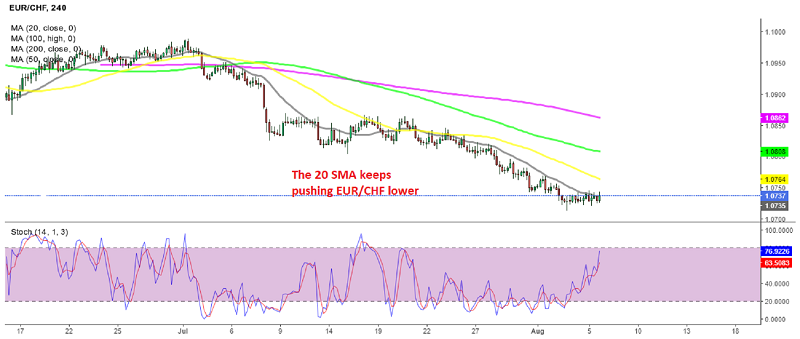 The EUR/CHF Decline Shows Uncertainty in Markets
The Eurozone economy went through a second recession last winter, due to the new restriction and lockdown, after the first recession earlier in 2020. Although, in recent months we have seen a major improvement in the Eurozone economy after the reopening, with manufacturing and services surging higher. Although, the Euro has turned weaker instead of running higher, as a result of uncertainty.
CPI (consumer price index) inflation is stagnating around 1%, with the core number even lower, while the continent is vulnerable to further restrictions, come autumn. The CHF is benefiting as a safe haven from the uncertainty, together with the JPY.  The 20 SMA (gray) has been working as support for EUR/CHF, also confirming the negative outlook for this pair. The German industrial production was expected to turn positive and increase by 0.6%, after 4 declines in the last 5 months.
Germany June Industrial Production Report
Germany June industrial production MoM -1.3% vs +0.5% expected
May industrial production was -0.3%
Industrial production WDA YoY +5.1% vs +11.0% expected
Prior +17.3%; revised to +16.6%
A miss on German factory output in June and that's not too encouraging as hard data fails to live up to expectations of a more robust performance in the manufacturing sector.
Compared with February 2020, production in June was 6.8% lower. That provides some idea of how industrial output is faring despite the more positive tones as of late.