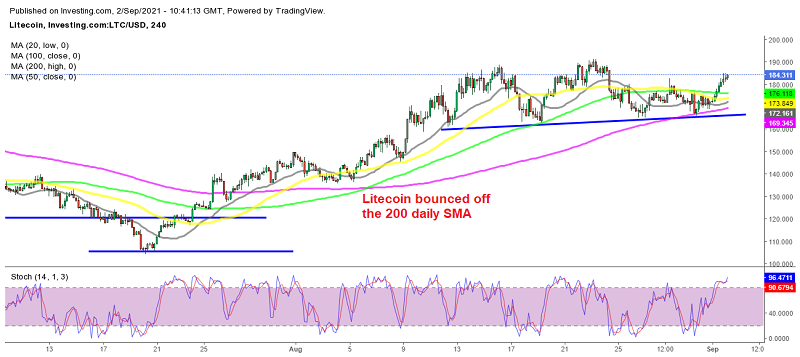 Booking Profit in Our Buy Litecoin Signal
Cryptocurrencies have been finding it hard to resume the bullish trend in the last couple of weeks, after the strong bullish momentum that engulfed the crypto market from the end of July until mid-August. Litecoin climbed around $85 to just above $190, but since then, it has been trading sideways within a range.
We had a long-term buy signal which we opened near the bottom, above $105, and booked profit as the price surged higher. Although, besides trading the trend, we can also trade ranges in cryptocurrencies, which is what we did with Litecoin, buying it near the bottom of the range.
Range trading has been happening in cryptocurrencies during the last two weeks, except in certain cryptos, such as ETHEREUM and Solana, which have been absolutely surging during this time. Bitcoin has been trading in a range just below $50,000, although that might be coming to an end as BTC/USD moves above $50,000.
Litecoin continues the range-bound price action
The range in Litecoin has been roughly between $165 and $185. Ranges can be traded too, and they offer some good opportunities, with a decent risk-reward ratio. We bought LITECOIN in August at around $170, and after some wobbling around, Litecoin finally hit the take profit target earlier today.
Buyers seem to have resumed control in cryptocurrencies now, as Bitcoin moves above $50,000, while Litecoin resumed the bounce from the 200 SMA (purple). The bullish momentum is on now, although LTC/USD might still respect the range. Nonetheless, the Litecoin signal closed in profit, since we placed the TP target below the top of the range, as you usually do when trading ranges, since you don't know if the range will break or not and we don't really know if Litecoin will push above the 200 daily SMA (purple) on the daily chart above. So, we booked $15 in profit, which means $1,500 pips.