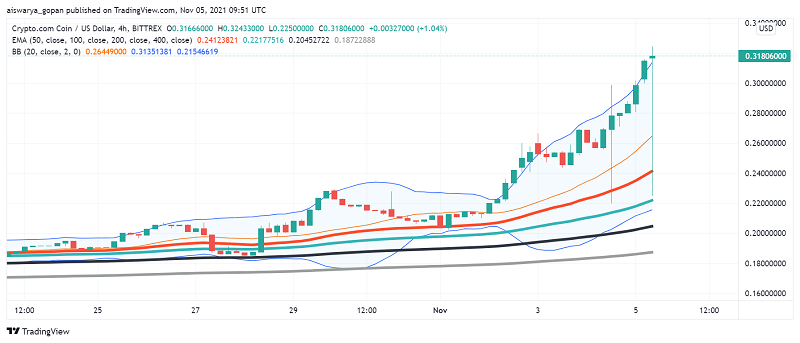 Crypto.com Coin Rises to New ATHs After Coinbase Listing
Crypto.com Coin (CRO) is enjoying quite the surge into Friday, although it has eased slightly lower from a new ATH hit a while back, supported by the optimism of being listed on leading crypto exchange Coinbase. At the time of writing, CRO/USD is trading at around $0.318.
Although Crypto.com can be considered a key rival of Coinbase, having its native token listed on the popular US-based exchange is a recognition that it is time to take this cryptocurrency seriously. It could be a risky gamble from a business perspective as far as Coinbase is concerned, but CRO's potential cannot be ignored – as the 28th largest cryptocurrency by market cap, its value has risen by nearly 300% over the past year.
CRO is the native token used within the Crypto.com ecosystem, whose exchange is ranked among the top five spot exchanges globally in terms of trading volume. Functioning quite like the Binance Coin (BNB), the token can be used to make discounted payments for services on the platform in addition to accessing DeFi apps for lending, borrowing and performing asset swaps in a decentralized manner.
Promising Partnerships Support Crypto.com Coin's Rise
In addition to the Coinbase listing, Crypto.com Coin has been enjoying a sharp spike in trading volume since the beginning of this month, which is also sending its price higher. Increased user activity on the Crypto.com platform increases the value of the token, and could be considered an indication that its efforts for promotion are succeeding. Last week, its ad campaign featuring Matt Damon as brand ambassador rolled out in an attempt to capture more attention from users.
The platform has also successfully signed a five-year sponsorship deal with Formula 1, a move that is sure to boost its branding efforts significantly. In addition, Crypto.com is also partnering with UFC to launch their NFT collection on its ecosystem. This is the second significant NFT partnership, following the launch of a collection of NFTs for the Philadelphia 76ers.
Another interesting partnership that can support the bullish momentum being seen in the CRO coin is a multi-year partnership between Crypto.com and eSports tournament host Twitch Rivals. With this, the crypto giant will become Twitch's official partner in the APAC region, a move that is sure to increase crypto adoption in the eSports space within this region. In addition, Crypto.com will also benefit from category exclusivity as well as in-stream branded segments, media placements and branded ads on over 250 broadcasts globally.
CRO/USD Technical Analysis
On the H4 price chart of CRO/USD, moving averages along with the MACD suggest a strong bullish bias. However, other indicators such as the momentum and average directional index are flashing sell as well.
Although it has eased slightly from the fresh high, Crypto.com Coin's price has crossed the pivot point at $0.20 and has broken past all resistance levels. The bullish momentum is likely to continue as long as the sentiment among investors remains upbeat and prevents profit-taking.