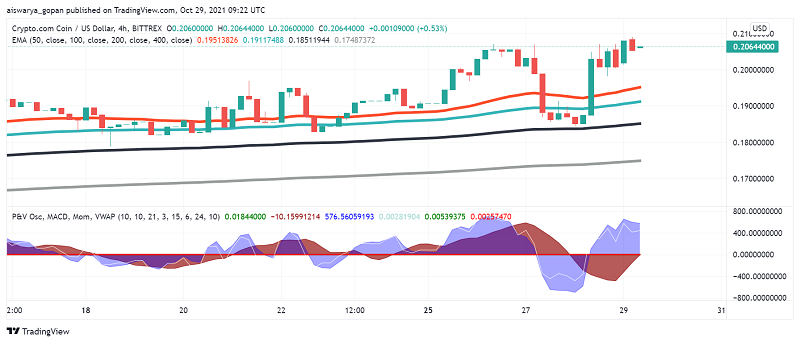 Why We Should Keep an Eye on Crypto.com Coin (CRO)
Crypto.com Coin (CRO) is a brand new coin we have our eyes on, showing interesting moves lately and offers the potential to rise even further in the coming sessions. At the time of writing, CRO/USD is trading at around $0.206.
All You Need to Know About CRO
The native token of the Crypto.com Chain designed to boost cryptocurrencies' acceptability as a payment method, CRO's uptick has been powered by the rising interest in using cryptocurrencies for payments, as trading instruments and even for other investment purposes. The latest rally underway in Bitcoin and other leading digital currencies has caused the crypto services app to become the second most popular crypto app on iOS.
The high level of downloads seen in Crypto.com suggest an increase in user activity on its platform, which in turn is supporting the uptrend in CRO's price. As the native token used within Crypto.com's ecosystem, its value surges when there are more users on the platform conducting more transactions, and the renewed interest in cryptocurrencies among users lately is contributing to this factor.
Crypto.com Announces $100 Million Ad Campaign
The future prospects for the Crypto.com Coin also appear bright with the app recently announcing a $100 million investment in ad campaigns worldwide. Targeting over 20 countries over the next few months, the company has roped in Hollywood star Matt Damon as its brand ambassador to engage with users worldwide and to shed light on the brand's partnerships.
Earlier this week, Crypto.com donated $1 million to Water.org, a non-profit initiative focused on providing clean and safe water for consumption. In addition to the donation, the partnership between the two companies will allow the app's users to donate to the cause as well.
Crypto.com is one of the fastest growing digital currency platforms in the world, which shot into fame after offering a Visa card with a crypto-focus, offering users rewards for staking CRO. The ad campaign is likely to drive up awareness of Crypto.com's offerings and grow its user base from over 10 million at present. More users signing up the platform and increasing the on-chain activity will further drive up the value of the CRO token going forward.
CRO/USD Technical Analysis
Taking a look at the H4 price chart of CRO/USD, moving averages along with the MACD are suggesting a strong bullish bias. However, the momentum indicator signals some selling interest as well.
Crypto.com Coin's price is holding above the pivot point at $0.188 and buyers have also successfully crossed the first resistance at $0.198. It looks like momentum is building up to overcome the next resistance at $0.207, so keep an eye on this level for now.
Cryptocurrencies were showing strong bullish pressure in the first two months of 2023, but the bullish momentum has faded
3 weeks ago