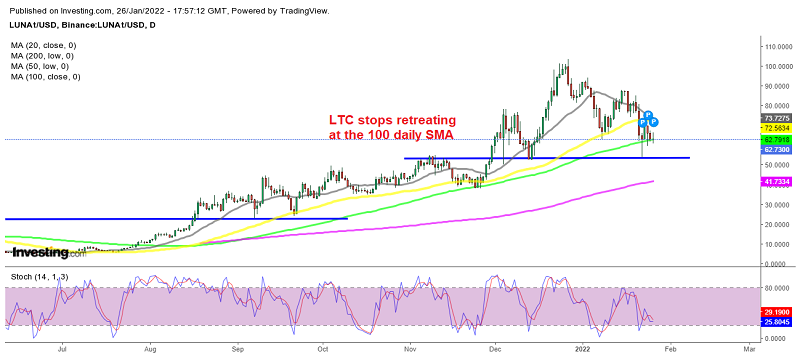 Will We See A Bullish Reversal in Terra LUNA and Litecoin (LTC) As Support Holds?
The decline has stalled once again in the crypto market, after the bearish momentum we saw last week and earlier this week. This has been a major retreat but it might be over now, after Bitcoin and Ethereum lost more than half their value and other cryptos have reached some major support zones. Litecoin and Terra LUNA have found support and are giving signs that they might turn bullish, so let's see what's going on with them.
The 100 SMA Holds As Support for Terra LUNA
Terra LUNA is one of the few crypto coins to remain bullish, despite the recent retreat, which actually might be over. LUNA/USD made new all-time highs as it climbed to $103 by the end of December, even with the market being bearish for two months. This month has been bearish for LUNA, but it is still making higher lows, which means that the trend is still bullish and the latest pullback might have ended already.
The previous support and resistance around $54 held last week, when the 100 daily SM A(green) was pierced. Although that moving average still held as support and now we might see the uptrend resume again, especially if the sentiment in the crypto market improves after such a considerable retreat.
The terra network is one of the leaders in the DeFi space in the crypto industry by terms of total value locked (TVL) more than $21 billion a month ago. It has employed $140 million to enhance the interchain deployment of its LUNA and UST coins in DeFi projects and formed the Luna Foundation Guard (LFG) to safeguard the stability of UST. This makes the LUNA coin very interesting for investors, so we are looking to buy this cryptocurrency around these levels, since it is showing signs that it wants to turn bullish.
The $100-105 Support Zone Holds for Litecoin
Can LTC bounce off the support zone?
Litecoin has been one of the bearish cryptocurrencies among major ones, together with Ripple (XRP) and Cardano (ADA). After failing to hold the gains close to $300 early in November, LTC/USD turned bearish and it has been declining since then. The support at around $140 which held for a month was broken this month and now the price is trading at the ultimate support zone which stretches between $100 and $105.
Whale buyers have been accumulating for many months in Litecoin but it has failed to turn LTC bullish. The MimbleWimble upgrade is also failing to attract investors and help Litecoin. but at least the sentiment has improved a little in the crypto market, which has helped Litecoin stop declining right at the support zone. Will it turn bullish from here? No one knows, but this is a good place to buy since it offers a decent risk/reward ratio until the recent top at $300.
Cryptocurrencies were showing strong bullish pressure in the first two months of 2023, but the bullish momentum has faded
2 weeks ago