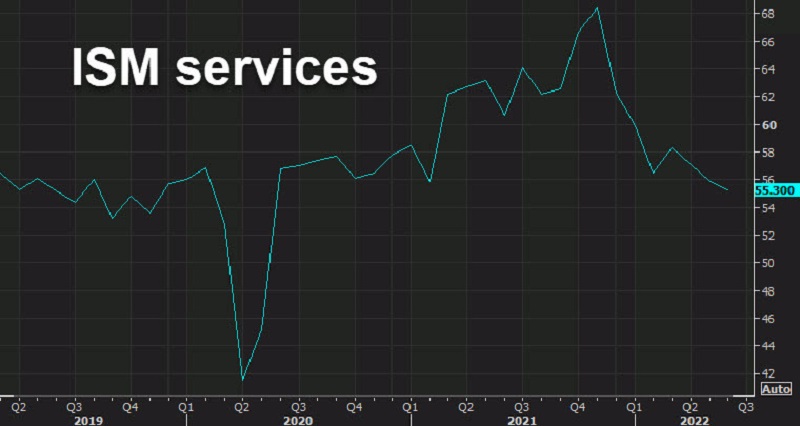 Remaining Long on the USD, As US Services Remain Robust
The US Dollar has shown strength since it resumed the larger bullish trend again last month, and today it climbed again on better-than-expected data on the services sector. The ISM services survey was relatively steady in June at 55.3 points from 55.9 a month earlier. That beat the consensus estimate of 54.3 points. The 'production' survey was particularly strong, showing that near-term activity remains strong.
That report was accompanied by another report showing that US job openings remain at extraordinarily high levels. USD/JPY was the main beneficiary as it rose to 135.91 from 135.40 before the release. The pair is benefiting from a reversal in Treasury yields. 2-years are now up 9 bps to 2.90% from a low of 2.76%. We opened a buy signal on USD/JPY earlier which hit the take profit target and now we just opened another buy forex signal, which is looking good.
USD/JPY 5 Minute Chart – Bouncing Off the 20 SMA

Service Sector Survey for June 2022
June non-manufacturing index 55.3 points vs 54.3 expected
May services were 55.9 points
ISM Services Report Details:
Prices paid 80.1 points vs. 82.1 last month
Employment 47.4 points vs. 50.2 last month
New orders 55.6 points vs. 57.6 last month
Production 56.1 points vs. 54.5 last month
Supplier deliveries 61.9 points vs. 61.3 last month
Inventories 47.5 points vs. 51.0 last month
Backlog of orders 60.5 points vs. 52.0 last month
Exports 57.5 points vs. 60.9 last month
Imports 46.3 points vs. 52.8 last month
This is a positive surprise, showing that the service sector remains robust.
Comments in the report:
"Supply chain and supplier reliability continues to improve for most of our key food and packaging needs. Equipment still (experiencing) typical long delays. Staffing employment challenges have resurfaced, and costs have dramatically increased on core needs, led by soybean oil products. Rise in diesel fuel affecting almost everything." [Accommodation & Food Services]
"(Interest) rate increases have slowed sales but have not helped with supply challenges yet." [Construction]
"While activity dropped 2 percent from the previous month, activity volume was 47 percent higher compared to May 2021." [Educational Services]
"It seems like everyone is jumping on the bandwagon (of) raising prices under the guise of inflation, cost of energy and shortages. Costs on even software renewals have gone up between 5 and 10 percent. This is getting out of control, and we need to be diligent in researching the cause of rising prices on every transaction." [Public Administration]
"The shutdowns in China due to the zero-COVID policy have adversely impacted our supply chain." [Health Care & Social Assistance]
"Demand has softened across consumer product lines, channels and brands over the last year, to levels below those forecasts earlier this year. Adjusting all outlooks down for the rest of year. The (Shanghai) omicron slowdown had an impact, but activity is slowly coming back." [Information]
"Energy services sector demand and activity remain strong." [Mining]
"Consumers are shifting purchases away from our discretionary products to essentials. Inflation is definitely taking a bite from our sales, and mall traffic is far below the norm, potentially due to inflation, a need for more disposable income on essentials, and less willingness to drive to malls. E-commerce sales will be going up again." [Retail Trade]
"Despite higher inflation and energy costs, demand and business activity continue to be at record highs, with little sign of a slowdown." [Utilities]
"Business continues to stay steady amid rising interest rates, a lack of labor,

inflation

, transportation problems and high gas/diesel prices. Outlook is measured due to economic headwinds."
We remain short on the German DAX30 index, as it continues to find resistance above at moving averages
1 week ago