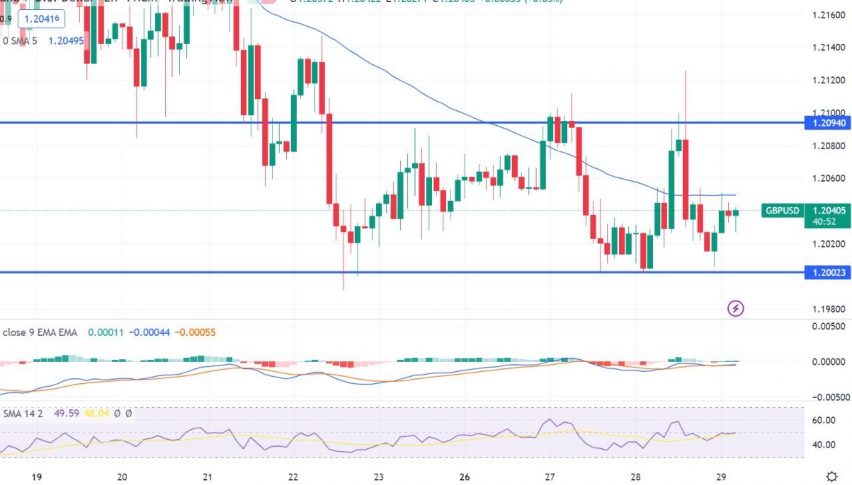 GBP/USD Rebound Above 1.2020 – Buckle Up for a Buy Signal
In the Asian session, the GBP/USD pair is battling to break through the immediate barrier of 1.2050. The cable tried a comeback in Tokyo as investors began to shrug off concerns about an increase in COVID-19 cases in China.
Meanwhile, the US Dollar Index (DXY) has gained ground following a drop from its four-day high of 104.56. The S&P 500 futures haven't gone up, which shows that people are afraid to take risks in the market as a whole.
While 10-year US Treasury yields have continued to fall below 3.86% hourly, the cable is trading in a descending triangle chart, indicating a volatile contraction. The pound experienced demand after falling to near the horizontal support of the aforementioned chart pattern, which was established from the December 22 low of 1.1992. In addition, a downward-sloping trendline is drawn from the December 19 high of 1.2242.
GBP/USD Technical Outlook
The cable GBP/USD is failing to get above its 20-period exponential moving average (EMA) at approximately 1.2038. Meanwhile, the Relative Strength Index (RSI) (14) is bouncing between 40.00 and 60.00, indicating that the cable is waiting for a new trigger.
If the cable decisively crosses the December 27 high of 1.2112, pound sterling bulls will drive the asset toward the December 21 high of 1.2189, followed by the December 19 high of 1.2242. A definitive decline below the December 22 low of 1.1992 will result in a breach of the descending triangle, dragging the cable toward the November 29 low of 1.1940.
A break below the latter exposes the cable to more declines around the November 30 low around 1.1900. Good luck!