USD/JPY On a Downtrend – Get Ready for A Sell Position
USD/JPY is under severe selling pressure near 130.00, having dropped to new six-month lows of 129.82 in the last hour. The pair saw a sharp fall after being rejected at daily highs of 131.40, resulting in a dramatic swing of about 160 pips in a matter of hours.
The Japanese yen is experiencing enormous inflows.
The pair's decline was mostly caused by a fresh burst of Japanese Yen buying as US market futures fell at the open, bolstering safe-haven flows into the Yen. Furthermore, the huge JPY strength in early trades could be related to speculation about the possibility of a hawkish pivot by the Bank of Japan (BoJ) to combat inflation.
Lower liquidity as a result of a Japanese public holiday exacerbated the major's swings. Looking ahead, the US S&P Global Manufacturing PMI will be closely watched, as it is the first macroeconomic release from the US in 2023. Although the minutes of the US Federal Reserve's December meeting, which are due on Wednesday, will draw attention because they will reveal that many members perceived risks that interest rates would need to rise for a longer period of time.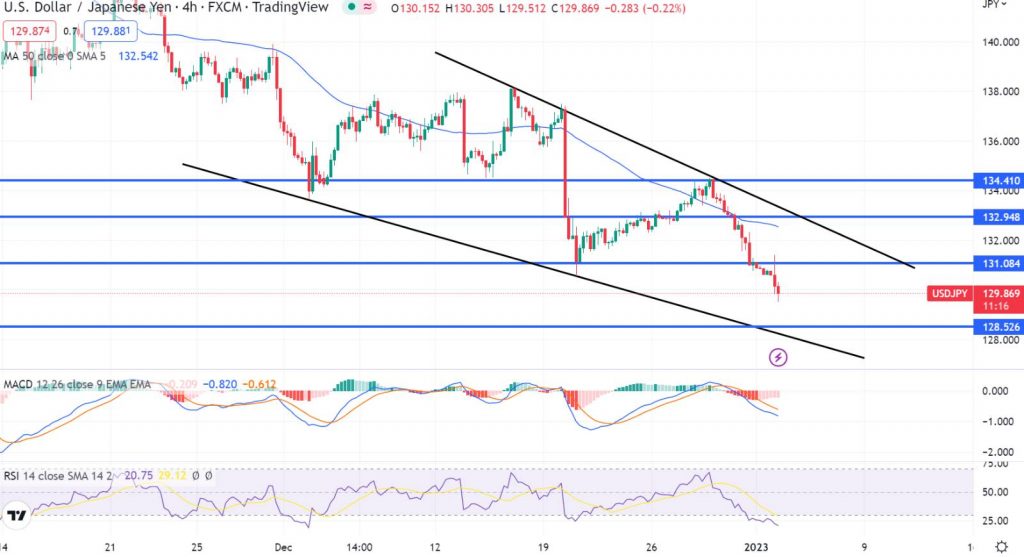 USD/JPY Technical Outlook
The USDJPY pair faced significant negative pressure in the previous sessions to return to the main bearish channel and begins today with another decline to break the 130.00 barriers, opening the way to keep the bearish bias on an intraday and short-term basis, trying to make the bearish trend dominant in the upcoming sessions.
We expect to target 128.90 and 127.85 levels as the next main stations. The EMA50 supports the projected decrease, which will continue to be valid unless the price breaks and holds above 130.55 since breaking this level may initially force the price to test 132.35 regions before any new negative effort.
Today's trading range is likely to be between 128.60 support and 130.50 resistance.
Safe havens such as Gold and the JPY have been taking advantage of the financial troubles with the ban king system and lower FED rate odds
1 day ago