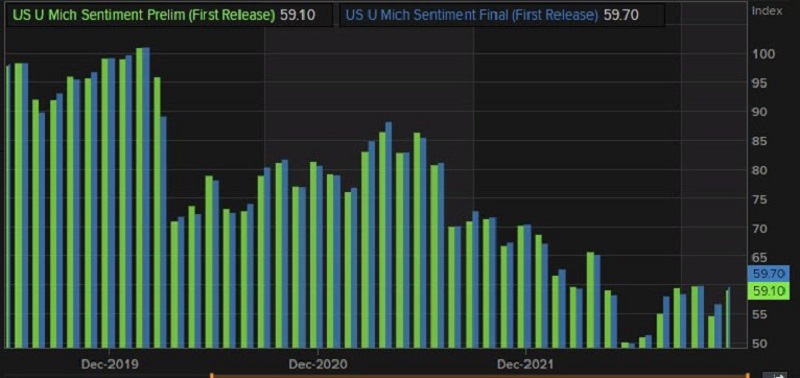 Risk Asset Finish the Week Bullish on Better US Consumer Sentiment
The risk-on theme returned again on Friday last week, as US ISM services fell into contraction, making a case for the FED to slow down with rate hikes and stop soon. This week that same market reaction continued as fundamentals supported a positive sentiment.
Inflation fears eased further this week, when the CPI report showed a decline of -0.1% MoM for the headline number on Thursday for December and a cool-off to 5.7% YoY from 6% in November. The last 6 months MoM numbers cumulate to 0.9% over that time period, which if anualized comes to 1.8% YoY as Joe Biden mentioned – below the 2% target for the FED. Inflation in the service sector is still higher, however, although that alone won't keep the FED on a tightening path.
Besides that, a further cool-off in the CPI numbers is expected as we go forward into early 2023, after some fairly elevated levels that we saw in H1 of 2022, will start to fall out of the YoY calculations. The Michigan consumer survey (preliminary) also showed the 1-year inflation expectations decline to 4.0%, the same level since June 2021. The UoM consumer sentiment showed a jump instead, as energy prices fall which is positive since it points to a soft landing of the US economy instead of a hard recession.
University of Michigan January US prelim Consumer Sentiment
January prelim consumer sentiment 64.6 points vs 60.5 expected
December consumer sentiment was 59.7 points
Current conditions 68.6 points vs 60.0 expected (prior 59.4 points)
Expectations 62.0 points vs 59.5 expected (prior was 59.9 points)
One-year inflation expectations 4.0% vs 4.4% prior
5-year 

inflation

 expectations 3.0% vs 2.9% prior
This survey is nothing more than a barometer of political sentiment and gasoline prices. That said, the Fed watches the inflation number closely and it was a contribution to the sudden switch to more-aggressive hiking in June (which is funny because it was later revised down). The one-year number will certainly be welcome while the 5-year number is back to where it was for months.
Risk assets continued the bullish trend and ended the week on a positive note on Friday evening, with stock markets completing a 2-week bullish run which erases the memories of the big retreat in the first three quarters of 2022. USD/JPY resumed the downtrend in the last two days of the week, with the 20 SMA (gray) pushing the highs lower on the daily timeframe.
USD/JPY Daily Chart – The 20 SMA Acting As Resistance