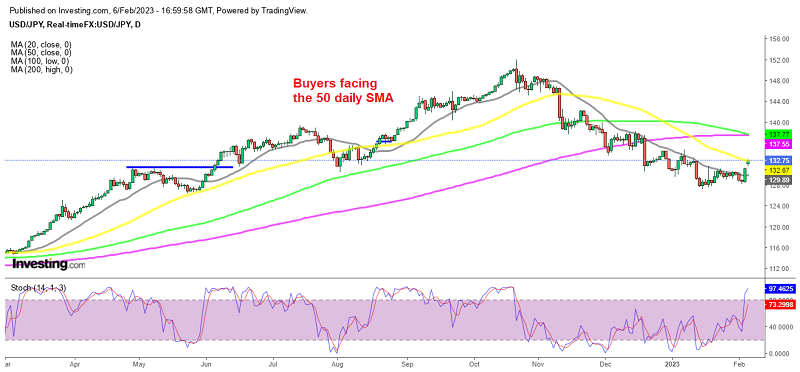 Is the Bearish Trend Over for USD/JPY?
The JPY was one of the weakest currencies together with the GBP last year until October, with USD/JPY surging to 152 ahead of the intervention by the Bank of Japan and the Finance Ministry of Japan. But the retreat has been steep since then, with the JPY turning bearish in hopes of a bullish pivot by the BOJ, while the USD turned bearish on the FED bearish pivot since October.
This pair fell below 130 last month, reaching 127 lows, with the 20 SMA (gray) acting as resistance on the daily chart, rejecting attempts to reverse higher. But we saw a strong reversal on Friday which pushed the price above the 20 daily SMA yesterday this pair opened with a bullish gap higher. Buyers continued to push higher still and now they are testing the 50 daily SMA (yellow).
The JPY remains weak on rumors that the Bank of Japan Deputy governor Masayoshi Amamiya has been approached to take the leadership of the BOJ from Kuroda. The two are similar-minded so the chance of a hawkish shift is erased. As a result, the move higher in USD/JPY extended in US trading but there's no fresh news from the BOJ. Instead, the rising global yields are sparking a move lower in the Yen and higher in USD/JPY.
Buyers pushed above the 50% midpoint level which stood at 132.70. There is also a swing area between 132.70 and 132.87 (see red and red circles). Getting above the 50% and the swing area would increase the bullish bias from a technical perspective.