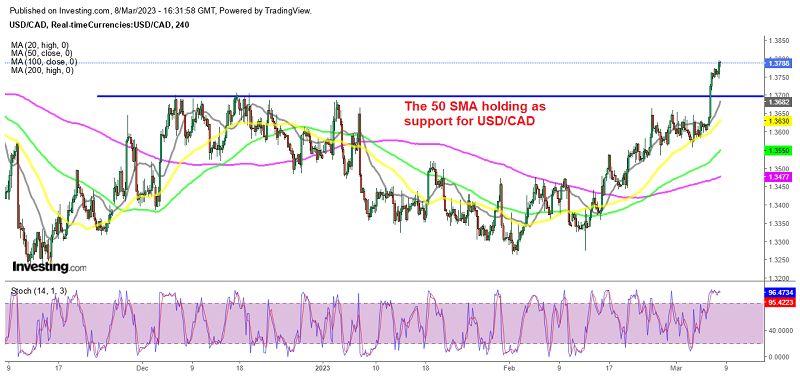 USD/CAD Surges Toward 1.38 As BOC Remains Neutral
USD/CAD has been on a bullish trend since the middle of February, as the sentiment turned negative on stronger US economic data, which also continued today with higher JOLTS job openings and ADP non-farm employment numbers. There was some resistance at 1.37, which was the high from December, but that zone was broken without much hassle yesterday, after the surge in the USD following Powell's comments that rates could go up to 5.75%.
Today we saw a retreat in the USD after Powell said that a 50 bps hike this month is not a certain thing and is dependent on the data. But today the Bank of Canada did not take a hawkish stance as some experts had predicted, which is another reason for bullish continuation. Instead, they seemed to be content with remaining neutral but made some minor changes to their language to allow for more flexibility in case economic activity increases.
As a result of the Bank of Canada's decision, the USD/CAD exchange rate reached a four-month high after a 40 pip jump. So, we remain long biased on this pair and will try to buy USD/CAD during retraces lower.
Bank of Canada Releases Meeting Statement on March 8, 2023
Bank of Canada rates at 4.50% as expected
Prior interest rates were 4.50%
This is the first meeting where the Bank of Canada held rates unchanged in 12 months
The line that previously said " the economy remains in excess demand" is absent
Global economic developments have evolved broadly in line with the outlook in the January Monetary Policy Report
In the United States and Europe, near-term outlooks for growth and inflation are both somewhat higher than expected in January.
In Canada, economic growth came in flat in the fourth quarter of 2022, lower than the Bank projected. With consumption, government spending and net exports all increasing, the weaker-than-expected GDP was largely because of a sizeable slowdown in inventory investment
Employment growth has been surprisingly strong
With weak economic growth for the next couple of quarters, pressures in product and labour markets are expected to ease
the latest data remains in line with the Bank's expectation that CPI inflation will come down to around 3% in the middle of this year.
The focus on the statement was on whether the Bank of Canada would retain guidance that at the previous meeting said: "If economic developments evolve broadly in line with the MPR outlook, Governing Council expects to hold the policy rate at its current level while it assesses the impact of the cumulative interest rate increases."