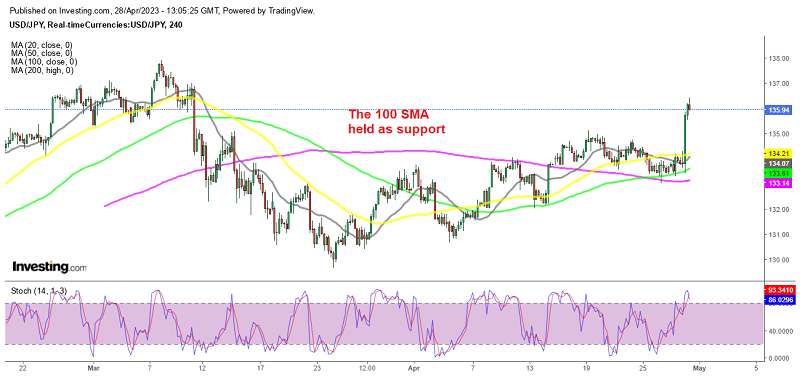 Where Is USD/JPY Left After the Bank of Japan Meeting?
USD/JPY turned bullish in the last week of March, after an 8 cent dive during most of last month and despite not being that strong, the upward momentum has been steady. During the decline, the 50 SMA (yellow) was acting as resistance for this pair, while now it seems like the 100 SMA (green) has turned into support on the H4 chart.
The uptrend has been progressing in waves and it seems that USD/JPY has recently experienced a correction after a period of decline during the first half of the week. Yesterday's closing price which was at around 133.75 was considerably higher than the bottom of 133, which shows that the USD is gaining some strength against the Yen.
There is a resistance zone located at around 134.30, which means that the pair may face some challenges in continuing to rise beyond that point . This resistance level could be a significant barrier for the USDJPY pair to overcome but the meeting from the Bank f  Japan shuffled the cards.
BOJ Ueda Press Conference
Will not hesitate to ease monetary policy further if necessary
Appropriate to continue monetary easing to achieve 2% inflation target
Risk from tightening too hastily is larger than monetary policy falling behind the curve
Japan inflation likely to slow below 2% in latter half of the year
Decided to reorganise forward guidance given changes in government's classification of Covid-19, lower risk of pandemic's impact on economy and markets
The headline remark is an homage to Kuroda but the bolded remark is the one that stands out. In some sense, if you were to expect the BOJ to be more brave under Ueda, you have reason to doubt that now. The Japanese Yen is falling further as he speaks with USD/JPY racing up to 136.40s a while ago. Right now we're seeing a small retreat in this pair, which we are planning to buy.
Durable goods orders showed a 0.2% increase in August, against -0.5% expected and July's -5.2% decline, which was revised to -5.6%
23 hours ago