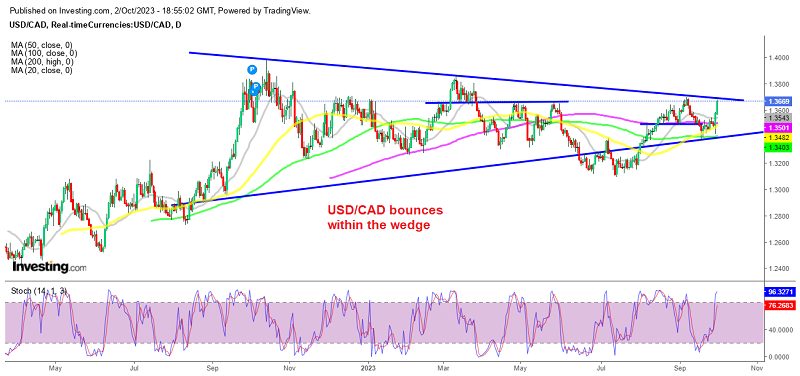 USD/CAD Bounces to the Top of the Wedge As Oil Retreats Below $90
USD/CAD reversed lower in the second week of September, from around 1.31 to 1.37 as commodity dollars were finding some support, despite the resilience in the US dollar, with the economic data supporting it. the until early September as the USD gained from such a situation. The decline was more significant against the Canadian dollar, which benefited from an increase in Oil prices, with WTI reaching $95 on Thursday last week before making a reversal and declining in the last three days, falling below $90.
The tightening global supply and cautious optimism about an economic recovery in China, the world's largest oil importer, considering the fact that the US economy will likely avoid a recession as well were a factor in the demand for Oil, besides the usual pressure from Saudi Arabia to keep prices elevated. But, Oil has had three strong bearish days and the soft Caixin numbers, showing that manufacturing and services are close to contraction. This might have scared the investors and commodity dollars were the biggest losers yesterday.
In the las three trading days, USD/CAD has climbed vertically to reach the 1.3680 zone, which is just below the 1.37 resistance level. This pair has been making some very strong gains after the US Dollar index DXY completed its retracement and starts its ascent to a new 11-month high at 107 points almost.
For more than a week and during most of the day yesterday, stock markets and S&P500 futures have been retreating, indicating that the risk-off trend has strengthened further. Despite the fact that the US government avoided a government shutdown in a last-minute agreement, US stocks are predicted to remain cautious. The compromise reached by the US House and Senate authorized a funding measure until November 17.
USD/CAD found support at moving averages on the daily chart at around 1.34 where the bottom ascending line of the wedge also comes and has bounced nearly 300 pips higher. Now buyers are facing the top of the ascending line, which is also a strong resistance zone around 1.37, so let's see if they can overcome this hurdle.
USD/CAD was testing the highs early in November, with the price trading around 1.39, before making a sharp reversal. The price found support
4 days ago