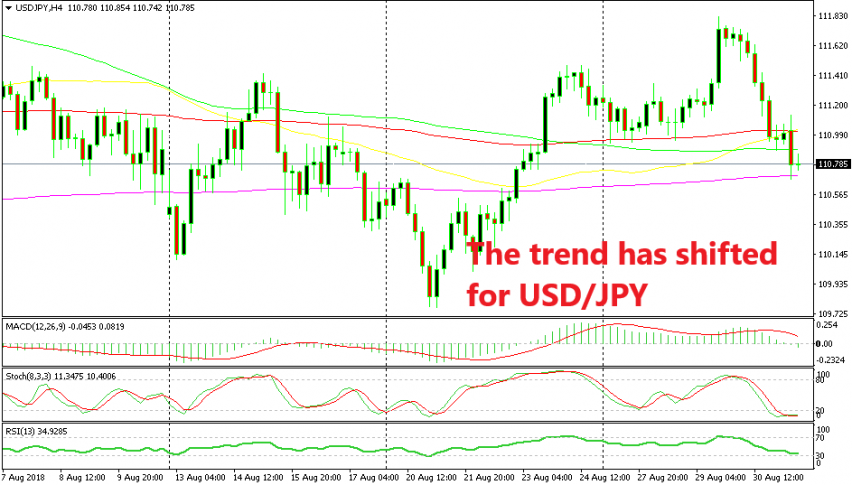 The Run for Safe Havens Continues Today
The sentiment in the forex market has been pretty positive in the last few weeks, but it shifted yesterday and it seems the demand for safe haven currencies has returned. Risk currencies such as the commodity dollars and the Euro were in high demand for weeks until yesterday.
Yesterday we saw a sudden shift in the market sentiment. I don't really know why the change in the sentiment happened because we have seen quite a few events which could have deteriorated the sentiment in recent weeks, such as the situation with the Lira in Turkey.
But, the market sentiment has been pretty positive for weeks before making a turnaround yesterday. In fact, it wasn't all that surprising because we saw some signs in the previous few days. EUR/CHF started turning bearish by Tuesday while Gold made a bullish reversal last week and it finally broke above the 20 SMA which had been keeping the downtrend in place.
But, the main signal in such occasions comes from the JPY. When the demand for the JPY increases, then that is a clear sign that the market sentiment is negative. USD/JPY turned bearish yesterday and it lost around 80 pips from top to bottom.
Today, the bearish momentum is continuing as this pair continues to slip lower. Today USD/JPY has lost another 40 pips from top to bottom. The 20 SMA (purple) on the H4 chart survived the first attempt today but it seems very vulnerable. The cash is still flowing into safe havens and the risk currencies are still in the decline, so until this stops, the market sentiment will be negative which means we must remain bearish on major pairs.