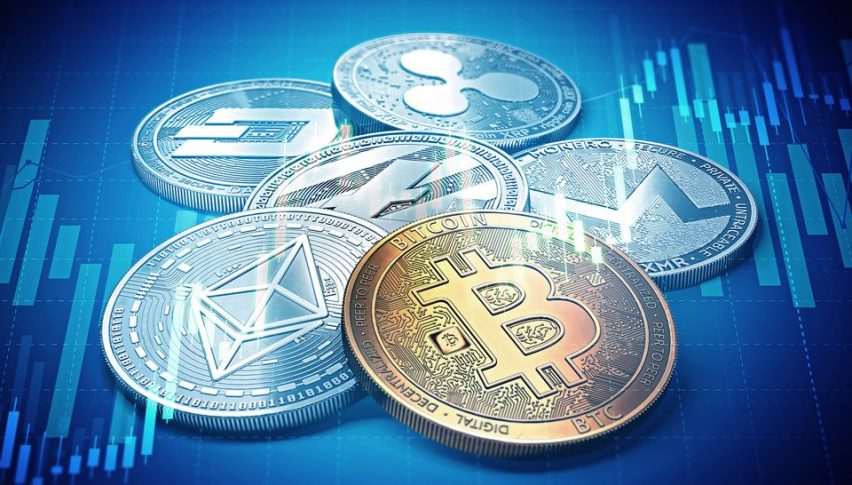 While two of the most popular industries on this planet are finance and technology, the blockchain industry is said to combine the best of both worlds: disruptive innovations and financial assets. However, the recent bear market dragged the euphoria down, and the total market capitalization of cryptocurrencies declined by 87 percent to date. In this weekly technical analysis series, I aim to provide an outlook on five of the most relevant cryptocurrencies of the week.
Bitcoin (BITFINEX:BTCUSD)
After last week's price decline of nearly 15 percent, Bitcoin quickly recovered eight percent this week due to the bounce off the golden pocket zone which indicates further upward movement. With it currently sitting at $3828, Bitcoin faces its next resistance at $4200 where the 200-week-EMA acts as an additional resistance. Bitcoin faced rejection at this resistance six times already and, with the steadily decreasing volume, it's very unlikely that Bitcoin will manage to close above the resistance.
Thus, Bitcoin is likely to find support at $3000-$3300 which could get easily broken this time due to the lack of buying pressure and the many bearish arguments that are still valid. The target of the descending triangle established in early November is still below $3000 and it's likely that the bottom is not yet found.
Weekly Chart 
Ethereum (BITFINEX:ETHUSD)
Weekly Chart
Ethereum declined heavily during last week but bounced off the golden pocket zone this week, resulting in a rise of nearly 15 percent. While the bounce off the golden pocket is a very bullish sign, the very strongly increasing volume indicates that the support at around $85 is a very important level for Ethereum. This level could well be the price bottom and, with it currently sitting at $127, Ethereum will find its next resistance between $148 and $163. It seems likely that Ethereum could rise another 15 percent until a correction takes place.


Agrello (Binance: DLTUSD)
Daily Chart
Agrello is working on AI-empowered smart contracts and, with a price increase of 190 percent, it is one of this week's top gaining cryptocurrency. It recently broke a strong resistance at $0.10 which now acts as strong support. Due to the bullish double bottom pattern, a price target of $0.33 is in play. However, DLT faces its next resistance between $0.17 and $0.20, which still would be a rise of nearly 65 percent.

While the technical analysis indicates bullish momentum, it's very important to understand that due to the low market cap of $11 million, and due to the fact that DLT is only tradeable on one exchange, there is very little liquidity needed to bring in heavy volatility. Many believe that the recent price hike was only due to the BAKKT tweet and the HSBC article about distributed ledger technologies (DLT), which happens to be the same ticker that Agrello (DLT) uses. Therefore, many uninformed investors could have confused Agrello with the general abbreviation DLT.
Augur (BITFINEX: REPUSD)

Daily Chart 

Augur rose by an incredible 157 percent this week and broke the 200-day-EMA. However, the RSI is in strong overbought regions and Augur is very close to its resistance at $21. Thus, a correction seems overdue. The 200-day-EMA could act as a support if Augur faces rejection at the resistance. So, with it currently sitting at $19, it could still rise by about ten percent until a correction takes place.
Apollo (Bitmart: APOLLO-CURRENCYUSD)

Daily Chart 
Apollo Currency, which is featuring McAfee as its chairman, claims to provide a transaction speed of only one to two seconds, which makes Apollo's blockchain outstandingly fast in comparison to other major cryptocurrencies, such as Ethereum (15 seconds), Bitcoin (10 minutes) and Stellar (5 seconds).
After a month-long period of consolidation, it gained nearly 287 percent this week. While this huge increase of volume during the consolidation phase indicated that Apollo would explode in the not-too-distant future, it faces resistance at $0.0026, right at where it sits currently. With the RSI being as high as 92, the correction wave is almost inevitable in the short-term.


Total market capitalization (CRYPTOCAP:TOTAL)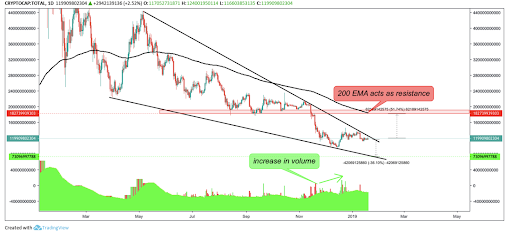 Daily Chart 
To finalize the analysis, let's take look at the total market capitalization chart of all cryptocurrencies. It is currently in a bullish falling wedge pattern and sits slightly below the trendline resistance. This is exactly where the 200-week-EMA acts as additional resistance. If the trendline is broken to the upside, it's very likely that we will reach the next resistance at $182 million which is where the 200-day-EMA acts as additional resistance. This would cause a rise of nearly 52 percent. The bearish scenario is to fall back to the trendline support at 73 million, 36 percent lower than at the time of writing. However, the bullish arguments outweigh the bearish ones and, with the steady increase in volume, we could assume further upward movement.
This week was indeed a very volatile week for the cryptocurrency market. While the overall sentiment is still bearish and the bottom doesn't seem to have been found yet, the blockchain industry is staying very optimistic during this tough phase of the market cycle.

With blockchain projects which held an ICO in the past potentially being classified as a security, it's very important to understand the risks and chances of such uncharted waters as the young and blooming blockchain industry. While many of these blockchain projects could be the best thing since sliced bread, the unknown regulatory situation is the elephant in the room which is dragging down investors' euphoria.
However, many understand the promising prospects of the industry, which is why they are willing to throw caution to the wind and proceed under unknown circumstances. There are still big events that are being held and attended by experts in the cryptocurrency space. The upcoming event 'Nakamoto's Den', which is being organized by a Cypriot blockchain consulting firm named Universal Crypto, will not only be attended by many international players but also by the president of the Cyprus Parliament.
The role of regulatory authorities like the SEC is significant and, although they might be feared by some, it's safe to say that regulations are urgently needed for the blockchain industry to experience a renewed flourishing. We can conclude that a stitch in time saves nine, as the saying goes, and regulations might turn out to be a blessing in disguise.