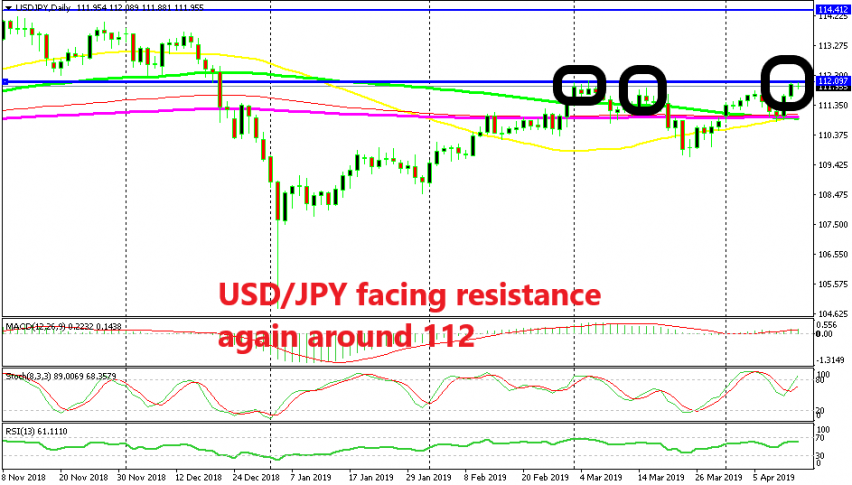 USD/JPY Facing Resistance at 112 Again After Bouncing off MAs
USD/JPY traded on a solid uptrend since the beginning of the year after the big rush lower in just a few days. But by the beginning of March, the buyers were overstretched a little and it looked like they finally reached a point where they are finding it difficult to push further above.
The price peaked above the 112 level but then pulled back lower to the 100 (red) and 200 (purple) SMAs on the daily chart. The price found support at these moving averages and the buyers tried the upside once again that month but failed for the second time. The following retrace took this pair below the moving averages as the sentiment turned sour in financial markets after a number of major central banks turned dovish that month and the manufacturing sector dipped further into contraction in the Eurozone.
Although eventually this pair reversed back up towards the end of the month, the buyers failed again to take out the resistance at 112.10. Last week we saw another pullback lower but moving averages, this time all of them together, provided some solid support once again and the price bounced off of them.
Now we are back up, trading below the resistance level which has been pierced several times but it keeps holding. Whether it will push above the resistance remains to be seen, but if it does, then that would open the door for the next resistance at 114.50, which is a long term level. If not, then down we will head again, targeting the moving averages at 111.
USD/JPY still remaining bullish, so we decided to open another buys signal here
2 days ago