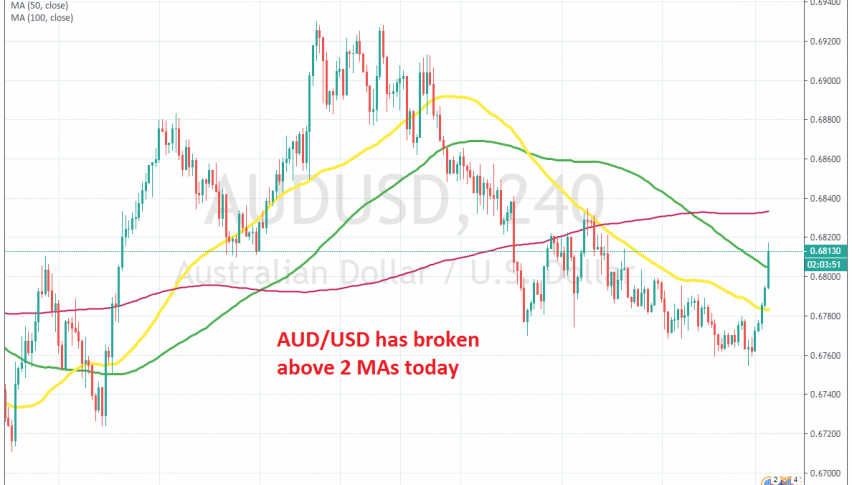 AUD/USD Moves Above MAs, As Sentiment Improves and US ISM Manufacturing Falls Again
AUD/USD turned quite bullish in October, as the sentiment improved on the comments about a partial trade deal between US and China. The deal hasn't ben signed off yet. The deeper contraction we saw in the US ISM manufacturing that month turned the USD bearish, helping the bullish cause in AUD/USD as well.
But, the USD found its feet again in November and this pair reversed to bearish. After all, there nothing to run to apart from safe havens and the USD at the moment, because the rest of the globe is in a worse shape than the US economy.
Although, we are seeing another bullish reversal today. It was the manufacturing and services PMI figures from China on Saturday and the Chinese Caixin manufacturing report today, all of which showed improvement and a resurface above contraction for manufacturing in general.
So, the sentiment improved and AUD/USD reversed higher, breaking above 50 moving average (yellow). Then, US ISM manufacturing report posted another decline, against expectations which were for an improvement, killing hopes for those who were thinking that manufacturing might leave contraction behind at some point.
So, the USD turned even more bearish today and AUD/USD pushed above the 100 SMA (green). Now this pair is headed towards the 200 SMA (red). I wold like to go short there, but we might see the same scenario play out this month, as in October. So, I will decide what to do when the price gets there. We we get a strong reversing signal, i might open a sell signal.