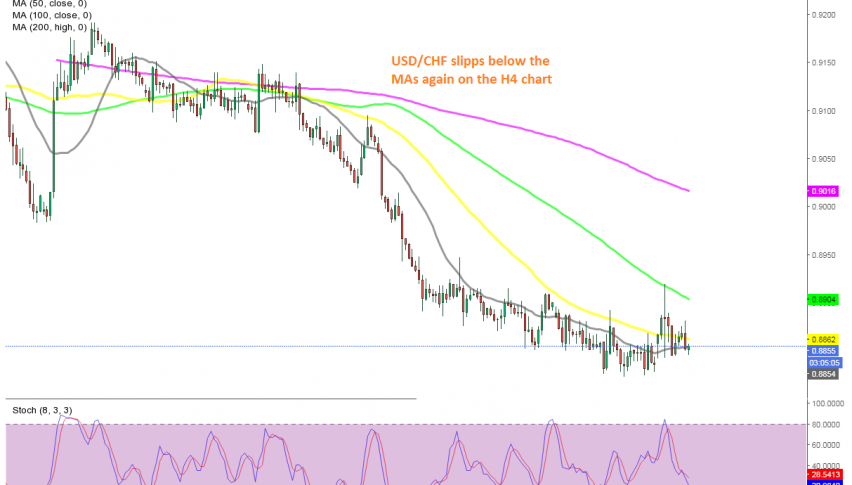 The Bearish Trend Doesn't Change for the USD/CHF
The USD/CHF has been on a bearish trend most of this year. The CHF follows the Euro, and the EUR/USD has been bullish since March, pulling the CHF higher with it. Besides that, the CHF is a safe haven currency, and in recent times, it seems like it's the only trustworthy safe haven left, since GOLD and SILVER have been bearish since August.
This has been keeping the USD/CHF bearish throughout this time, and in late November the decline picked up further pace as the USD went through another period of weakness, and the EUR/USD broke above the major resistance zone at 1.20. During this time, moving averages were keeping the price down, particularly the 20 and the 50 SMAs.
The 20 SMA (gray) was providing resistance when the decline was strong, and the 50 SMA (yellow) took over when the trend slowed. Yesterday, this pair opened with a gap higher in the Asian session and the pullback continued upwards, breaking above the previous moving averages.
But the 100 SMA (green) turned into resistance on the H4 chart, rejecting the price and reversing it down. The 20 SMA was offering some sort of support yesterday, but the bounce today was weak and the price is trading below the moving averages now, so sellers are again in control and the trend remains bearish. We missed the opportunity to go short yesterday, so we will look for other retraces in order to sell the USD/CHF .