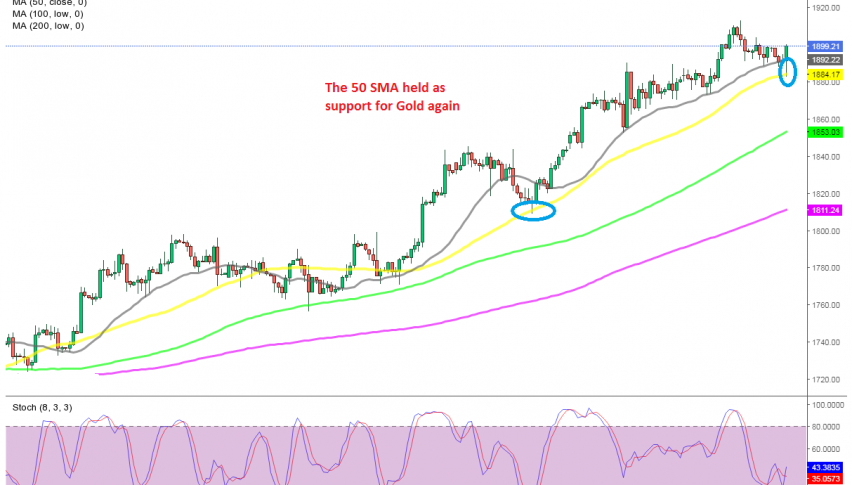 Nothing Can Keep Gold and Silver Down, Despite the Bullish Move in the USD Today
Gold turned bearish in August last year, as cryptocurrencies entered the market of safe haven assets in these troubled times. It declined around $400 as it reversed from record highs above $2,000, while Silver also retreated lower, but was holding on better.
In April we saw a reversal, as the traditional safe havens acquired that status again. Since then both Gold and Silver have been bullish, pushing higher in a pretty straightforward trend. In GOLD , moving averages have been holding well as support on the H4 chart.
XAU/USD [[-graph]]
The larger ones such as the 100 SMA (green) has provided support when the pullbacks were stronger, while the 20 SMA (gray) and the 50 SMA (yellow) have been pushing the price higher. In the last two days we have seen a pullback lower in Gold and the 20 SMA was broken, but the 50 SMA held well as support once again and now the price has bounced back up, resuming the bullish trend.
The 100 SMA held as support for Silver as well
In SILVER the pullbacks have been weaker, but in recent days we saw a pullback here as well. Although, the retreat ended right at the 50 SMA on the H4 chart and the price has bounced back up. The 50 SMA might turn into resistance now, but if Gold keeps moving higher Silver will follow too. So, the bullish trend continues in these two cryptos and retreats down are seen as good opportunities to go long on this pair.