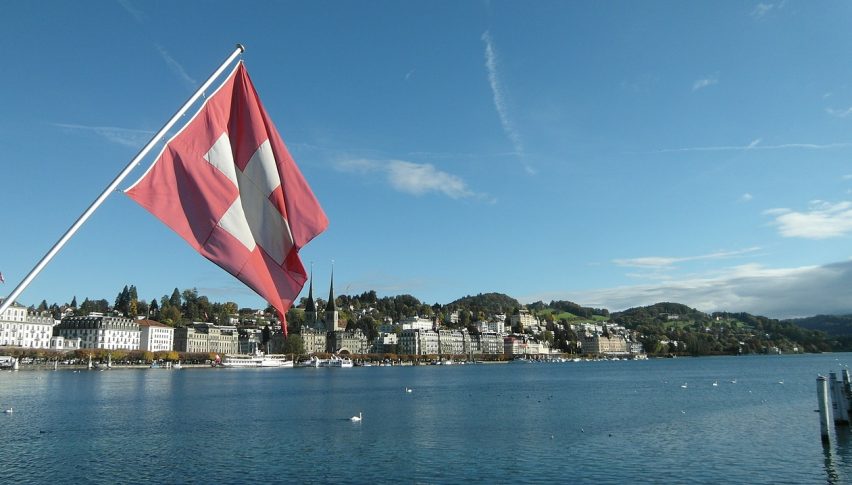 Preparing to Buy USD/CHF, After CHF 21.1 Billion Currency Intervention by the SNB
Safe havens benefit in times of uncertainty, such as now, with geopolitical tensions, sanctions on Russian oil from the US, surging prices everywhere, central banks turning hawkish and removing the life support for the economy, while certain circles are pushing for a global war. As a result, gold surged above $2,000 earlier this month while EUR/CHF was on a bearish trend.
Although, in the second week of this month, the sentiment improved somewhat, after attempts of negotiations. Today we heard Kremlin confirm talks between Russia and Ukraine, which is another positive factor for the market sentiment, although USD/CHF has turned bearish in the last few hours, but we are following the price action and will attempt to open a buy forex signal down at the 100 SMA (green) on the daily chart, standing at 0.93.
USD/CHF Daily Chart – Preparing to Buy at the 100 SMA
The 100 SMA should hold as support once again for this pair
Another reason to be bearish on the CHF and bullish on USD/CHF is the intervention by the Swiss National Bank (SNB) which sold $21.1 billion worth of CHF. The intervention is stated as "necessary in order to contribute to appropriate monetary conditions".
Eurozone January Construction Output
January construction output MoM +3.9% vs -4.0% prior
December output MoM was -4.0%; revised to -1.5%
Construction output YoY for January +4.1%
Prior output YoY was -3.9%; revised to +0.2%
That's a solid bounce, alongside a sharp revision higher to the December figures. Of note, building construction increased by 4.2% and civil engineering by 1.4% in January. In any case, this is very much a lagging data point so it doesn't mean much.