Can you use scalping signals with Binance?
The crypto market is ripe with opportunities, with new coins making their way on the scene every day. But what if we told you there was a way you could start making a profit within minutes? Today, we'll show you exactly how to get started with crypto scalping on Binance and a few strategies you can use to become a scalper in no time.
What is crypto scalping?
Crypto scalping is a strategy designed for those who cope the best under pressure. Scalping involves harvesting profits from tiny movements in price, intending to make small pieces of profit from each trade that eventually build up into something substantial. Scalpers will make dozens or even hundreds of transactions every day, rarely staying in a position for longer than a few minutes. If done successfully, it can be very profitable.
Because of the nature of scalping, many scalpers employ leverage, stop losses, and a range of technical analysis tools to make the most out of their time in the market. Rarely will they concern themselves with fundamental analysis, as there's simply not enough time to take in the information. 
Overall, crypto scalping takes advantage of quick, volatile moves and isn't for the faint-hearted. It often requires a deeper understanding of how the market moves and how to keep your emotions in check.
Crypto vs. Forex scalping
If you're a regular reader of FXLeaders, you're probably used to trading forex over crypto. So you might be asking, what's the difference between crypto and forex scalping? Let's take a look.
Similarities
Market mechanics
Generally, the forex markets and crypto markets follow the same principles, even if their prices are delivered slightly differently. You'll still see trends, ranges, imbalances, and forces of supply and demand play out in crypto like you would forex.
Trading channels
While crypto is digital-only, forex trading has been widely available online for nearly two decades now, meaning that anyone with an internet connection, an account, and funds can get started with scalping.
Presence of big players
In crypto, you have "whales," large holders of a cryptocurrency. The forex markets are no different; banks, governments, and institutions all participate in the currency exchange markets.
Trading bots
While crypto bots are a little more mainstream nowadays than forex bots, forex trading algorithms are used widely by retail and institutional traders. In fact, high-frequency trading (HFT) is a common strategy used by large institutions and works even faster than scalping.
Differences
Volatility
The crypto markets are much more volatile than forex, which is why many prefer to scalp crypto. This is due to greater speculation and less liquidity, which forces price up or down rapidly.
Liquidity
Because crypto is dwarfed by the colossal forex market (less than $500b is traded on any given day in the entire crypto market, compared to around $6.5t a day in forex), it can be much more illiquid. This is a particular hassle on small coins with less than $1m a day in volume, as it can be challenging to get large orders filled.
Intermediaries
Depending on your forex broker, it can be pretty costly to scalp due to the number of intermediaries involved in the trade. In contrast, crypto scalpers usually deal directly with an exchange or decentralized marketplace, reducing fees massively.
Opening hours
The forex markets are only open from 10pm (UTC) Sunday to 10pm (UTC) Friday, whereas the crypto markets are open 24/7, 365 days a year. This makes crypto ideal for busy people that want to scalp on the weekend.
Can you use crypto scalping strategies with Binance?
Binance is the world's biggest exchange by far. In August 2022, it's averaging around $15b per day in volume. That's more than every other exchange in the top 5 by volume combined. 
Because of this exceptional volume, Binance is extremely liquid – more so than any other exchange – and is paradise for a crypto scalper. They are one of the few crypto exchanges considered not to fake volume or perform wash trading (trading back and forth to boost volume numbers).
Benefits of using Binance for crypto scalping
Very low fees
As Binance draws in so many traders daily, they're committed to a low fee structure. If you have a monthly trading volume of less than $1m, then Binance charges 0.1%. They also recently announced 0% fees for trading BTC pairs on the spot market! 
If you use Binance's native token, Binance Coin (BNB), to pay fees, you can see a further 25% reduction in spot trading fees. Fees can kill a scalper's profits, so Binance is excellent to use when scalping.
Vast selection of crypto coins
While not every coin can be traded directly with fiat or stablecoins, there are over 600 cryptocurrencies to trade crypto-to-crypto. Such a wide selection means you're spoilt for choice in finding the perfect pair to scalp with.
Lack of slippage
Slippage occurs when there's insufficient liquidity to fill your order at your exact price, resulting in a worse entry price than you initially wanted. As you can imagine, this is a nightmare for scalpers. Due to its high liquidity, you're very unlikely to experience slippage when using Binance (unless you trade an illiquid pair, of course).
Security
Binance employs excellent security features to help keep your account safe. Nothing could be more disruptive to scalping than a notification that someone has logged into your account; Binance employs multi-factor authentication when logging in and withdrawing crypto, as well as anti-phishing codes in their emails for ultimate cybersecurity.
Scalping signals 
As Binance is the biggest exchange in the world, many crypto scalping providers will issue Binance scalping signals for coins that only trade on Binance. If you're using crypto scalping signals from Telegram, for example, using the Binance exchange will give you the widest access to the tokens they might be signaling.
Languages
Lastly, Binance operates internationally and is translated into 17 different languages, meaning that traders worldwide can take advantage of crypto scalping on Binance.
Steps to crypto scalping
Look no further if you're wondering how to get started using crypto scalping strategies. Follow the instructions below to learn the exact steps to begin scalping crypto today.
What you'll need:
An account at Binance or almost any other exchange/brokerage. Sign up on the

Binance website

or the Binance.US website if you're from the U.S. You'll need to pass Know-Your-Customer (KYC) to begin trading.

Funds. We'd recommend depositing $50 to start with. Alternatively, set up demo trading by going to

Derivatives

>

USD-M Futures

, then clicking

Profile

in the top right of the futures trading terminal, then

Mock Trading

.

A token to trade. It'll be easier using a liquid altcoin than an obscure low-volume coin. We'll use Ethereum (ETH) as an example.

A scalping strategy. This is easier said than done, so if you're looking for suggestions of strategies to use, check out the next section. Alternatively, you could use a set of Binance scalping signals.
1.Decide whether you want to use leverage or not. If you don't, stick to Spot Trading. If you do, you can use Margin Trading, or USD-M Futures. We'll use USD-M Futures as it's a little easier to understand.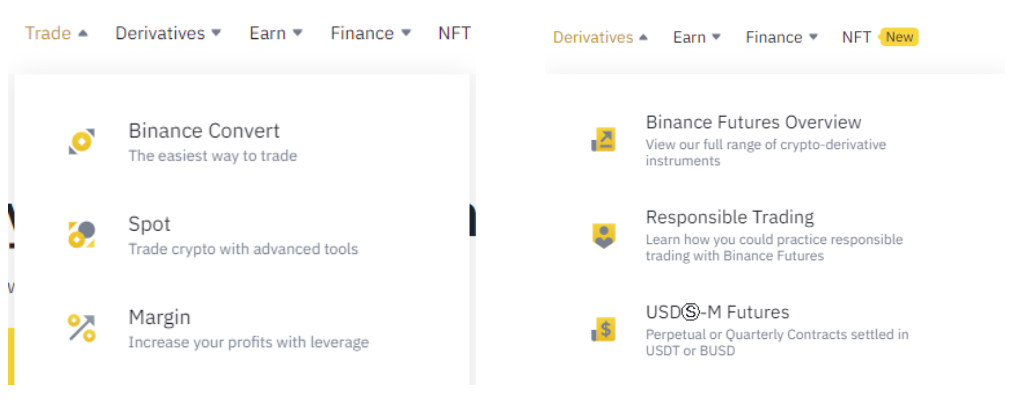 2. If you need to move money into your Futures account, tap the arrows in the trading ticket on the right of the trading terminal, then transfer money from your Spot account to your Futures account.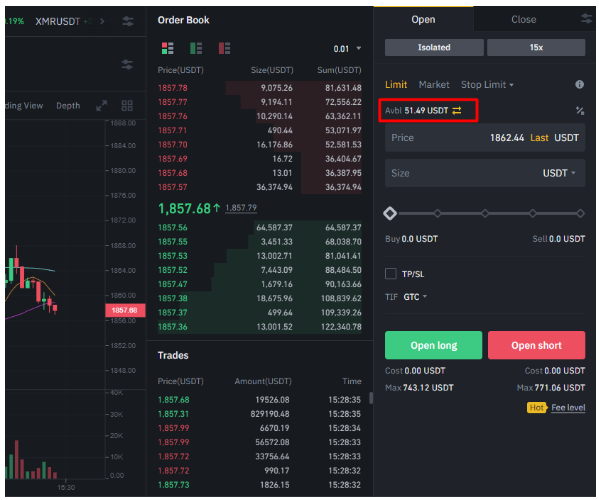 3. Navigate to your pair. When you're in the trading terminal, click here (the red box). Then, search your pair. It should end in USDT.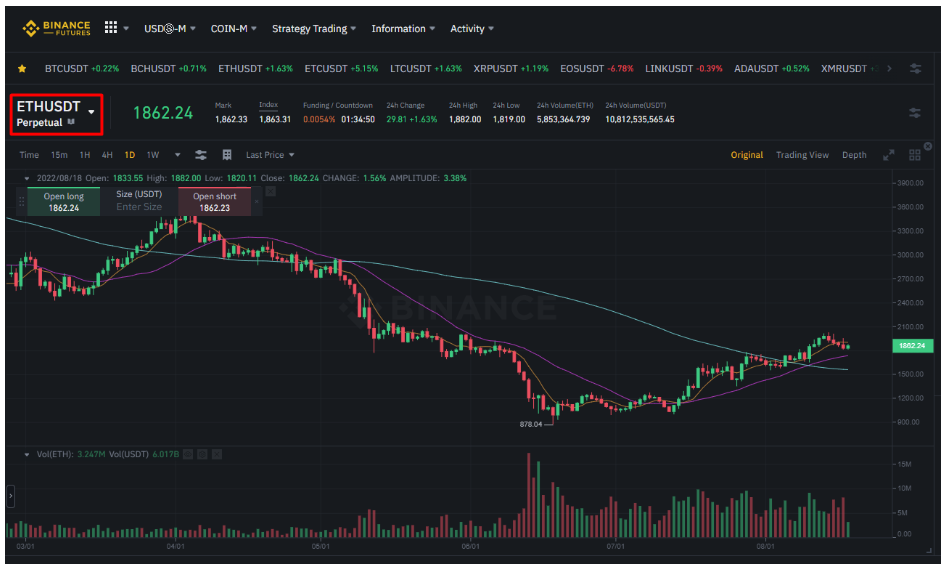 4. Now, set your timeframe to your desired level. If you're scalping, you'll want to use 1m, 5m, and maybe 15m to determine your trades.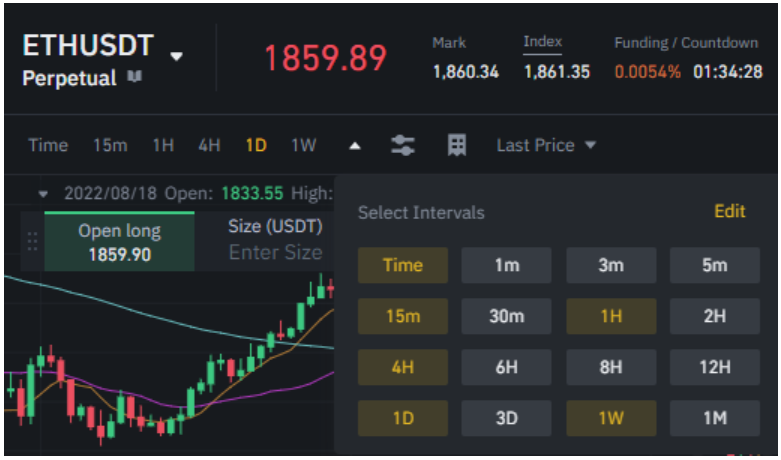 5. You're ready to start finding setups to trade! For example, let's look at what's happening here on the 1m. We've seen prices break to form new highs, so we can guess we might be bullish. We want the best possible risk to reward, so we're going to place a trade at the bottom with a stop just below.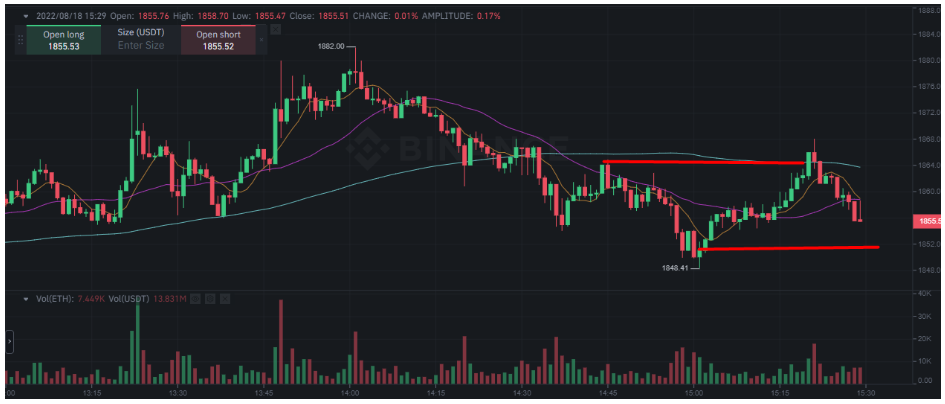 6. Line up where you want to place your trade, and remember the number.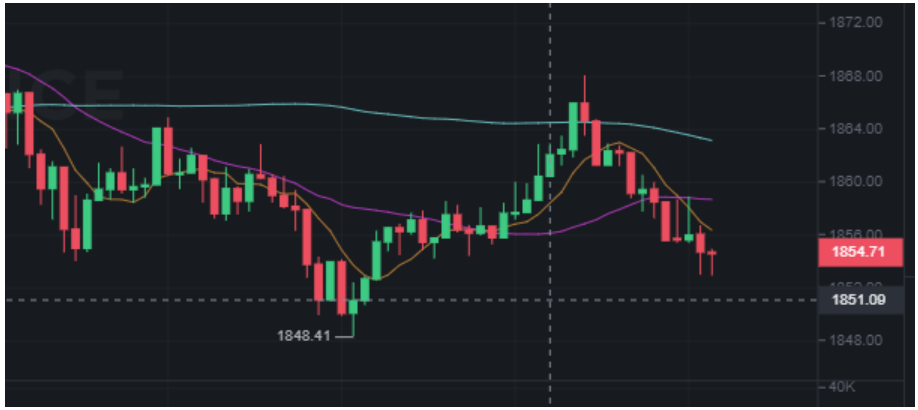 7. Head over to the trading ticket on the right-hand side. Set your leverage, and make sure it's set to isolated. This will keep your margin to that specific trade, and is less risky than cross margin, which combines margin if you have multiple positions open. Lower leverage is always more prudent when trading crypto, so we'd recommend a maximum of 5x.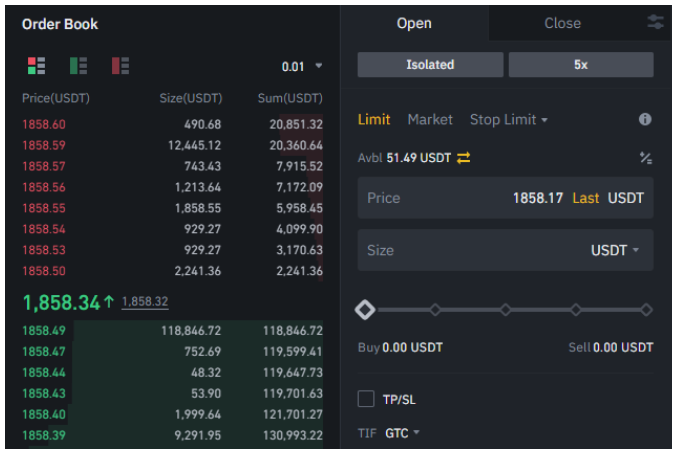 8. Now, put in your price from earlier under Limit. If you want to enter right away, use Market.  In our case, we want to enter at $1851.09. We also need to set our take profit target and stop loss. We'll use the high that formed the uptrend as a profit target and the low as our stop.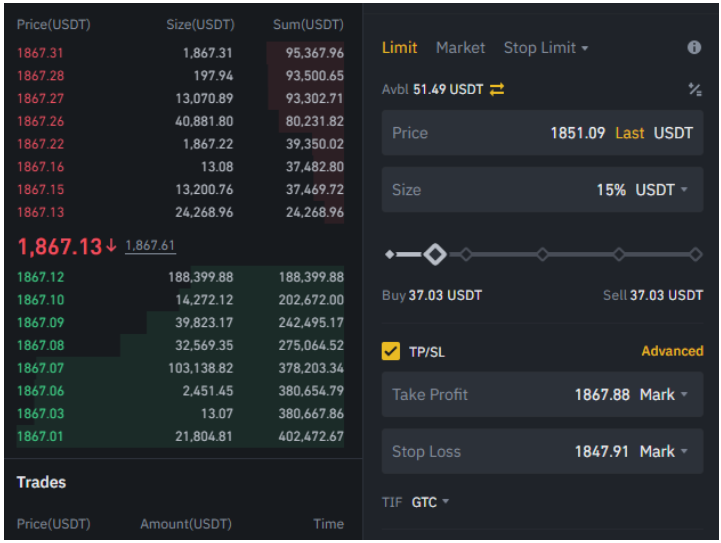 9. Once everything looks good, click Open Long!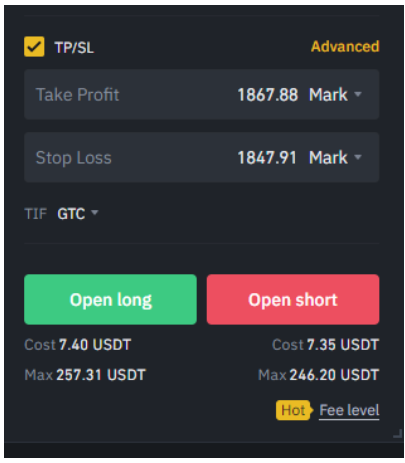 10. Now, our order goes to Open Orders and is waiting to be filled.
11. As you can see, our trade carried on without us, just missing our order. But, our profit target would've been hit, giving us a nice risk:reward of 1:5.27 had we been filled. As prices have broken new highs, we can try our strategy again, repeating the process.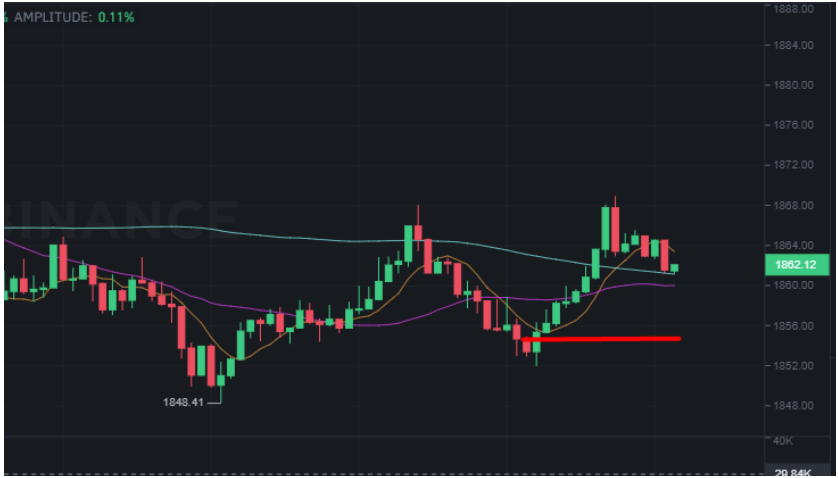 That's it! That's everything you need to start scalping on Binance. Of course, it's easy to look at this example and think it's going to be easy to profit by just trading a trend, but in reality, you need to be quick and efficient when scalping. This trade took around 8 minutes from start to finish, and inputting everything in the right place can be challenging for a beginner using the trading terminal for the first time.
Alternatively, you can use Binance scalping signals to get an edge when scalping. You'll typically receive a scalping signal through Telegram or another messaging platform that will give you the exact entry, take profit and stop loss you need to be successful when trading. Don't discount the power of Binance scalping signals!
Best crypto scalping strategies
As promised, we've got a few suggestions of crypto scalping strategies for you to try out. We've also got a more extensive list of the top crypto trading strategies you can add to your arsenal today!
Breaks of structure
As you saw in the example above, prices break out above previous highs after going lower. This was our first indication that prices were likely to continue moving higher, so the chance of the low being broken after a new high was made decreased substantially. By noticing when key highs are broken, you can take advantage of this change in trend and look to buy near lows and take profits at highs. 
Trading the range
When there's a range, price will bounce around from one end of the range to another. You can consider the midpoint of the range an equilibrium, while the top end is trading at a premium and the bottom end is trading at a discount. 
Using this, we can look to put buy orders at the bottom of the range and sell orders at the top as we expect prices to come back to the midpoint. Of course, the range will eventually break up or down, but it can provide a great opportunity for scalping in the meantime.
Using indicators
Some scalpers make use of indicators like RSI or MACD to determine when price is oversold (meaning it's likely to move up) or overbought (likely to move down). By tweaking the settings of these indicators and shortening the number of periods they take into account, you can find 1-3 candle areas where price might make a slight recovery that you can buy from and sell to exploit for small gains. Over time, these will add up to form a decent profit.
How to Use Crypto Trading Signals
How to Make the Most of Crypto Trading Signals
Crypto Signals for Technical Traders