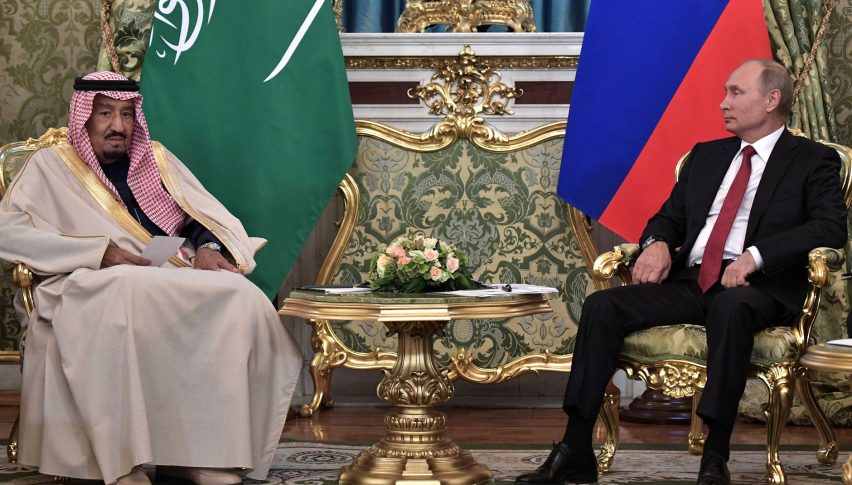 The Bounce in Oil is Unlikely to Last, as the Oil War Between Russia and Saudis Continues
Crude Oil prices tumbled lower in the last month or so. Exactly a month ago, WTI crude was trading at around $55, while a few days ago it fell to $20, but that big round level held as support, with the USD weakness also playing a part in the bounce.
The decline happened when Russia and Saudis fell out of love, after Russia declined to join OPEC in a massive cut in production by 1.5 million barrels/day. Apparently, Saudis got upset and decided to flood the market with Crude Oil, so they can hurt Russian Oil companies. As a result, Crude Oil crashed down, with WTI falling around $35 in a month. But, Russia doesn't seem too bothered by that. They made some comments earlier today:
Oil prices are very unpleasant, but not a catastrophe for the country
There is no price war between Russia and Saudi Arabia
Our relations are good and don't think anyone should intervene
Russia has safety buffer against unfavourable oil prices
I would you to read between the lines with this one. The fact that the OPEC+ joint technical committee meeting was cancelled goes to show that both sides aren't exactly on speaking terms right now, so believe what you will. Anyway, their official position still shows that they are not backing down from either party just yet.
But, the main global oil trader Vitol says the world might run out of available commercial storage in a couple of months. This would put even more pressure on Crude Oil prices, since countries would have to dump Oil at whatever price, if they don't have space to store it. So, Crude Oil will likely resume the larger bearish trend soon.
Global oil demand could fall by more than 10% as lockdowns spread across Europe
Drop would be much higher if lockdowns start to take hold in the US
But that is currently not in their base case scenario
But if it does happen, "you can get as bearish as you like" on oil prices
Might run out of available commercial storage in a couple of months
Important now how much China buys into strategic stocks