Neo coin (NEO) Price Prediction for 2023: Will the Token Bounce off the 20 and 50 SMA?
NEO/USD – Forecast Summary
NEO Forecast: Q4 2023


Price: $60 – $80
Price drivers: Cryptocurrency Market, Ethereum prices, Cryptocurrency crackdown

NEO Forecast: 1 Year


Price: $130 – $200
Price drivers: Increased Adoption and Utility, Cryptocurrency Market, War on cryptos

NEO Forecast: 3 Years


Price: $600 – $ 800
Price drivers: Global crypto politics, New Developments from NEO, Crypto Market Sentiment
Like Ethereum, Neo is a cryptocurrency and blockchain platform capable of building a scalable network of decentralized applications. Neo coin, authored by Da Hongfei and Erik Zhang, declares itself as a distributed network for a smart economy. The interesting thing that makes NEO unique is the extreme 12-month price performance, just like Stellar and Bitcoin. In May 2020, Neo was trading at $10, and in May 2021, Neo reached its second peak at $140.75, which was still short of the January 2018 high of $207, and now in October, it is trading at around $40 after falling from a high of around $65 the previous month.
At $40, Neo is still recovering from its crash in May, which saw it drop from $140 to only $25 on July 21. Neo coin was making lower lows after the crash until late July when it bottomed at $25. Although the sentiment has improved in the crypto market since then, and Neo has gained more than double its value, it faces a litmus test to the upside with the crypto token trading below the 20, 50, and 100 moving averages with no clear directional movement. However, the sentiment is still bullish as Neo remains on an uptrend from the $25 lows.
The emergence of new cryptocurrencies and blockchain apps gained momentum in late 2020 and the first several months of 2021, mainly because of the race towards transferring the centralized economy and governance towards decentralization. This trend was first started by Ethereum and has been followed by many cryptocurrencies and blockchain projects by hosting various dApps and smart contracts. Neo coin (NEO), initially known as "AntShares," has gained popularity in hosting smart contracts and dApps. It is said to be a direct contender to Ethereum and is also known as Chinese Ethereum or Ethereum Killer, although it hasn't been able to hold the gains during moments of a crypto crackdown from the Chinese government. Another feature that makes NEO more attractive is paying out dividends to its owners, unlike Ethereum. Neo also registers physical assets via a digital identity, which means the new coin has quite a few features that made it popular in a short period.
Recent Changes in the NEO/USD Price
| | | |
| --- | --- | --- |
| Period  | Change ($) | Change (%) |
| 30 Days  | +2.10 | +5.38 |
| 3 Months  | +10.60 | +30.81% |
| 6 Months  | +51.11 | +53.12 |
| 1 Year  | +23.12 | +105.66% |
| 3 Years | +33 | +275.13% |
Neo coin (NEO) Price Prediction for the Next 5 Years
One thing that has given Neo an advantage in the race among emerging digital currencies is its similar price rise trajectory to Bitcoin. The king of cryptocurrency BTC went from $7150 to $67,000 in the time span of one year. If we look at Neo's price fluctuation in the same time period, the new coin has gained almost a similar percentage to Bitcoin. During the 12 months until May, Neo gained +755%, and Bitcoin has gained about +795% in the same period. However, as of the time of writing, Bitcoin had taken the total gains in the last year to +363%, against Neo's 105.66%, which is still an impressive performance.
On the other hand, if we compare the prices of Neo coin with its rival Ethereum, the second-largest cryptocurrency is ahead for the moment. During April 2020, the Ethereum coin was trading at $174; however, in mid-April 2021, the coin reached $2,300, with a gain of about +1,220%. The increase continued until May, reaching an all-time high of above $4,300 on May 11 before retreating again. Ethereum is back again and has posted strong gains since mid-July that catapulted it to slightly below the previous ATH. At the time of writing, it was trading at $4,022 and on its way up. However, Neo is different in that it pays out on its other cryptocurrency called GAS, while Ethereum doesn't offer dividends.
Apart from price fluctuation, when Neo and Ethereum blockchains are compared concerning deploying self-executing code contracts named smart contracts, Neo is considered more flexible than Ethereum. Neo has a unique feature in that its blockchain is impressively multi-lingual. It means that Neo developers can create their smart contracts with programming languages like Javascript, Python, and Go.
Ethereum blockchain uses only one coding language, Solidity, making it less user-friendly as programmers have to learn it from scratch. The unique feature of being a multilingual blockchain gives Neo an advantage over Ethereum and can lift its prices upward in the near and long-term future. Neo coin is currently ranked 55 with a market cap at $3.169B according to Coinmarketcap (October 27, 2021); however, still, it can handle more transactions per second (TPS) than the second-largest cryptocurrency of the world, Ethereum, which has a massive market cap of $497.599B. Ethereum's blockchain can handle only 13 TPS, while Neo blockchain can handle 10,000 TPS. Another interesting thing where Neo holds an advantage is that many Neo transactions are free, unlike Ethereum, whose gas charges are enormously high. It has also been known as a blockchain for riches.
Neo and Ethereum are both markedly different in various aspects, from scalability and tech to their philosophy. Still, both coins support smart contracts and decentralized apps, and both these projects have lifted the cryptocurrency market higher due to their increased popularity. As there is a huge scope for smart contracts and dApps in the recent and coming era, the demand for blockchain platforms supporting these projects will also rise, which will help drive Neo and other similar digital asset prices higher in the future.
Factors Affecting NEO prices:
Chinese Government – NEO is also known as Chinese Ethereum, and it is also China's first blockchain network. During the 2017 boom of cryptocurrencies, China and Korea played an important role in driving their prices higher. Before that, about 75% of Bitcoin trading originated in China. The Chinese government was not happy with that and wanted to maintain tight control that brought up strict regulations in the cryptocurrency market in China. China continued with such action in 2021, sending the crypto market and Neo diving lower until August, but the sentiment has improved, and this market has rebounded after that.
The Chinese government has already been cautious, and any sanction or regulation imposed on another cryptocurrency could bring NEO under the spotlight. Any positive decision by the Chinese government and people for cryptocurrency will drive up NEO's adoption and support its prices.
Competitors – Neo, also known as Ethereum Killer or an Ethereum upgrade, holds a threat as it faces strong competition from Ethereum. Both projects are similar and provide a platform for smart contracts and dApps; they have established strong competition. Ethereum is also known as the queen of cryptocurrencies and has maintained its position as a strong coin in the market. In contrast, NEO is comparatively newer and has a long way to go. Therefore, due to the high level of competition, the rising prices of Ethereum can cause a downward shift in the prices of NEO and vice versa. Similar blockchain networks such as Solana are also posing a challenge to the growth of NEO.
Hard-capped Supply – In any market, the prices of products are determined when supply and demand meet. Scarcity drives the prices of a commodity on the upward side. Unlike other goods and services, cryptocurrencies are unique as they come with a hard-capped supply. The restricted supply of coins brings out the element of scarcity and could push the prices of coins upward. The supply of NEO is also limited at 100 million coins, out of which 70.5 million NEO coins are already under circulation. It means only around 25 million NEO tokens are left, and hence, NEO is scarce. Over time, this scarcity will only increase as supply cannot be altered, and the limited supply feature will be a factor that will drive NEO coin prices higher.
Non-Financial Applications – The NEO blockchain platform can create a countless number of applications such as identity-theft prevention, supply chain monitoring, and many others. These applications use the NEO token by default as their in-app currency. Any further development of this aspect of the platform could contribute a lot to the demand for NEO tokens in the future. Neo is also used for the digitization of physical assets and verifiable digital identities, bringing these markets into the crypto world.
Bitcoin – For better or worse, Bitcoin is still considered the king of cryptocurrencies due to its largest share in the cryptocurrency market. And it can still often influence the majority of the market. Bitcoin and NEO coins have a correlation of 0.27 which means Bitcoin holds a huge influence over NEO coin and can drive its prices. If Bitcoin continues with the bull run, other cryptocurrencies, including NEO, will follow suit.
Technical Analysis – NEO/USD Forming Bearish Reversal Patterns in on the Daily Chart
On the technical front, Neo has been trading on a bullish trend since late July. However, it has now moved below all moving averages and is still under pressure at $40. The 100 MA (yellow), 50 MA (blue), and 20 MA (red) are already acting as resistance on the daily chart, with no clear direction in the short term.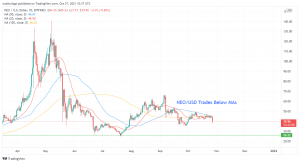 NEO/USD Daily Time-frame – Moving Averages Resisting a Rise in Prices
The weekly chart also supports the idea of a bearish reversal. After coming down for two months, both the 50 MA and 20 MA are above the current price and acting as resistance. However, prices remain above the 100 MA (yellow), which could support it in the next few days. At the current level, on the weekly chart, NEO/USD is showing no price action signal to suggest a potential rise or fall. Therefore, we are left to rely on the moving averages and the support at 26.22 to gauge the likely price action levels and where we could experience a potential price reversal.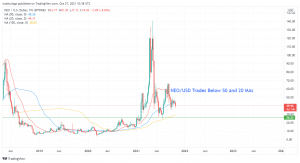 NEO/USD Weekly Time-frame – 100 MA support prices
The monthly chart shows some bullish signs, with all moving averages remaining below the current price. The chart shows that prices bounded off from the $26.22 support via a bullish pin bar, which took the price up to $66. However, we can see that another pin bar (bearish) is being formed, which could take prices lower from the current level. Therefore, we anticipate that NEO/USD could make another leg down up to the 20 MA/50 MA or $26 support before restarting another bullish trend.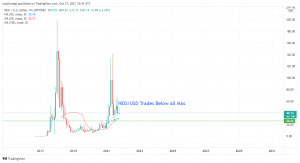 NEO/USD Monthly Time-frame – Token Could Slip to 20 MA/50 MA or $26 Support