Shiba Inu (SHIB) Price Prediction for 2021: 23.6% Fibonacci Retracement Support 
SHIB – Forecast Summary
SHIB Forecast: H2 2021


Price:0.0000045 – 0.0000050
Price drivers: Cryptocurrency Market, Technicals

SHIB Forecast: 1 Year


Price: 0.0000080 – 0.0000090
Price drivers: Increased Adoption and Utility, Cryptocurrency Market, Technicals

SHIB Forecast: 3 Years


Price:0.000030 – 0.000050
Price drivers: New Developments from SHIB, Crypto Market Sentiment
Shiba Inu (SHIB) Past Price Analysis:
Though the SHIB coin was founded in August 2020, it failed to achieve a decent price and remained negligible. Then, in April 2021, when Vitalik Buterin sold off his Shib tokens, the price of Shiba Inu declined considerably and dropped to almost $0.00001809, from $0.00003043. After that, the token dropped to $0.00000913, amid the market crash early this year. The Shiba Inu reached a price of about $0.000009, and rose quickly to $0.000038 by May 9, 2021, after being listed by renowned exchanges by April 2. When Binance listed the token, the price started to move upward. As new exchanges begin to list SHIB, the price may go up.
At the time of writing, the Shiba Inu was $0.00002349, with a 24-hour trading volume of $1.27 billion. The current market ranking is #18, with a live market cap of $10,788,396,446.
Shiba Inu (SHIB) Coin Introduction:
Shiba Inu is a decentralized cryptocurrency, which is also known as the Shiba Token. It was created in August 2020 by an unknown person or persons, known as "Ryoshi." It is powered by the Ethereum Blockchain and is based on Dogecoin; it brands itself as "the Dogecoin killer." It is worth mentioning that Shiba Inu (柴犬) is Japanese, and it is the name of a breed of dog – the dog that can be seen in Dogecoin's symbol. Initially, it was intended as a joke cryptocurrency, based on the Doge meme. It does not have any smart contract utility. Nether is it backed by any asset or rights; it is simply a transferable token. To make the trade and exchange easier, the tokens were designed as Fungible ERC-20 tokens.
Shiba Inu can be traded on Coinbase Pro, Probit Global, CoinBene, KuCoin, CoinDCX, Binance, WazirX, Huobi, OKEx and Crypto.com. The developers of Shiba Inu have recently launched ShibaSwap, a decentralized exchange that provides holders of Shiba Inu and its sister token, Leash, with the opportunity to earn rewards, such as Bone, Ethereum and Bitcoin, through staking or providing liquidity.
Recent Changes in the SHIB Price
| | | |
| --- | --- | --- |
| Period  | Change ($) | Change (%) |
| 30 Days | +0.00000071 | +8.80% |
| 6 Months  | +0.0000080 | +99.99% |
| 1 Year  | +0.00000805 | + 99.98% |
Shiba Inu Price Prediction for 2022
If 2021 ends on a bullish note, the 2022 SHIB trade might start at a bullish price of $0.000019. But if the price drops to minimums, it might lose momentum, as we move into next year's trading. SHIB could start 2022 at a price of $0.000009.
As we know, the rumors about ShibaSwap already being launched, are spreading day by day, and the network is officially quoting audits for the project. If the SHIB's own DEX gets launched and runs flawlessly by 2022, the price of Shiba Inu might hit $0.00003. But, if ShibaSwap does not become a practical reality, the average price for SHIB will be around $0.0000241.
On a different note, if PoW becomes a hot debating topic again, among several Crypto celebrities, a possible market crash could occur next year. In that way, we can expect the price to hit support levels at $0.0000193.
Shiba Inu Price Prediction for 5 Years:
Shiba Inu is more of a community-driven network, which puts the users on the cards for the altcoin. As a result, in the coming years, if it succeeds in maintaining a comparable technology, it could move at decent figures. By the end of the next five years, SHIB might trade at an average price of $0.0000561.
Technical Analysis – SHIB/USD 23.6% Fibonacci Retracement Support 
SHIB/USD has exhibited a strong bearish bias since May 2021, plunging from the $0.00004026 to the $0.00000818 level. On the technical front, the coin was consolidating within a narrow trading range between $0.00001101 and $0.00000525. However, it has already violated the narrow trading range and now it is trading at around $0.000027. The coin is holding above 20 and 50 periods EMA support levels. The leading technical indicators, the MACD (Moving average convergence divergence) and RSI (Relative Strength Index), are exhibiting a strong bullish trend in the crypto coin.
On the weekly time-frame, the MACD and RSI are holding above the mid-level (0 levels), and 50 respectively, which exhibits a strong bullish bias in the price. At the moment, the SHIB/USD is closing a series of neutral candles, which demonstrates indecision among investors. As you can see on the weekly chart, the coin is gaining immediate support at $0.000023 which is being extended by a 23.6% Fibonacci retracement level. Violation of this level could extend the selling trend until the $0.0000216 and 0.000015 levels, that mark the 38.2% and 61.8% Fibonacci retracement.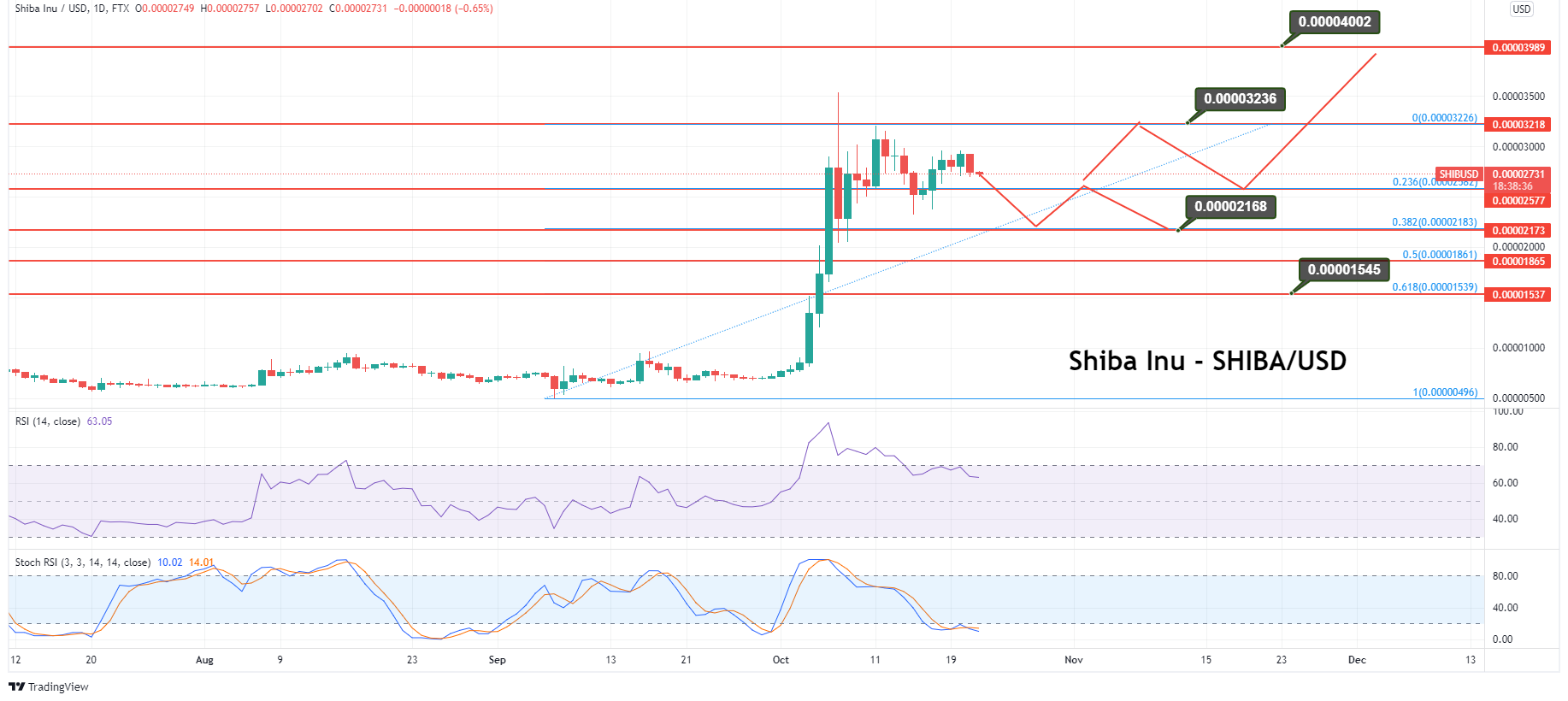 SHIB/USD – Weekly Time-frame – Choppy Trading Range Breakout
On the weekly time frame, SHIB/USD has closed a series of doji and shooting star candles that are likely to keep the pair in a choppy mode between $0.000032 and $0.00002168. A breakout of this range could trigger further buying or selling in SHIB. A bullish breakout at the $0.000032 resistance level could lead the coin price towards the next resistance of $0.000040. Conversely, a breakout at the $0.000021 level could lead the price further down, towards the $0.000018 and 0.000015 levels.
There is a strong bullish view on the Shiba price rising over the next few years. By the end of 2021, it is estimated that it will be worth $0.0000428. Shiba is anticipated to reach a peak of $0.0000868 by the end of 2025, following a period of stable growth in 2022, 2023 and 2024.
Good luck!
Updated: Oct 22, 2021