Shiba Inu (SHIB) Price Prediction for 2023: Shiba Inu just recovered and is still bullish
Shiba Inu (SHIB) – Forecast Summary
SHIB Forecast: H1 2023
Price:0.000045 – 0.000050
Price drivers: Cryptocurrency Market Sentiment, Tapering
SHIB Forecast: 1 Year
Price: 0.000050 – 0.000090
Price drivers: US Fed Tapering, Crypto Market Recovery
SHIB Forecast: 3 Years
Price:0.000090 – 0.00010
Price drivers: New Developments from SHIB, Renewed Crypto Optimism
Current State of Shiba Inu (SHIB)
Shiba Inu price updates 2023 – 2030
With the current growth and various market achievements that have been made for the past two and half years by Siba Inu, prices might rise drastically. However, one has to be more sentimental when making the trade as the prices might take a fractional rise and fall.
Due to market change and fluctuation faced by the crypto market, high possibilities are the rise of Shiba Inu as it is predicted to rise to 0.000087 by December 2030. This is due to the current state of traders accepting cryptocurrency after crashing in the year 2022. Most people have taken reliable precautions in the crypto trade. Therefore, the trade market of Shiba Inu will be affected like other crypto coins.
For instance, today 23rd of May 2023, Shiba Inu traded at $0.00000904 per (shib/usd) which has dropped significantly from last year 2022 to $ 0.000009925 this year. However, predictions show that by 2030, the coin will have taken a different move that is expected to rise to $ 0.00087 by December 2030.
Shiba Inu Price Prediction 2024
Next year 2024, Shiba Inu is expected to rise to $ 0.0000091 by December which will be a significant rise. The pressure in trade at high chances might result in Shiba Inu rising up to $ $0.00001 by the end of 2026. This will psych the traders to keep their pockets full to meet the demands of the coin. Therefore, expect more positive results as the market keeps on to reiterate the previous Crashdown of 2022.
Shiba Inu (SHIB) hit new all-time highs in late October 2021 when it reached $0.0000880. But since then, SHIB's price has been lethargic, shedding percentage gains daily, stair-stepping downwards weekly. And from the looks of it, we have not seen the bottom yet as the entire cryptocurrency market has been in a whirlwind of volatility as well.
Major cryptocurrencies like Bitcoin (BTC) and Ethereum (ETH) are now trading below their 200-day moving averages followed by most altcoins. This weakness in the overall market could be attributed to the announcement of faster tapering of the US Federal Reserve to curb inflation fears.
The news of tapering sucks out capital from the financial markets – bonds, equities, and cryptocurrencies. Money outflow would most likely begin flowing out of the riskiest financial instruments which is the cryptocurrency markets. This is what we are seeing now, a market-wide sell-off. At least for the first half of 2022, expect more pain before it gets better. Shiba Inu's ride to the moon may take a step back for the meantime as the cryptocurrency dry spell begins.
Recent Changes in the SHIB Price
| | | | |
| --- | --- | --- | --- |
| Period  | Price | Change ($) | Change (%) |
| 2 Weeks | 0.00003824 | -0.00000971 | -25% |
| 1 Month | 0.00003443 | -0.00000590 | -17% |
| 3 Months | 0.00002904 | -0.00000051 | -2% |
| 6 Months | 0.00000724 | 0.00002129 | 294% |
Shiba Inu Price Prediction for 5 Years:
Shiba Inu is more of a community-driven network, which puts the users on the cards for the altcoin. As a result, in the coming years, if it succeeds in maintaining a comparable technology, it could move at decent figures. By the end of the next five years, SHIB might trade at an average price of $0.0000561.
Technical Analysis – SHIB/USD 23.6% Fibonacci Retracement Support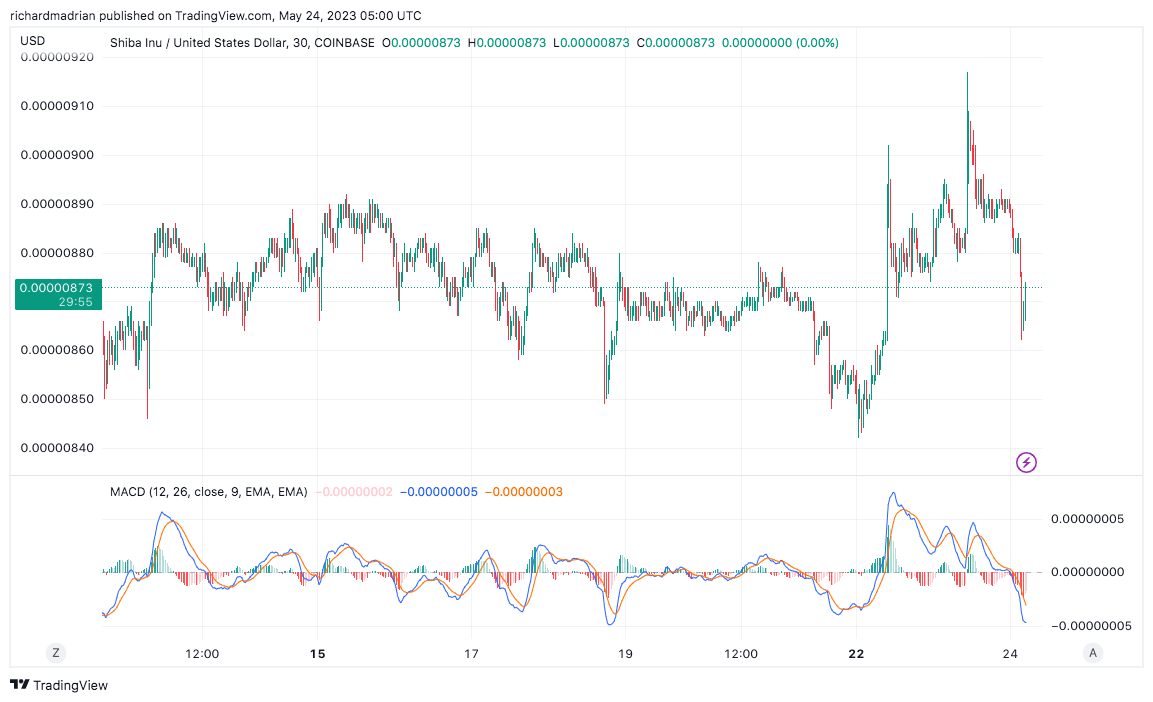 SHIB/USD – Weekly Time-frame – Choppy Trading Range Breakout
On the weekly time frame, SHIB/USD has closed a series of doji and shooting star candles that are likely to keep the pair in a choppy mode between $0.000032 and $0.00002168. A breakout of this range could trigger further buying or selling in SHIB. A bullish breakout at the $0.000032 resistance level could lead the coin price towards the next resistance of $0.000040. Conversely, a breakout at the $0.000021 level could lead the price further down, towards the $0.000018 and 0.000015 levels.
There is a strongly bullish view on the Shiba price rising over the next few years. By the end of 2021, it is estimated that it will be worth $0.0000428. Shiba is anticipated to reach a peak of $0.0000868 by the end of 2025, following a period of stable growth in the remaining half of 2023, then 2024 and 2025.
Good luck!