Dash (DASH) Price Prediction for 2021: Crypto Weakness Exposes DASH to $120
Last Update: December 14th, 2021
DASH – Forecast Summary
DASH Forecast: H2 2021


Price: $120- $195
Price drivers: Bullish Cryptocurrency Market, Ascending Triangle

DASH Forecast: 1 Year


Price: $195- $251
Price drivers: Increased Adoption and Utility, Bullish Cryptocurrency Market, Ascending Triangle Breakout

DASH Forecast: 3 Years


Price: $250- 425
Price drivers: New Developments from DASH, Crypto Market Sentiment
The cryptocurrency market has skyrocketed since December 2020, and DASH has also followed the trend. Following in the footsteps of its peers, this year, DASH/USD has exhibited bullish trends. It touched a high of $475 in May, following a bullish run. However, it has since failed to replicate the gains, plunging to a low of almost $100 in June. It attempted a recovery, rising to $280 in August, but then it suffered further weakness. At its current price of $125, DASH/USD faces further bearish pressure, as the sentiment in the last month of 2021 is becoming increasingly bearish for almost every cryptocurrency. Nonetheless, it should be remembered that the digital cash crypto rose by almost three times at the end of November 2020, when the coin was only worth $80. The all-time high for Dash, initially known as XCoin and then as Dark, was more than $1,500 in 2017, when all the cryptocurrencies followed the spike in Bitcoin. The gold rush in DASH, from $10 to $1600, could not live for long, however, and it started dropping at the start of 2018. From then, the digital cash crypto continued its bearish momentum till the end of 2020.  
Recent Changes in the DASH Price:
Period 
Change ($)
Change (%)

30 Days 

-94.01

-42.53%

6 Months 

-230.96

-64.43%

1 Year 

 

+20.71

+20.29%
As its name suggests, DASH has one clear focus, and that is digital cash. Even though almost all cryptocurrencies aim to facilitate online payments, many big cryptos, including Bitcoin, are not suitable for everyday transactions. There are various factors, including high processing fees, lack of anonymity and slow transaction speeds, that are making the big cryptos too complex for simple purchases.
Dash has the same codebase as Bitcoin, but it can process transactions quickly – in as little as 1 second, which is four times faster than Bitcoin. Its platform also provides users with the feature of a decentralized funding system that enables users to apply for funding to build their Dash projects. Unlike Bitcoin, the digital cash crypto is fully anonymous, which makes it fully transparent.
DASH Price Prediction for the Next 5 Years
Dash, the program created by Evan Duffield, has become increasingly popular worldwide, due to its key features. In Venezuela, more than 800 merchants accept DASH as a form of payment, because DASH has emerged as a more stable alternative to the crashing Venezuelan bolivar. Similarly, Zimbabwean startup KuvaCash, which raises funds on Dash's decentralized funding system, also uses DASH as an alternative to its national currency. The Dash platform has also funded the Alt Thirty-Six platform in America, which facilitates payments for the cannabis industry in the US. In London, many shopping centres have even started operating Dash ATMs, demonstrating the increased adoption and popularity of this cryptocurrency in the global market.
Despite its popularity and adoption, compared to other altcoins, Dash has failed to secure impressive growth. With a market cap of $1.326 billion, it stands in Position 77 on the list of cryptocurrencies, arranged by its share in market capitalization. The digital cash cryptocurrency started its first day of 2021 at a trading price of $99.6, and it is currently moving at $127 in December 2021. DASH's market capitalization remained below $1.5 billion throughout 2020, but in 2021, it surpassed $2.0 billion, which indicates impressive growth. 2021 has supported the cryptocurrency market, as the demand for the parent crypto, Bitcoin, has increased substantially, due to increased adoption and popularity. DASH has also seen a gradual increase in its prices, thanks to its unique features in terms of scalability and the improved market sentiment for cryptos and DeFi.
The long-term outlook for the market and the DASH coin suggests a further increase in prices. However, given the crypto weaknesses in the final month of 2021, DASH/USD could drop further to $120, which is the most likely support for the cryptocurrency.  Besides, the long-term trend for DASH is still unclear and remains challenging. Despite once trading at a high of $475, DASH/USD is now at $126, suggesting wild price swings. Although other cryptocurrencies are also facing weaknesses, they have not plunged as much as DASH/USD, which now looks like a shadow of its former self. However, we still hope DASH will survive and gain and as we approach the start of 2022, we expect further use cases for DASH/USD. With further adoption, DASH/USD could claim a high of up to $450 and beyond next year. 
Factors Affecting DASH
Dash Platform

– The platform powers and funds a range of decentralized apps, and the popularity of these apps tends to increase the demand for platform usage. Previously, the DASH prices were supported by the popularity of KuvaCash in Zimbabwe, which has continuously pushed the DASH prices upward. The rising interest in DApps will result in an increased interest in the underlying Dash technology, which could drive the prices even higher in the next couple of years.

Increased Acceptance

– Dash is unique among cryptocurrencies, as it facilitates everyday payments. The emergence of this digital cash crypto as a viable asset in countries where the native currency has started to collapse serves as a strong testament to its usability. Furthermore, the appearance of DASH ATMs in London shopping marts also verifies the increased acceptance of this cryptocurrency. The coronavirus pandemic has increased our reliance on contactless payments that demand the type of anonymity provided by cryptocurrencies like DASH, to secure user privacy. The solution for the increased demand for anonymous payments has also raised the outlook for DASH coin, which could prove beneficial in coming years.

Cryptocurrency Market

– The adoption of cryptocurrencies, especially Bitcoin and Ethereum, has grown substantially in the past four months. Bitcoin hit an all-time high (ATH) of $67,000 on October 20, following a BTC Futures ETF launch in the US. Ethereum has also been bullish in recent months, touching a high of almost $4,800 in November. The rising demand for NFTs, decentralized finance (DeFi) and smart contracts has raised the demand for underlying blockchain technologies, which has lifted the prices of crypto elites. The biggest currencies have gained, but the upward trend has also prevailed in the entire market, due to the impact of Bitcoin on the entire market. Bitcoin tends to drive other altcoin prices, as it makes up 50% of the entire market capitalization. The recent launch of ProShares Bitcoin Strategy, ETF, on the NYSE and news of additional ETF launches, added further to the boom in the cryptocurrency market, indicating a bright future for cryptos, including DASH coin.

DASH Features –

DASH has unique features, like InstantSend and PrivateSend, that will enable it to compete with the payment processing company, VISA. This is achieved by utilizing its elements of master node consensus and transaction locking on its blockchain. The Dash InstantSend technology offers users rapid transaction times in a decentralized and trustless manner. By contrast, Dash's PrivateSend feature only helps users remain anonymous for transactions if they choose to be. Dash is listed, and it trades on high-volume exchanges like Binance, BitAsset and many more; the consistent trade volume could also help it to achieve higher prices soon.

Increased Utility –

In a report by Statista, Dash, along with Bitcoin and Ethereum, was named among 11 cryptocurrencies that experienced high daily volumes of transactions from January 2017 to February 2021. Dash was also categorized among the most used digital currencies for making small trades, primarily for retail purposes, demonstrating its real-world usage. These reports show the increased utility of DASH that could drive its prices higher in coming years.
Technical Analysis – DASH/USD Upward Trendline Supports Prices
The DASH/USD pair has exhibited a strong bearish bias since August 22, 2021, falling from $284 to $145 on September 28. It attempted a recovery, but weaknesses emerged again in mid-November, as the overall sentiment in the crypto industry turned negative. 
On the technical front, DASH/USD is falling in a bearish market momentum, characterized by lower lows and lower highs. All the moving averages are above the current price, offering resistance and signalling that a further drop is imminent.  Nonetheless, the support at $120 is giving DASH/USD investors some hope that prices could be contained here until the start of 2022, even as the cryptocurrency sentiment remains subdued. Still, we cannot be certain about price behavior at this level, as there are no fundamental developments on DASH/USD that point to a potential rebound. Still, we could see some consolidation at the $120 support that could help DASH/USD retain some strength, as the overall crypto sentiment takes time to improve.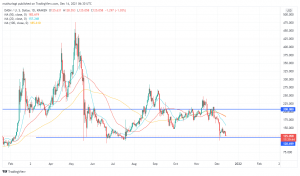 DASH/USD – Daily Time-frame – $120 the Next Low at the Close of 2021
On the weekly timeframe, the outlook does not look any better on DASH/USD. Only the 100-moving average (yellow) looks close to the current price, which is getting temporary support at $125. The 20-moving average (red) and 50 moving averages (blue) act as a resistance to DASH/USD upside.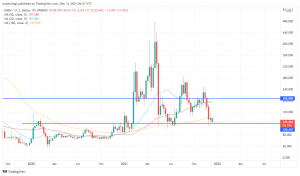 DASH/USD – Weekly Time-frame – Consolidation Happening at $125
With the technical pointers suggesting a bearish sentiment, we can only project DASH/USD touching the low at $120. If DASH/USD breaches the support, the next likely target will be around $80, which, from the weekly chart, looks like potential support on the cryptocurrency. Still, DASH/USD could shift from the bearish market and rebound from the $120 level. Therefore, $120 is the potential pivot point that should guide the next momentum in DASH/USD. 
Updated: Dec 14, 2021