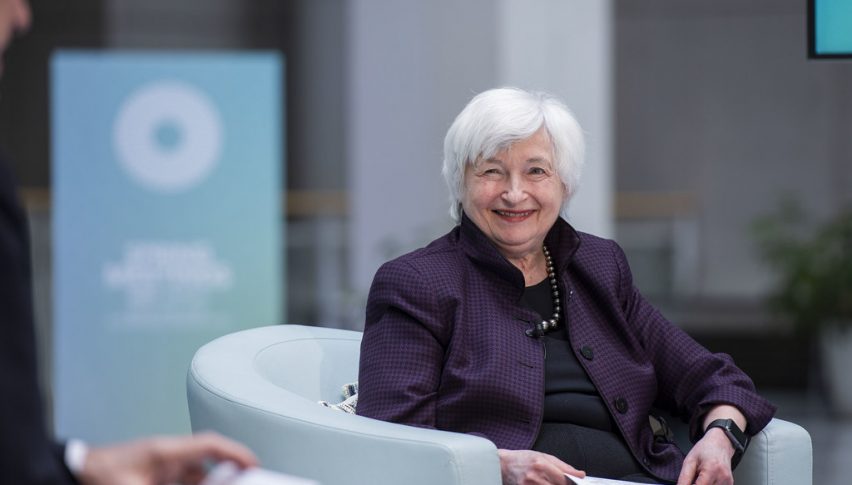 US Treasury Secretary Yellen Joins Fed Officials to Play Down Inflation Concerns
US Treasury Secretary is the latest to join Fed officials in playing down worries about high inflation as the US economy recovers from the coronavirus crisis. Speaking at a virtual event, Yellen remarked that Biden's numerous stimulus plans driving a faster than expected economic recovery may not need to be balanced out by potential rate hikes anytime soon.
A former Fed chair, Yellen is known for being pro-stimulus and spending and has called on the need for more financial aid even before she assumed office under the Biden administration. At the event, she remarked, "It may be that interest rates will have to rise somewhat to make sure that our economy doesn't overheat, even though the additional spending is relatively small relative to the size of the economy. It could cause some very modest increases in interest rates to get that reallocation, but these are investments our economy needs to be competitive and to be productive (and) I think that our economy will grow faster because of them."
She maintained current Fed chair Jerome Powell's stance that any price rise would be temporary amid pent-up demand and supply chain challenges and would normalize without the need for any intervention by the central bank. Markets have been worried about inflation exceeding the Fed's target of just above 2% as the economic recovery gathers steam, a concern that has caused US Treasury yields to surge and drive up the value of the US dollar through the month of March.
However, repeated assurances from Fed officials helped ease concerns and drove down Treasury yields and the dollar through April. For now, Biden's infrastructure spending plans have once again raised worries especially as data releases reveal improvement in economic conditions across the US.