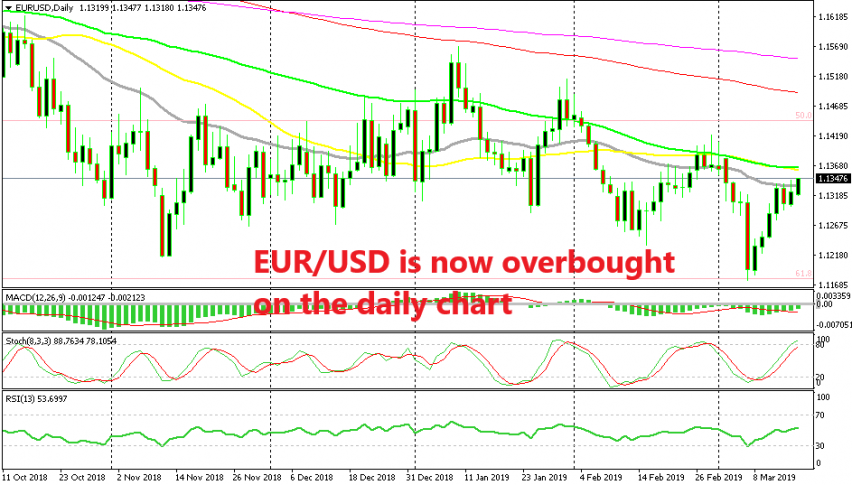 Could this be the End of the Strangest Rally in EUR/USD?
Last week we saw the strangest rally in EUR/USD. It was strange because it climbed non-stop without any decent pullback, apart from Thursday when it retraced 40 pips lower from top to bottom. But more importantly because this uptrend came after the European Central Bank (ECB) turned dovish and postponed the first rate hike beyond 2019, and introduced a new TLTRO easing programme.
On the other hand, the FED is in a tightening cycle and FED members have sounded less worried about the economy in recent weeks compared to the end of last year. The US economy is not as hot as it used to be in summer last year, but it is doing much better than the Eurozone economy. Last week, we saw some promising figures from US retail sales and the consumer sentiment which improved further.
This means that the US consumer is feeling well after two soft months in December and January. Yet, EUR/USD rallied higher for more than a week. It started after the soft US non-farm employment change in Friday the week before, but the average earnings and the unemployment rate improved considerably that same day.
Although, now this pair is overbought as the stochastic indicator shows. Besides that, the 20 SMA (grey) is providing some sort of resistance. This is not the strongest indicator, but it has provided resistance before in November and it has been pierced today. The 50 (yellow) and 100 (green) SMAs are standing only 30 pips above so if not here, we're likely to see a reversal up there at 1.1365.
I mean, after this uptrend you never know, but it doesn't make much sense either fundamentally. Technically, the upside doesn't make sense either, so if the price action points to a possible reversal soon, then we might open a long term sell signal. But, we have to get a confirmation first.