Rate Cuts, Democratic Primaries Give U.S. Stocks A Jolt
"Super Tuesday" turned out to be an epic day for U.S. stocks ― only to the bear, not the bull. The early-session emergency half-point FED rate cut did little to stop a reversal of Monday's fortunes. However, the outcome of the Democratic primaries has brought bidders to today's equities markets. The surprisingly strong showing from candidate Joe Biden has turned the race on its head. Now, with an aggressively dovish FED and centrist Biden taking control of the race, equities investors appear much more comfortable than 24 hours ago.
The outcome of Super Tuesday has brought about a 180-degree shift in sentiment toward November's Presidential election. According to Predictit.org, Joe Biden is now the clear front-runner over Bernie Sanders. Current odds stand at 78% for Biden to receive the Democratic nomination, with Sanders coming in second at 18%. 
At least for the time being, it looks like the weak performance of outspoken socialist Sanders has removed some political uncertainty from the equation. When coupled with yesterday's emergency FED rate cuts, investors are growing more optimistic about America's post-coronavirus growth prospects.
Rate Cuts, Biden's Win Boosts The DOW
It has been a much different session from Tuesday for March E-mini DOW futures. Values are up significantly and are now testing a key level of topside resistance.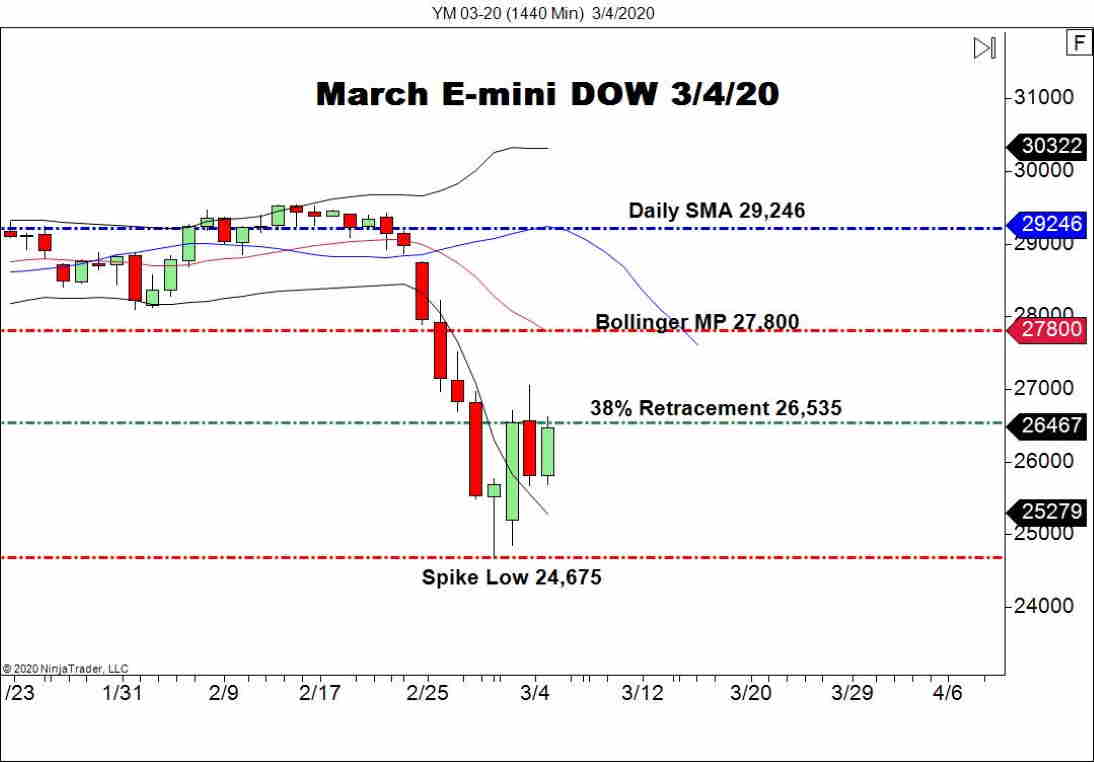 Here are two key levels to watch in the March E-mini DOW:
Resistance(1): 38% Retracement, 26,535

Support(1): Spike Low, 24,675
Overview: Amid the spread of the coronavirus, it's difficult to be certain about which direction U.S. equities are headed. However, the key level to watch for the March E-mini DOW is 26,535. If we see prices close above this level today, the table will be set for a significant bullish extension tomorrow.