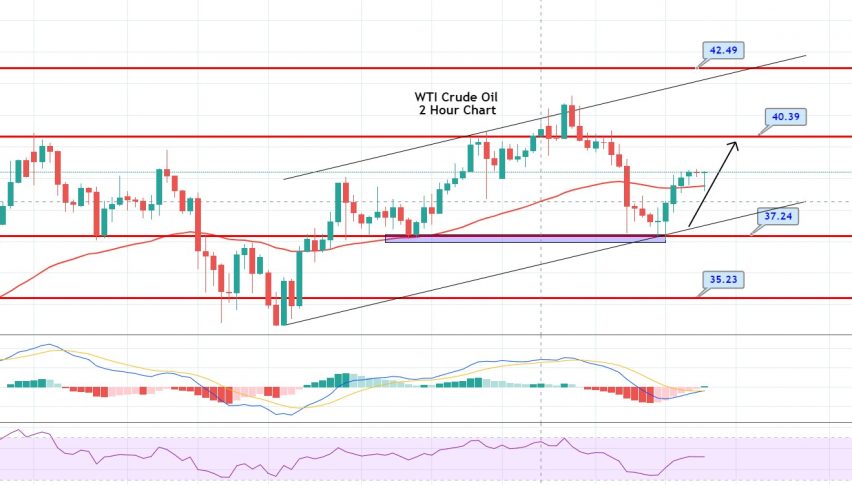 WTI Crude Oil Crosses Over 50 EMA – Optimism Over Recovering Oil Demand Plays
Posted Friday, June 26, 2020 by
Arslan Butt
• 2 min read
The WTI crude oil prices succeeded in extending its gains from the previous day and rose well above 39.00 level, mainly due to the optimism about recovering fuel demand. The bullish bias is backed by the satellite traffic data from China, Europe, and the United States, which showed a substantial increase in levels, boosting investor sentiment, and contributed to the crude oil gains.
On the other hand, the renewed geopolitical tensions triggered by the Iran-American concerns and blast in Tehran, which initially exerted some downside pressure on the risk sentiment, but these concerns have seen as an excellent factor for the oil prices gains. At the press, the WTI crude oil is currently trading at 39.16 and consolidates in the range between 38.81 and 39.31.
Despite the ever-increasing number of coronavirus in most countries, the optimism about recovering fuel demand worldwide did not fade and keep supporting the oil price. The US Centers for Disease Control and Prevention (CDC) Director Robert Redfield recently said that the number of actual confirmed cases is ten times bigger than reported cases. At the same time, the Redfield indicated that approximately 92% to 95% of the U.S. population is still in trouble by the fears of ever-increasing virus figures.
There are 37,667 new cases with 692 deaths in America on June 25 as per the latest report, which initially weighs on the risk sentiment. Elsewhere, the fears of an oversupply remain on the card backed by the (EIA) report that estimated a 1.442 million-barrel build on Wednesday. It's a much bigger build than the predicted 299,000-barrel one in forecasts, which also kept a lid on any additional gains in the oil prices. Considering all of the factors, the WTI is trading with a bullish bias today.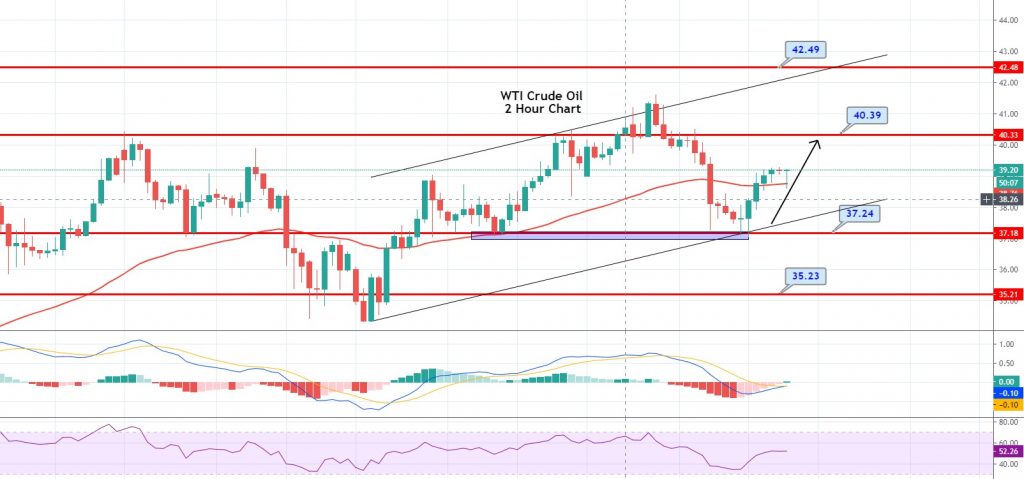 The WTI crude oil has tested the double bottom level of 37.20 level, and above this, the next resistance holds around 39.90 level. Crude oil may find immediate support at 37.20 level, while the bearish breakout of the 37.20 level can lead to further lower crude oil prices at 35.25. The MACD and RSI are bolding crossings over into the bullish area and suggest that there's a potential for additional buying in crude oil. The idea today is to take a buy trade over 39.45 level to target 39.90 and 41. Good luck!