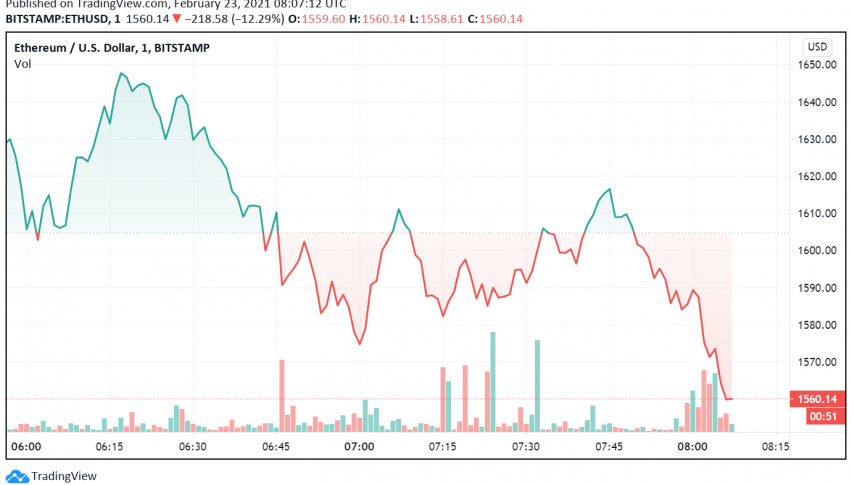 Ethereum Drifts Lower as Transaction Fees Soar, Bitcoin Falls
Posted Tuesday, February 23, 2021 by
Arslan Butt
• 1 min read
Ethereum prices plummeted during the previous session and continue to trade weak into Tuesday after DeFi platforms liquidated around $25 million worth of assets – the highest amount of liquidations seen on a single day since late November. At the time of writing, ETH is trading around $1,560.
Ethereum transaction fees are soaring to new highs, driving many users away from the second most popular cryptocurrency. High-speed transaction costs crossed $50 level while the average-speed transactions set users back by around $30, and low-speed transactions – that take over one hour for processing, now cost around $26.
Meanwhile, DeFi transactions on Uniswap – the most popular Ethereum DEX, cost between $217 and $286 – the higher costs are due to transactions being processed via smart contracts. The rising transaction costs have driven Ethereum users in large numbers towards other alternatives, with the Binance Smart Chain being one of the biggest beneficiaries.
So far this month alone, Ethereum miners managed to generate over $1 billion worth of revenues, buoyed by the increased interest in the crpyto market and the higher transaction fees. Last week, ETH crossed the $2,000 mark but has since eased lower, driven down by the recent crash in Bitcoin prices as well.